United Kingdom Enescu, Oedipe: Soloists, Royal Opera Chorus (chorus master: Genevieve Ellis), Orchestra of the Royal Opera House, Leo Hussain (conductor). Royal Opera House, London, 23.5.2016. (MB)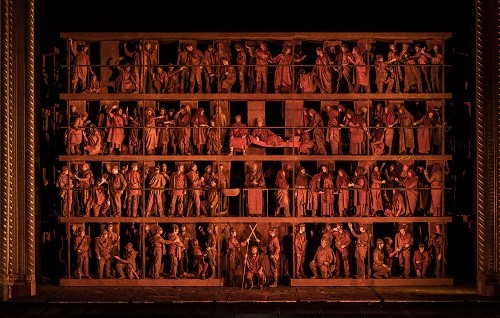 Enescu, Oedipe
Cast:
Theban High Priest – Nicolas Courjal
Shepherd – Alan Oke
Theban Woman – Lauren Fagan
Créon – Samuel Youn
Laïos – Hubert Francis
Jocaste – Sarah Connolly
Tirésias – John Tomlinson
Oedipe – Johan Reuter
Phorbas – In Sung Sim
Mérope – Claudia Huckle
Watchman – Stefan Kocan
Sphinx – Marie-Nicole Lemieux
Antigone – Sophie Bevan
Thésée – Samuel Dale Johnson
Production:
Àlex Ollé (La Fura dels baus) and Valentina Carrasco (directors)
Alfons Flores (set designs)
Lluc Castells (costumes)
Peter van Praet (lighting)
After the opening night of the first ever staging of George Enescu's Oedipe in this country, I can say without the slightest hesitation that this will prove the most important event of the Royal Opera's season. How, after all, could it not? I probably should be more cautious, given that it was my first hearing of the work, but it sounded very much as if it were the composer's masterpiece to me. Indeed, my initial reaction was much akin to my hearing works – perhaps not entirely dissimilar, but not especially similar either – such as Szymanowski's King Roger and Busoni's Doktor Faust for the first time. Whilst others become enraged or, occasionally, enraptured by what Katie Mitchell might have done to a piece of drivel by Donizetti, a work surely quite undeserving of her talents as a director, the rest of us owe the Royal Opera and all concerned with this production a heartfelt vote of thanks. I should eagerly go again, if only I could make any of the dates work; I urge you, if you have not yet seen and heard the production and can, not to hesitate.
First and foremost is the work itself. To my shame, I know little of Enescu's music; he is one of those composers I have long been intending to 'get around to', but until now, have not really done so. He is known at least equally well as a conductor, violinist, and perhaps even as teacher, but unlike, say, Furtwängler, whose compositions are interesting yet hardly essential, Enescu was first and foremost a composer. One might actually draw another comparison with Busoni: unquestionably one of the greatest pianists of all time, yet with music (unforgivably ignored in this 150th anniversary year) that will remain a still greater testament.
The compositional language and structure intrigue. One might, I suppose, call the latter traditional; it is certainly not experimental. This is a four-act opera with 'conventional' yet highly powerful, well-crafted narrative (let us not forget Edmond Fleg's libretto here), which stands in something of a Wagnerian tradition, but is certainly not overwhelmed by it. Likewise the vocal writing, which owes something to Wagner, or perhaps better to (post-)Wagnerism, but no more than Strauss does, and probably less. As Jim Samson puts it in his excellent programme note (the ROH programme is of particularly high quality on this occasion): 'On the surface, Enescu's vocal writing appears similar to the kind of quasi-recitative characteristic of many post-Wagnerian operas, but on closer inspection it reveals its motivic credentials as a characteristic component of the closely unified thematic substance. The composer himself referred to a "single flow of ideas".' So did it unquestionably sound in this outstanding performance – yes, there was no difficulty in ascertaining that upon a single hearing – from Leo Hussain. Not only did Hussain draw out playing from the Orchestra of the Royal Opera House of a quality of which we know it capable, but which has not always been heard recently, save for under a small number of visiting conductors such as Semyon Bychkov; his pacing and palpable understanding of the way the music and the musical drama work would have had one believe he stood at the helm of a work central to the repertory. Clearly it should be, but opera houses, alas, too often know better.
In the musical language, one hears strong French elements too: Debussyan and Ravelian elements (I even thought of Vaughan Williams at times), or at least parallels, albeit within a more Germanically-structured framework. Enescu's use of voices within the orchestra almost as if they were vocal and not just orchestral commentary is striking, as his handling of choral forces. Samson again captures the former tellingly, speaking of an idiom 'caught somewhere between Mahler's fragmentation and Debussy's variegation of the late-Romantic orchestra'. Not a note seems to be wasted, moreover; in this retelling of Sophocles, which involves a good deal of material implied or spoken of in the original tragedies, yet never seen on stage, the use of music not only to serve drama but as drama inevitably has one, once more, thinking of Wagner.
So too does the staging. If characterisation of the particular flavours and styles of each act, within an overarching framework is achieved with great musical success, Hussain's conducting is complemented by a typically imaginative production from La Fura dels baus. The initial coup de théâtre haunts one's experience throughout the performance, and indeed thereafter, the finely detailed, hieratic stage curtain melting, during the Prelude, into the 'real thing'. A tableau vivant is what we see and static, tableau-like music – quite unlike that of Stravinsky's inimitable 'opera-oratorio', which in any case yet lay in the future – was what we heard too. Interaction and support were indeed the hallmarks of production and performance throughout. The dialogue between certain archaisms – not really musical, but perhaps hinted at by the music, oboe and harps bringing to my mind Birtwistle's later evocations of Greek antiquity – are always convincing, yet never entirely predictable. I am not entirely sure, or indeed at all sure, why the Sphinx lived within an apparently crashed aeroplane, but that offered nevertheless senses of wonder and of surprise, as well as of revelation. After all, the story is propelled by things and people not being quite what they seem to be (as well, of course, as having been condemned by Fate to do precisely what they have been ordained to do). Oedipus, in Enescu's conception, is more Everyman than unapproachable hero; in that, he is 'modern' and so do we see him here. Likewise his fickle people and the treacherous army-man, Créon. It is, however, less heavy-worn conceptual communication than a fine sense of narrative theatre which, above all, animates what we see, Jocaste's emergence, every inch the film star, from the city of Thebes is a case in point.
Covent Garden assembled an impressive cast too, considerably more than the far from inconsiderable sum of its parts. Johan Reuter's assumption of the title role again had one believe this was a central, heroic, repertory performance. Each part of the hero's life, from the beginning of the second act – the first celebrates his birth and quickly follows celebration with the desperate expulsion of this son to Laïos to Jocaste – to the end of the fourth has one experience an Oedipe both different and yet familiar. A lifetime was convincingly, powerfully portrayed, with fine command both of musical style and of verbal response. Sarah Connolly certainly exhibited those qualities in her Jocaste, with acting to match; her voice, however, sounded thinner than I can recall. It did not really detract from the performance, but I should like also to hear a richer voice in the role. John Tomlinson did his usual thing, and did it, as usual, very well, in the role of Tirésias. There was no gender-bending here, but the honesty and integrity of the poor, blind prophet shone through, in a role that generally fitted well the singer's present range. Samuel Youn made for a suitably nasty, civilised Créon: what an unsympathetic character he is, and yet how necessary to the drama! I was less convinced than many seemed to be by Marie-Nicole Lemieux's Sphinx; I heard her words less often than was ideal, although the timbre of the voice seemed well-suited to the role. From the rest of an excellent line-up, Nicolas Courjal's authoritative High Priest, Sophie Bevan's beautifully sung and beautiful-of-heart Antigone, and Samuel Dale Johnson's calmly commanding Thésée stood out to me.
Choral singing was, save for those hieratic scenes, of a very high quality, for which temporary chorus master, Genevieve Ellis deserves great credit. Sadly, the visually arresting quality of the tableau did not transfer so well into vocal terms; a friend suggested to me at the interval that the chorus members could not hear each other very well. Still, the scenes on the ground, as it were, benefited greatly from artists who could act as well as sing. Collaboration with La Fura dels baus seems definitely to have inspired them. As an audience-member, it certainly inspired me. This, I should repeat, is an important achievement indeed, not to be missed.
Mark Berry