Germany Tchaikovsky, Wolpe, Shostakovich: David Garrett (violin), Jacob Reuven (mandolin), Heidi Steger (accordion), Israel Philharmonic Orchestra/Omer Meir Wellber (conductor),  Frauenkirche, Dresden, 18.5.2016. (MC)
Tchaikovsky – Violin Concerto
Michael Wolpe – 'The Return of the Jackals' for orchestra, mandolin and accordion with tape recording of jackal howls (world premiere of version for large orchestra)
Shostakovich – Symphony No. 6
When I saw violinist David Garrett taking the short 40 metre or so walk from his hotel to the Frauenkirche surrounded by four associates in the manner of a Hollywood A-lister I realised how concerts can easily become about the star performer. With no overture or prelude on the programme the concert opened with Garrett playing Tchaikovsky's Violin Concerto, a work he recorded as a teenager back in 1997 for Deutsche Grammophon released then with a cover photograph of him that one wouldn't recognise today.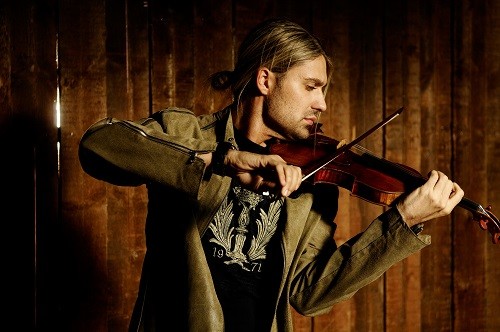 One of the most enduringly popular concertos in the repertoire Tchaikovsky wrote his Violin Concerto in 1878 whilst recovering from a nervous breakdown during a burst of activity inspired evidently by hearing Lalo's Symphonie espagnole. It was a confident performance from Garrett with some beautiful playing of fluidity and satisfying intonation; containing plenty of panache. So far so good, but I didn't especially enjoy how Garret on occasions would look around at the audience during his playing. Garrett made short work of the technical demands of the piece, yet I never felt there was any depth to his interpretation; it all felt a touch superficial.
Next an interesting orchestral work from Michael Wolpe 'The Return of the Jackals' for orchestra, mandolin and accordion with taped recordings of jackal howls. First performed in 2000 in Amman, Jordon this Frauenkirche concert was advertised as the world premiere of this version for large orchestra. Immediately I was reminded of film scores for Hollywood epics from say Miklós Rózsa to Hans Zimmer especially when the full orchestra joined in. Creating a slightly mid-eastern flavour the mandolin and accordion played for a short time unaccompanied but were virtually inaudible when playing during orchestral tutti. The taped jackal cries which burst out clearly and persistently from the speakers certainly created a rather unnerving atmosphere.
After the interval came the Shostakovich's Symphony No. 6, a work of real substance for the Israel Philharmonic Orchestra under Omer Meir Garret and a chance to show its prowess. After his denunciation by the Soviet authorities, Shostakovich restored his reputation with his Fifth Symphony. Written in 1939 during the insecurities of an intense phase of Stalinist tyranny the Symphony No. 6 is quite a contrast to its predecessor. In it Shostakovich promised he would "express moods of spring, of happiness and youth." Right from the opening bars of the first movement Largo Omer Meir Wellber created a sense of vast open spaces and a spine-chilling sense of desolation. Weller ensured there was a tremendous gathering energy to the central Allegro with a feeling of renewal that never quite felt genuine owing to an undercurrent of tension. In the Finale I was struck by the explosive power growing out of smaller ideas. A sense of risk-taking was present in the writing as well as some highly memorable folk inspired melodies. Especially noticeable here was the robust playing as Wellber whipped the orchestra into a frenzy, in the manner reminiscent of Solti, creating a nightmarish thrust of thunderous sound. Rather than a predictably triumphant ending here Shostakovich offered a touch of ambivalence. During the central and final movements Wellber became increasingly more animated on the podium almost dancing at one point which brought smiles to the faces of a number of the audience; even some laughter. Notwithstanding his overblown antics on the podium Wellber is destined for a great international career.
Despite the sterling efforts of the Israel Philharmonic Orchestra under the charismatic Omer Meir Wellber sadly the challenging Frauenkirche acoustic was always going to negate some of its wonderful sound. But more importantly the concert wasn't all about David Garrett.
Michael Cookson