Germany Hindemith, Mathis der Maler: Sächsischer Staatsopernchor Dresden, Sächsische Staatskapelle Dresden/Simone Young (conductor), Semperoper, Dresden, 10.5.2016. (MC)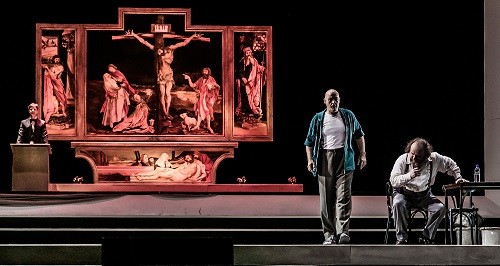 Hindemith, Mathis der Maler
Cast:
Albrecht von Brandenburg: John Daszak
Mathis: Markus Marquardt
Lorenz: Matthias Henneberg
Wolfgang: Tom Martinsen
Riedinger: Michael Eder
Hans Schwalb: Herbert Lippert
Truchseß: Hans-Joachim Ketelsen
Sylvester: Gerald Hupach
Der Pfeifer des Grafen: Timothy Oliver
Ursula: Annemarie Kremer
Regina: Emily Dorn
Lady Helfenstein: Christa Mayer
Erster Bauer: Frank Blumel
Zweiter Bauer: Torsten Schapan
Dritter Bauer: Markus Bruhl
Vierter Bauer: Alexander Fodisch
Production:
Staging: Jochen Biganzoli
Set Design: Andreas Wilkens
Costume Design: Heike Neugebauer
Lighting: Fabio Antoci
Dramaturgy: Anna Melcher
Choreography: Silvia Zygouris
Choir: Jörn Hinnerk Andresen
Video: Thomas Lippick
Hindemith's opera in seven scenes Mathis der Maler (1933/35) is rarely performed in the UK so it was good to be back at the Semperoper, Dresden for Jochen Biganzoli's powerful staging of this truly underrated work. Hindemith had already incurred the wrath of Adolf Hitler with his 1929 opera Neues vom Tage, so it was no surprise that when the composer completed Mathis der Maler in 1935 it was banned by the Nazi authorities.
Hindemith's own libretto is set during the German Peasants' War (1524-25) a fictional adaptation of events in the life of German painter Matthias Grünewald who created the famous Isenheim Altarpiece and his quest for artistic freedom in the oppressive political and religious climate. The plot, where Mathis swaps the artist's studio for the life of a resistance fighter, is often said to be a reflection of Hindemith's own struggle under Nazi rule at that time.
Jochen Biganzoli's engaging if busy staging brought the action forward to what I took to be 1990s central Europe and felt mainly sympathetic to Hindemith's vision despite some unnecessary attempts at titillation. Set Design by Andreas Wilkens was a staging of the G-Plan style, fairly spare yet not of the minimalist type that would tire the eyes with monotony but imaginative and colourful with lots of detail. Especially successful was Wilkens's clever deployment of large artwork and quotations by Robert Longo, Roy Lichtenstein, Ernst Ludwig Richter and Claude Monet and slogans too, such as 'Die Welt Ist Ohne Glauben'. Towards the close Grünewald's Isenheim Altarpiece was displayed stunningly. Astute was Heike Neugebauer's costume design that only gave emphasis at crucial times.
Markus Marquardt took the part of Mathis the painter and was able to present an endearing, laid-back character to the audience. Without being especially distinctive vocally the dedicated bass-baritone demonstrated his stamina and used his clear tone to splendid effect. The role of Albrecht von Brandenburg was taken by John Daszak, one minute wearing his Cardinal's long red cassock with pellegrina and the next minute boxing wearing a white t-shirt, jogging bottoms and trainers. A touch unsteady at the start Daszak soon redeemed himself delivering some fine expressive singing.
Elegant yet tormented Ursula was performed by Annemarie Kremer who gave a remarkably mature performance of captivating emotion with a strongly projected voice. Kremer's noticeable vibrato never intruded. The role of injured parka wearing rebel leader Hans Schwalb was well taken by Herbert Lippert, reliable in voice with good diction. Schwalb's daughter Regina was played by Emily Dorn who sang beautifully throughout and was able to provide suitably anguished expression. Of the remaining cast Michael Eder as Riedinger the wealthy Protestant citizen in a three piece suit stood out for his usual professional performance and Gerald Hupach shone as creepy army officer Sylvester.
In the pit musical director Simone Young, right from the glorious prelude before curtain up, did a marvellous job with the Staatskapelle Dresden sounding as striking as I have come to expect. Hindemith excelled with his flowing, often mightily dramatic music for Mathis der Maler and Young served the composer extremely well.
I would dearly love to see the Semperoper follow the example of many European opera houses that successfully use surtitles in English as well as German.
Michael Cookson