United Kingdom Lowell Liebermann, Frankenstein: Soloists, Corps de Ballet and Royal Opera House Orchestra/Koen Kessels (conductor). Broadcast to the Empire Cinema, Basildon, Essex. 18.5.2016. (JPr)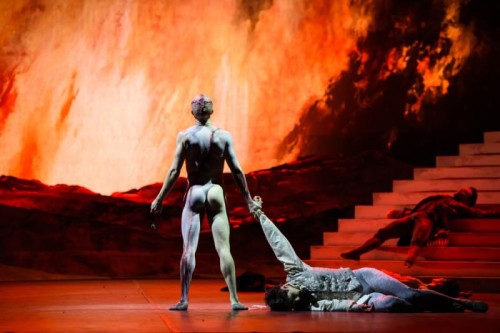 Liebermann, Frankenstein
Cast included:
Elizabeth: Laura Morera
Victor: Federico Bonelli
The Creature: Steven McRae
Henry Clerval: Alexander Campbell
Madame Moritz: Elizabeth McGorian
Justine Moritz: Meaghan Grace Hinkis
Production:
Choreography: Liam Scarlett
Music: Lowell Liebermann
Designer: John Macfarlane
Lighting designer: David Finn
Projection designer: Finn Ross
Directed for the screen by Ross MacGibbon
If I dissected what I saw microscopically it would descend into an even-more-extensive analysis of used body parts and I am not entirely meaning the plot of this Frankenstein but frankly Lowell Liebermann's score and Liam Scarlett's choreography. I am not entirely familiar with Scarlett's work to ever suggest he is indulged more than he should be by The Royal Ballet but – until any hint at invention peters out near the end – no expense seems to have been spared to get Mary Shelley's 1818 novel on stage. Unfortunately, I am of an age when I only really 'know' the story from the Boris Karloff or Hammer Horror films and had I not read the synopsis I would have been like someone I overheard at the first interval of the cinema showing who announced 'I really have no idea who anyone is'.
We begin in 1778 at the Frankenstein manor in Geneva and it is apparently the sudden death of his mother which sends Victor Frankenstein into terminal decline. Spread thinly over about two hours of ballet (it seemed longer) are this, many references to a locket and a journal and a number of episodic events. These are goings-on in the anatomy theatre and a tavern in Ingolstadt, an outdoor party at the manor, the death of Victor's younger brother William (unnecessarily lingered on), a hanging (unnecessarily lingered on) and the denouement – strangely outdoors – in a ballroom. The only fully conceived character is the Creature himself and it is as if Scarlett had enough for a one-act ballet exploring the homoeroticism between him and his creator. He keeps this in for their Act II encounter but someone seems to have whispered in his ear he was talented enough to take up a whole evening with the story. I am not certain how revivable this Frankenstein will be in its current form, especially Act I which at 50 minutes is far too long. It wouldn't matter if the padding was inventive enough but generally consists of everyone pirouetting around with hands raised in conventional ballet positions. They just all keep twirling and twirling – in the Frankenstein's Geneva home, in the anatomy theatre, in the tavern, at the party and at the Cinderella-like ball near the end.
The conductor and music director of The Royal Ballet, Koen Kessels, admitted when interviewed about little pastiches in the 'technically demanding' music. (He also said how his orchestra had 'never played so many notes in so little time'.) I am sure with great reverence Lowell Liebermann has mined Prokofiev and during Acts II and III we hear themes from Romeo and Juliet again and again, especially Juliet's Death from near the end of that score. In the ballroom there are – as Kessels suggested – hints of Tchaikovsky. Darcey Bussell (hosting the screening with the always genial Ore Oduba) said at the first interval 'how the music is telling the story'. I beg to differ, in Act I the soundtrack – for that is what it sounded like nearly throughout the ballet – didn't connect for me with the story. This got better in the subsequent acts, especially as the music seemed more familiar. You could hear how hard Lieberman was trying to make his music totally distinct from Prokofiev but he rarely succeeded.
The designer, John Mcfarlane, mentioned Steven Spielberg in the same breath as his special effects and I suspect this was a little tongue-in-cheek. His budget seems to have run out by Act III and (spoilers alert!) the conflagration which consumes the Creature, his dead creator, and the family manor (as seen above) appeared nothing more than the rosy glow of a beautiful sunset. Earlier, admittedly, the anatomy theatre was chillingly recreated, but the reanimation techniques of the professor and then Victor involving an unrealistic rubber dummy came straight from the antics with the doll in Coppélia or The Tales of Hoffmann. It was often difficult not to laugh.
Liam Scarlett also challenges our long-term memories with his steps. In Act I Victor has a mournful solo reminiscent of the melancholic one Nureyev created for the Prince in Swan Lake. A little bit of Cranko's Onegin notwithstanding, from then on Scarlett pays most tribute to the legendary Kenneth MacMillan and especially his Romeo and Juliet. At the tavern the whores lift their skirts as in Verona, Victor and his great love Elizabeth get their own version of a balcony pas de deux, and Victor's great friend, Henry Clerval – another reasonably well-created character – gets one real chance to shine with an energetic solo in Act III and channels Mercutio. There are fleeting memories too of the blindfolded Wheel of Fortune that is seen during the Capulets' ball in Nureyev's version and may – or may not (someone please remind me) – be there in MacMillan's. A lot of Victor's angst and his interaction with the servants brought Mayerling to mind too and I am sure I have seen the freeze-frames used at the ball somewhere recently as well. Enough of this because you hopefully get the idea what it was like if you did not see it.
If the intention of this Frankenstein is to introduce new (adult) audiences to ballet, then I naturally hope it succeeds. There were showings outdoors on BP Big Screens throughout England and to 965 cinemas in 26 countries. At the well-attended Empire Cinema Basildon, I spotted only a handful of patrons much younger than me and most were older – and I am in my 60s!
A better cast might have brought this all more to 'life' than this one. I understand leading dancers originally announced for this Frankenstein jumped ship for whatever reason and Marianela Nuñez and Vadim Muntagirov seem to have dropped out which is probably lucky for them. As we know The Royal Ballet at the moment has little real strength in depth. Laura Morera who is a very musical dancer and dramatically convincing performer gets – as she admitted herself – her best role in all her 21 years with the company as Elizabeth. Along with the ebullient Alexander Campbell as Henry, a slew of minor characters – Victor's parents, Victor and Elizabeth's younger selves, young William, Frankenstein's housekeeper and her daughter Justine – and the corps de ballet were beyond reproach. Sadly, Federico Bonelli – excellent technical dancer that he is – cannot act nearly as well as his role as Victor demands. He seemed to sulk all the way through the ballet and did not even have the range of expressions made famous by Roger Moore – first raise one eyebrow and when in doubt lift both of them!
I leave the best till last and that was Steven McRae as the Creature, although his costume needs a lot more work and he looked like a stitched up naked store window mannequin! (Victor seemed to have mislaid a vital part of his anatomy and this did look odd in close-up.) The Royal Ballet continues to cast McRae – because they often have no one else – in princely roles which his frame is too slight for. Ok his Creature was not entirely the stuff of nightmares because he was shorter than Bonelli's Victor who is not that tall himself. Nevertheless, I believed in him and with this sort of role McRae surely has found his métier. His best moment of many in a difficult role was the contemporary solo he gets in Act II which was full of writhing self-loathing and was compellingly danced.
 Jim Pritchard
To view the full list of productions for the remainder of this season and for 2016/17 and to find a cinema near you visit http://www.roh.org.uk/cinemas.