Germany Wagner, Lohengrin:  Sächsischer Staatsopernchor Dresden, Herren des Sinfoniechores Dresden, Extrachor der Semperoper Dresden, Sächsische Staatskapelle Dresden / Christian Thielemann (conductor). Semperoper, Dresden, 19.5.2016. (MC)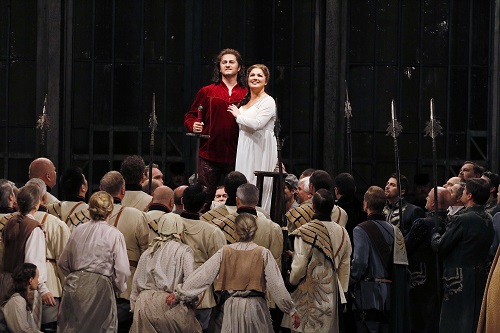 Wagner, Lohengrin
Cast:
King Heinrich –  Georg Zeppenfeld
Lohengrin – Piotr Beczala
Elsa of Brabant – Anna Netrebko
Friedrich of Telramund – Tomasz Konieczny
Ortrud – Evelyn Herlitzius
First Noble of Brabant – Tom Martinsen
Second Noble of Brabant – Simeon Esper
Third Noble of Brabant – Matthias Henneberg
Fourth Noble of Brabant – Tilmann Rönnebeck
The Herald – Derek Welton
Gottfried – Ferdinand Meier
Production:
Staging after – Christine Mielitz
Staging revival direction – Angela Brandt
Set and costumes – Peter Heilein
Lighting – Friedewalt Degan
Choir – Jörn Hinnerk Andresen
Dramaturgie – Matthias Rank
There was a real sense of occasion in Dresden for this sell-out, first night staging of Lohengrin at Semperoper that one might have thought it was a new production. This Lohengrin was in fact a revival of the acclaimed Christine Mielitz production with Piotr Beczala and Anna Netrebko in the starring roles; both making their Wagner debuts.
Mielitz's production of Lohengrin is actually older than Semperoper, Dresden itself. It was premièred at Großes Haus, Staatsschauspiel, Dresden in 1983 during the days of the DDR era as Semperoper only reopened in 1985 after its reconstruction from war damage. It shows the popularity of Mielitz's production as there have been 112 performances of the Mielitz staging in Semperoper and only three years ago it was revived again at the house. Although uncredited in the programme it was Angela Brandt, Regieassistent and Abendspielleiter, who directed the staging of this latest revival.
Based on a romantic medieval legend the music drama Lohengrin is regarded by many as Wagner's most appealing opera. An affecting story of indisputable trust, doomed love, vengeance, compassion, deliverance and the supernatural. Although still a substantial work it is one of his shortest in duration containing a number of  memorable melodies with its breathtaking scoring.
The Semperoper staging is predominately a traditional one focusing around the medieval pomp and pageantry of the mise-en-scène that for example the scenic conception of Richard Jones's 2009 Munich Festival staging, with Jonas Kaufmann and Anja Harteros, totally destroyed. Peter Heilein's costumes were heavy looking in a curious mix of stylistic periods. The central characters, courtiers and townspeople wore costumes reasonably relevant to tenth-century Antwerp. However, the corps of soldiers were dressed in what reminded me of late-nineteenth century Prussian uniforms but without the spiked helmets. The walls of the set were wooden lattice panels reaching from floor to ceiling which could fold open and shut. Looking spectacular from my seat the large swan that brought in Lohengrin truly sparkled owing to its construction; actually a covering of small mosaic mirror foil tiles.
A few days before this first night I had interviewed Piotr Beczala who with a boyish enthusiasm was clearly looking forward to playing the role of Lohengrin, the mysterious knight from another realm who had come to defend Elsa. As can be seen in the production photographs from the dress rehearsal the startling hair extensions were sensibly cast off for the first night. Resplendent in an upmarket type of glittering chain mail over a dark red gambeson and carrying the inevitable crusader sword Beczala soon settled into the title role with all the assurance of the experienced campaigner. Providing a performance high on drama his polished voice was in splendid condition and together with his steadfast technique he is well suited to this lyrical romantic German repertoire. From Act 3 Lohengrin's arias 'Athmest du nicht mit mir die süssen Düfte' and 'In fernem Land' were strikingly moving with Beczala displaying an attractive fluid tone which thankfully is not given to the sort of over-brightness that can soon become tiresome. The fatal sword fight with Telramund was not the most convincing combat I have ever seen probably owing to constraints of Health and Safety regulations.
Anna Netrebko excelled as Elsa dreaming of a chivalrous knight who will appear and protect her from perilously close enemies. Wearing a brilliant white floor length dress for most of her time on stage the tanned Netrebko, looking suitably girlish, strongly radiated the innocence and vulnerability imperative for the role. 'Elsa's Dream' aria from Act 1 'Einsam in trüben Tagen' was freshly delivered with focused projection and combined with her remarkably responsive acting created a curiously euphoric sense of calm. Distinctively dressed in an orange doublet under a fur trimmed cloak, bass Georg Zeppenfeld did a reasonable job as Heinrich King of Saxony. Compared to renowned exponents of the role such as Matti Salminen or René Pape I didn't sense much in the way of Zeppenfeld's natural authority or stage presence that would convince the knights of Brabant to fight with him against the Hungarians. This must have been an off night as I have heard Zeppenfeld's voice in far better form.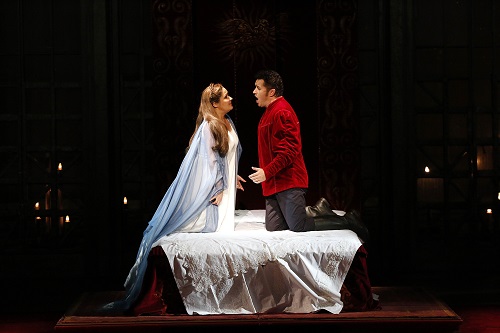 Count of Brabant Friedrich of Telramund was sung by Tomasz Konieczny. Together with his wife Ortrud he made a wonderful job of menacingly plotting and scheming against Elsa and one could easily imagine him stopping at nothing to achieve his aims. In a brown velvet coat with black trimmings Telramund reproached his wife Ortrud in the Act 2 aria 'Erhebe dich, Genossin meiner Schmach' Konieczny communicated convincing torment revealing his darkly expressive bass-baritone. One of the loudest cheers was saved for dramatic soprano Evelyn Herlitzius as Ortrud. In a crimson, grey and back velvet dress with red hair she dominated Telramund in a powerful dramatic performance full of hatred and malice towards Elsa and Lohengrin which was palpable. A remarkable actress too Herlitzius's powerful voice easily rang out filling every corner of the house with drama.
I am not sure anyone currently conducts Wagner as excellently as Christian Thielemann and with the Staatskapelle Dresden in such sublime form this felt like the ideal partnership. Jörn Hinnerk Andresen did a splendid job in preparing the choruses who delivered a terrific sound. At the Semperoper the star of Christine Mielitz's acclaimed production continues to shine bright and it felt like a true privilege be part of the audience.
I continue to make a plea for the Semperoper to follow the lead of many European opera houses which successfully use surtitles in English as well as German.
Michael Cookson