United Kingdom Various composers: NDT2, Dance Consortium, Sadler's Wells, London, 17.5.2016. (J.O'D)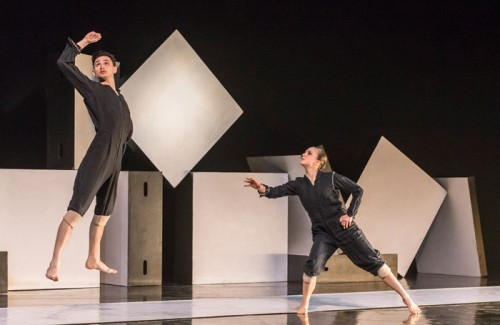 Schubert
Choreographers: Sol León and Paul Lightfoot
Dancers: Katarina van den Wouwer, Alexander Anderson
Sad Case
Choreographers: Sol León and Paul Lightfoot
Dancers: Alice Godfrey, Gregory Lau, Rachel McNamee, Miguel Duarte, Guido Dutilh
Some Other Time
Choreographers: Sol León and Paul Lightfoot
Dancers: Madoka Kariya, Gregory Lau, Xanthe van Opstal, Paxton Ricketts, Fay van Baar, Grace Lyell, Aya Misaki, Ster Slijkhuis, Alexander Cyr Bezuijen, Graham Kaplan, Hélias Tur-Dorvault, Benjamin Behrends
mutual comfort
Choreographer: Edward Clug
Dancers: Alice Godfrey, Alexander Anderson, Katarina van den Wouwer, Gregory Lau
Solo
Choreographer: Hans van Manen
Dancers: Gregory Lau, Hélias Tur-Dorvault, Miguel Duarte
Cacti
Choreographer: Alexander Ekman
Dancers: Fay van Baar, Alice Godfrey, Madoka Kariya, Grace Lyell, Rachel McNamee, Aya Misaki, Xanthe van Opstal, Katarina van den Wouwer, Alexander Anderson, Alexander Cyr Bezuijen, Miguel Duarte, Guido Dutilh, Graham Kaplan, Gregory Lau, Paxton Ricketts, Hélias Tur-Dorvault
Founded by the Nederlands Dans Theater in 1978, NDT2 aims to develop classically-trained dancers between the ages of 18 and 23 in a variety of 'dance languages'. Over a three-year period, a programme note explains, 'the dancers perfect a range of styles and genres in which technique is a means to achieving their artistic core as world class performers'. Cut-and-pasted photographs on the programme's cover show some of the dancers flying through the air, or suspended in it, like unitarded superheroes and superheroines of dance.
The focus on technique is clear in the opening work by 'house choreographers' Sol León and Paul Lightfoot. Hips, bottoms, necks, shoulders, spines; there is not a part of their bodies that the dancers do not move in expert and unexpected ways. They might 'give the hand gracefully', like the ballet dancers they are. They might shove their partner with a shoulder, or kick out a foot. There's no way of telling which it will be.
Two pieces from 2014 and one from 1998 put together as a triple bill, this is a sprawling and incoherent start. Successful as a display of the dancers' talents, it taxes the audience. The frequently changing, recorded music does not help. In its final section, though, is a duet to which Madoka Kariya and Paxton Ricketts bring something that is not technique.
The evening could have ended after that. (For some people in the audience it did.) Having set out its wares so exhaustively, there was little left for the company to do. Yet there were three more dance pieces, with their recorded music, to come.
Edward Clug's shorter and more contained mutual comfort (2015) was striking for the way one of its dancers, lying face down on the floor, sent a slow wave of movement from her legs to her fingertips. In Solo (1997) by Hans van Manen, three men compete not to dance to the music of a Bach partita for violin, but to turn their fast-moving bodies into the music. Gregory Lau was especially adept, and the audience cheered. But the travelling spins that the men perform, first towards the back of the stage, then towards the audience, made me think of the so much more lyrical way this was done in The Royal Ballet's La Bayadère three years ago.
Alexander Ekman's Cacti (2010) is another display piece, divided like the opening work into seemingly unrelated sections. On low pedestals, the sixteen dancers run on the spot and shimmy to feverish arrangements of music by Schubert, Haydn and Beethoven as if taking part in an opening ceremony for the Olympic Games. Two of them then perform a duet to the sound of two dancers talking archly about the movement as it is performed. Finally, all the other dancers return holding models of potted cacti as the voice of a 'creator' (prefiguring that of choreographer Hofesch Shechter in his later works?) muses on the significance of these. I'm sure it was all very clever, and all very good. But what I will remember most about the evening is Madoka Kariya and Paxton Ricketts, in their duet.
John O'Dwyer