United States Strauss, Elektra: Soloists, Chorus and Orchestra of the Metropolitan Opera / Esa-Pekka Salonen (conductor). Broadcast live to the Empire Cinema, Basildon, Essex, from the Metropolitan Opera, New York, 30.4.2016. (JPr)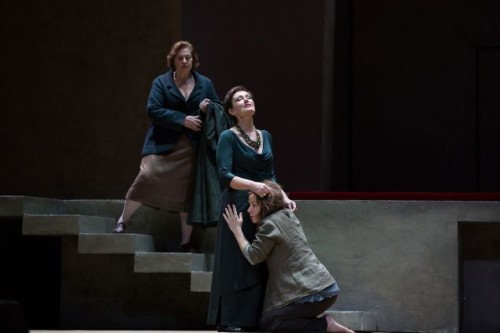 Strauss, Elektra
Production:
Production: Patrice Chéreau
Set Designer: Richard Peduzzi
Costume Designer: Caroline de Vivaise
Lighting Designer: Dominique Bruguière
Stage Director: Vincent Huguet
Cast included:
Elektra: Nina Stemme
Chrysothemis: Adrianne Pieczonka
Klytämnestra: Waltraud Meier
Aegisth: Burkhard Ulrich
Orest: Eric Owens
Live in HD Director: Gary Halvorson
Live in HD Host: Renée Fleming
The 'Electra complex' is the psychoanalytic metaphor for daughter–mother psychosexual conflict and is named after the fifth-century BC Greek mythological character (as recounted by Sophocles and Euripides) who plotted, with the aid of her brother Orest, to kill their mother, Klytämnestra, and Aegisth, their stepfather, because she murdered their father, Agamemnon. Sigmund Freud called a girl's sexual competition with her mother for her father, the feminine Oedipus attitude and the negative Oedipus complex. The latter term was something he first used in 1910, coincidentally the year after Elektra's first performances. However, it was his collaborator Carl Jung who actually coined the term 'Electra complex' just a few years later, though this was famously rejected by Freud as being psychoanalytically inaccurate …but this is something for another time.
Despite the opera's origins in ancient Greek mythology, it is a 'modernist opera' and also an expressionist one. Hugo von Hofmannsthal and Strauss's adaptation keeps Elektra on stage all the time after her first appearance – and as here more often than not in the spotlight. It explores her character by revealing her emotions and psychology motivations as she meets – mostly one at a time – all the other characters, Klytämnestra, Orest, Aegisth, as well as, her sister, Chrysothemis. For me none of them have enough time on stage for any real character development and are secondary to Elektra's cries for vengeance and its blood-soaked aftermath.
Elektra probably doesn't need that much direction as the setting never changes and – with the deepest respect to Patrice Chéreau's 2013 production which is supposed to be 'a landmark of contemporary opera staging' – I believe it could work just as well just as a concert. This Met première is a collaboration by several companies and originated at the Aix-en-Provence Festival. It was due to be the second time Chéreau and the conductor, Esa-Pekka Salonen, would work together at the Met after their 2009 From the House of the Dead but sadly the legendary director died at 68 shortly after his Elektra opened at Aix. Salonen uses what is apparently the largest orchestra ever to play at the Met and it all sounded wonderful. Yet although there was the expected dissonance and several violent crescendos, he appeared to luxuriate – perhaps a little too much at times – in Strauss's lush, melodic, Late-Romantic music as heard in, for instance, Der Rosenkavalier. A DVD  of Elektra was filmed at the Aix Festival which I have not seen but I would suspect it has been faithfully restaged by Vincent Huguet who is credited as stage director.
Chéreau not surprisingly updates what we see and Richard Peduzzi's set depicts the palace as a joyless place, with tall, foreboding walls, prisonlike doors stage right and up a few steps at the back, the living quarters of Klytämnestra. The first thing we see before the music starts are all the servants in drab housedresses (costumes by Caroline de Vivaise) almost robotically sweeping the stairs and cleaning the courtyard. (The veteran Met soprano, Roberta Alexander, caught the eye and ear as the Fifth Serving Woman.) This pantomime drags on a little too long before the tumult from the orchestra sets the 100 minutes or so of Elektra's revenge fantasy in motion. From then on not much actually happens and the success of the performance is reliant more on the singers' dramatic qualities – their ability to identify and internalise their characters' motivation – than their vocal talent. This was wonderfully showcased by Gary Halvorson's direction focussing mostly throughout on the individual singer's faces.
In a long monologue ('Allein! Weh, ganz allein'), Elektra remembers Agamemnon and reveals how she is determined to avenge him and that with the help of her sister and brother the deed will be done. She will then dance 'a royal dance of victory' at her father's grave. It is almost a reimagining of Strauss's earlier Salome and after much to-ing and fro-ing from the subsidiary characters, Chrysothemis comes out of the palace stating that the returned Orest is inside and has killed both Klytämnestra and Aegisth, with a massacre having begun as his followers have also killed those who supported them. Chrysothemis goes into the palace to be with her brother, while Elektra is ecstatic and begins to dance. (Unfortunately, Nina Stemme as Elektra does not move that well and her dancing looks more like Humperdinck's Hänsel having a foot-stamping tantrum.) The fact that Elektra has achieved what she wanted overwhelms her and at climax of her dance, she falls down dead. The last we hear is Chrysothemis calling for her brother, Orest, which mirrors Elektra's earlier cries for Agamemnon. Perhaps Strauss is hinting that the incest will continue. My first Elektra was at Covent Garden in 1988 and this opera is something I have seen occasionally over intervening years. It has always been rather obscure as to what Strauss wants us to experience, apart perhaps from 'Beware the angry woman'. This may – or may not – be rooted in his wife Pauline's own apparent hot temper! This is something best left to Freud or Jung.
Once again Nina Stemme seems to have been over-praised, this time as Elektra. Her dark, mezzo-ish sound, is fine as Brünnhilde but didn't sound right here in this role. (I understand there were the traditional cuts and although cutting Wagner because it is too demanding for the soprano would seem inconceivable it seems ok in Strauss!) I longed for a more vocally abandoned performance than Stemme appeared to give. She seemed to be pacing herself and while she must be admired for tackling this fiendishly difficult part I suspect there are many other roles Stemme is more temperamentally suited for, such as Turandot in which she recently excelled.  After being outsung as Brünnhilde by Petra Lang's Sieglinde in Dresden (review) she was bested again here – at least as I experienced it in the cinema transmission – by Adrianne Pieczonka's brighter sounding, pitch-perfect, Chrysothemis. Waltraud Meier emoted like an old silent movie star as an imperious Klytämnestra however her voice does not seem to be what it was. Memories of her past triumphs hung heavy for me over her subdued performance. Debuting at the Met Burkhard Ulrich was a dull Aegisth and made a small role seem even more insignificant.
Bringing the opera to life – and the undoubted star of the evening for me – was Eric Owens as Orest. He arrives as a messenger walking on almost unnoticed. In fact, he is there to punish his mother and her lover Aegisth but is stooped and aged because of the burden of this task which the gods have ordained for him. Owens's imposing bass-baritone was used with great restraint and had authority, gravitas and a quiet sustained menace. A favourite at the Met, he thoroughly deserved the affectionate acclaim from the audience which he appeared to receive.
Jim Pritchard