Switzerland Debussy, Pelléas et Mélisande: Soloists, Chorus of the Zurich Opera, Philharmonia Zurich, conductor: Alain Altinoglu, Zurich Opera, Zurich, 8.5.16. (JR)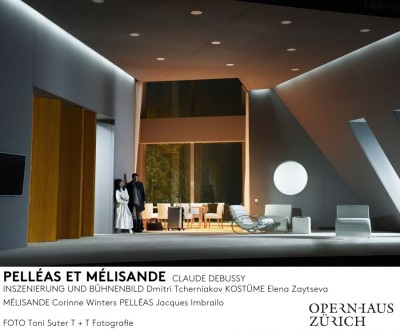 Debussy, Pelléas et Mélisande
Production:
Production and sets: Dmitri Tcherniakov
Costumes: Elena Zaytseva
Lighting: Gleb Flishtinsky
Video-Design: Tieni Burkhalter
Chorus-master: Jürg Hämmerli
Dramaturgy: Beate Breidenbach
Cast:
Arkel: Brindley Sherratt
Pelléas: Jacques Imbrailo
Golaud: Kyle Ketelsen
Yniold: Damien Göritz
A doctor: Charles Dekeyser
Mélisande: Corinne Winters
Geneviève: Yvonne Naef
Pélleas' father: Reinhard Mayr
Debussy's only finished opera (there are three he didn't complete) is enigmatic in content and tends to divide opera-goers into two distinct camps. Some find it a wondrous magical masterpiece full of symbolism, full of atmosphere and orchestral colour and a landmark in modern opera (written, in 1902, around the same time as Salome); others find it so utterly tune-less and bereft of melody as to make it just one long yawn – the impressionist music seeming to wallow and meander dreamily and aimlessly.  It certainly needs an inventive production to bring it to life, and a lively conductor to energise the orchestra, as Dmitri Tcherniakov and Alain Altinoglu both did here in Zurich.
The story, originally by Belgian playwright Maurice Maeterlinck, is simply told. On a hunting expedition Prince Golaud thinks he has wounded a boar, but instead finds a strange young girl, Mélisande, with very long hair, sitting at a fountain and crying. Both are lost in the forest. She says very little and is clearly disturbed but will not reveal what has disturbed her; Golaud knows almost nothing about her but instantly decides, of course, to marry her. Back at his grandfather King Arkel's castle, Mélisande meets Golaud's younger half-brother, Pelléas, with whom she quickly falls in love, so in a jealous rage Golaud kills Pelléas. Mélisande gives birth to a daughter, and then dies.
Surtitles at the Zurich Opera were in German and English, a reminder that in German-speaking Switzerland spoken French is not all that well comprehended (especially when all the singers are not native French, although on reflection that sometimes makes it easier).
Dmitri Tcherniakov returns to Zurich Opera after an impressive Jenufa a few years ago. In his contemporary production of Pelléas, many of the characters are psychotherapists or their patients. The set (also designed by Tcherniakov) is a large modern high-ceilinged living room in King Arkel's house. There are two white leather reclining chairs (the therapists' couches) at the front of the stage, a flat-screen TV, and at the back of the stage a dining area with table and chairs in front of double-height French windows. The backdrop consists of moving video images of the extensive gardens of the house, sometimes sunny, sometimes stormy and rainy, and by Act V very desolate and wintry.
In this psychological puzzle of a production there is no forest, no medieval tower, no fountains, not even the long flowing hair of Mélisande which is supposed to tumble down to be tied to a willow tree. Mélisande appears initially as a junkie, with ashen complexion and short black hair, initially in black torn-at-the-knee jeans and Doc Martens boots. Later in the opera, her costumes continue to be unusual and always somewhat disconcerting. The other characters are all in conservative modern Royal Family-at ease dress (cashmere pullovers, brogues), Geneviève even, on occasion, in jeans. Golaud's son Yniold is a child very much of today, often excluding the world around him by donning Dr. Dre-Beats headphones, sometimes in a Mickey Mouse jumpsuit or baseball shirt, cap and trainers – only the mobile phone is missing. The TV turns out to be a screen for a hidden camera in Mélisande's treatment room. Golaud's father makes a brief appearance in grey pyjamas, also looking disturbed, yet another victim presumably requiring therapy.
Golaud himself starts out as the smart young therapist but as the opera progresses he ages markedly and displays bouts of insane jealousy, sufficient to warrant him spy on his wife and finally kill his brother (though this is not indicated in this production, Pelléas simply grabs a suitcase and goes away). We are left with unanswered questions: who is the father of Mélisande's daughter, what was the nature of Mélisande's disturbance (we are led to believe it might have been some form of sexual molestation), is it perhaps all a dream?
The voices are all of a fine standard. British bass Brindley Sherratt is excellent as Arkel and has the best arias, bringing Gurnemanz to mind with his wise and kindly philosophical remarks. He also looks and acts the part with distinction. Kyle Ketelsen as Golaud is utterly convincing, his baritone strong, and he was impressive especially when aggressive towards Mélisande. Jacques Imbroilo sang the role of Golaud last year in Welsh National Opera's production (by David Pountney); his high-lying baritone is attractive; but the real vocal honours went, I felt, to Yvonne Naef as Geneviève for beauty of tone. Mélisande never has many lines to sing, they tend to be short interjections, she is after all supposed to be taciturn. Winters is an excellent actress, though a fellow critic rather tired of her constant twitching.
Young Yniold was well and chirpily sung by Damien Göritz, one of a group of Tölzer Knabenchoir boys (a number of them take turns in the role). He looked suitably spaced out as he wandered around the stage watching (or spying) on the goings-on.
Musically, the evening's honours went to the energetic Alain Altinoglu in the pit who delivered a full-bloodied account and the members of the Philharmonia Zurich who, once they had settled down, lavished sumptuousness into the watercolours of the ravishing score. Debussy had fallen under Wagner's spell when he saw Tristan und Isolde at Bayreuth some ten years before composing Pelléas; much his orchestration is reminiscent of Parsifal.
The production and the opera itself may still not have convinced everyone (there were a large number of empty seats after the interval) and some unwarranted booing from the Gods for the production team at the curtain calls, but most punters appeared to leave impressed even if not whistling any tunes.
John Rhodes