United Kingdom Bell, In Parenthesis:  (World Premiere) Soloists, Chorus and Orchestra of Welsh National Opera / Carlo Rizzi (conductor), Wales Millennium Centre, Cardiff, 13.5.2016. (GPu)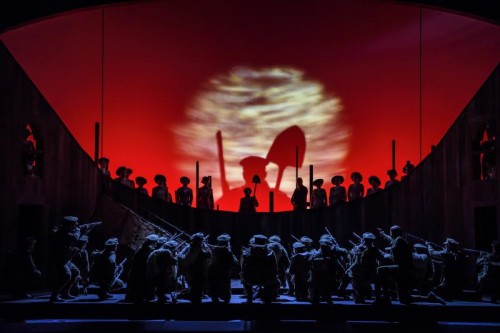 Bell, In Parenthesis
Cast:
Private John Ball: Andrew Bidlake
Sergeant Snell: Mark Le Brocq
Lieutenant Jenkins: George Humphreys
Lance Corporal Lewis: Marcus Farnsworth
Dai Greatcoat: Donald Maxwell
Bard of Brittania / HQ Officer: Peter Coleman-Wright
Bard of Germania / Alice the Barmaid /The Queen of the Woods: Alexandra Deshorties
The Marne Sergeant: Graham Clark
Private Watcyn: Joe Roche
Private Wastebottom: Martin Lloyd
German Soldier / Runner: Simon Crosby Buttle
Production:
Director: David Pountney
Designer: Robert Innes Hopkins
Lighting Designer: Malcolm Rippeth
Chorus Master: Alexander Martin
When I first heard that WNO were planning an operatic version of David Jones' long and complex text In Parenthesis, I was surprised and more than a little uneasy. In Parenthesis is densely written and richly allusive, full of a complex verbal music; these are not, I thought, qualities likely to survive adaptation to the operatic stage. And without them, what would be left? All too probably something that did a disservice to Jones and didn't work on the operatic stage.
I am delighted to be able to report, however, that the result is, in many respects, a success – even if it is not without its flaws. Inevitably, much of the intellectual and historical complexity of Jones' text is lost, but there is a compensating clarity of narrative (if at the cost of considerable simplification) and a good deal of plausibly individualized humanity in the very well-executed libretto by David Antrobus and Emma Jenkins. They have had to omit a great deal, but in doing so have selected with impressive intelligence and sensitivity. Where they have made additions they have largely done so with a well-thought out sense of purpose (though these additions don't all work out theatrically).
In Parenthesis sustains power and meaning on at least three levels simultaneously. Firstly, as an account of the ordinary soldier's experience before and during the trench warfare of the Somme. Private John Ball (a kind of persona for the erstwhile Private David Jones) is the key figure here. Secondly Jones' work seeks to relate the predominantly 'Welsh' assault on Mametz Wood to the tradition of earlier Welsh battles and their recording in poetry, primarily the battle of Catraeth as presented in the medieval poem Y Gododdin (Jones prefaces each of the seven parts of In Parenthesis with a quotation from the old poem). At a third level, In Parenthesis relates the particular First World War battle to the universal human propensity for war, so that Jones' allusions go far beyond the exclusively Welsh. He is just as likely to evoke Roman legionary battles, the Hundred Years War, the Napoleonic wars, and much else. In creating their libretto, Antrobus and Jenkins have thinned out (without absolutely omitting) this third level of Jones' poem.
The result is, in many respects, a compelling piece of theatre, embedded in a tautly economical but resonant libretto. David Pountney's direction is judicious, avoiding the temptation (as many lesser directors would have not) to indulge in the sounds of gunfire and exploding shells or to bombard the audience with flashing lights). As is characteristic of Pountney at his best he trusts the audience to make us of what Shakespeare (in the opening chorus of Henry V) called their own "imaginary forces". The set, designed by Robert Innes Hopkins, is both visually striking and theatrically flexible and resourceful. I am not quite so sure, however, that Ian Bell's music fully does justice to all this – at least not consistently.
Bell's score has some fine moments – the writing for the female 'Chorus of Remembrance' and for the men of the chorus who make up the military numbers beyond the named individuals is excellent throughout. There are some moving passages for John Ball (well sung by tenor Andrew Bidlack), such as his Act I aria built around the repetition of the lines "For all the fear in this dark night, / There is a kind of blessedness", (a central perception of In Parenthesis), lines neatly adapted from a passage near the beginning of Part 3 of Jones' text: "For John Ball there was in this night's parading, for all the fear in it, a kind of blessedness". Near the close of Act II there is a powerful and beautiful aria for The Queen of the Woods, beginning "I give to each, to all, bright flowering boughs. / My hands pluck forth for each a fragile prize". Such passages demonstrate Bell's sympathetic writing for the voice at its best, but there are other passages where the orchestral writing is rather clotted, where it distracts from, rather than enhances the complex music of Jones' words (which has often survived the adaptation by Antrobus and Jenkins). It is perhaps unfair to say that Bell's not infrequent reminiscences of Britten make one aware of just how much more that composer would have made of this libretto, since Bell is only 36; his talent is evident, even if he hasn't as yet fully found his own musical voice. There is, I am sure, more and better still to come from him, work which will be more than, as it is here, generally competent with a few outstanding passages.
The American Andrew Bidlack, making his WNO debut, brought assured technique and a sweet tenor voice to the role of John Ball. His characterisation of the clumsy private endowed (or perhaps, in such circumstances, cursed?) with a greater sensitivity than his companions, was utterly convincing and moving. Those singing most of the other named characters were given rather less to work with, by both librettists and composer, so that it was not the fault of Marcus Farnsworth or George Humphreys that neither Lance Corporal Lewis nor Lieutenant Jenkins emerged as fully-realized individuals. As Dai Greatcoat and The Marne Sergeant, Donald Maxwell and Graham Clark had more chance to shine, not least in their boasting contest in Act I, as each absurdly enumerated their supposed military history: "My father served with the Black Prince in these very fields" asserted Dai Greatcoat. "I was with Cain at the Death of Abel" retorted the Marne Sergeant; and their claims grew in historical reach and personal implausibility – "I was with Longinus at Calvary" / "I built a shit-house for Artaxerxes" – in a boasting contest for which Ian Bell provided fitting music. The episode is touching and comic, as well as powerfully universalising in its resonances.
The device of using two individuals as choric narrators, The Bard of Britannia and the Bard of Germania was perhaps one of the less happy ideas of Antrobus and Jenkins (doubtless inspired by Jones' water colour of 1941 'Britannia and Germania Enbracing' (now in The Imperial War Museum). They proved difficult for David Pountney to use theatrically, sometimes loftily observing, sometimes directly intervening ('invisibly', but rather awkwardly) in the action. Peter Coleman-Wright and Alexandra Deshorties made as much as could have been expected of these roles, though Deshorties only came fully to life when, in the final phase of the work, she took on the role of a kind of tutelary spirit of the war-ravaged Mametz Wood. Throughout, the playing of the WNO orchestra was both vivid and disciplined and as one expects from Rizzi the orchestral support for the singers was superb.
Glyn Pursglove