Ashton: Romeo and Juliet, Los Angeles Ballet, Royce Hall, Los Angeles 4.6.2016 (JRo)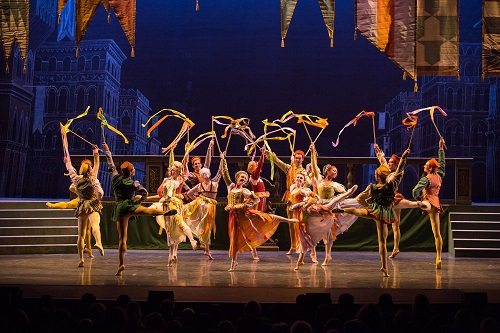 Cast:
Romeo: Kenta Shimizu
Juliet: Julia Cinquemani
Mercutio: Luke Schaufuss
Benvolio: Magnus Christoffersen
Livia: Bianca Bulle
Lord Capulet: Thordal Christensen
Lady Capulet: Colleen Neary
Tybalt: Zheng Hua Li
Paris: a young nobleman
Juliet's Nurse: Chelsea Paige Johnston
Friar Laurence: Joshua Brown
Prince of Verona: David Renaud
Production:
Choreography: Sir Frederick Ashton
Music: Sergei Prokofiev
Staging: Peter Schaufuss
Lighting: Tyler Lambert-Perkins
Sets and Costumes: Peter Rice 
As subject matter for a full-length story ballet, Romeo and Juliet has it all, from tender romance to violent passion, from youth and hope to despair and death, from horseplay to swordplay. It's no wonder that so many choreographers have found it irresistible. And of all the musical settings of the play, Sergei Prokofiev's score has inspired the most interpretations. Among the earliest were Leonid Lavrovsky's for the Kirov and Bolshoi in 1940 and 1946, Frederick Ashton's for the Royal Danish Ballet in 1955, John Cranko's for the Stuttgart in 1962, and Kenneth MacMillan's for the Royal Ballet in 1965.
MacMillan's version has endured as the most popular internationally, but it is Ashton's more intimate Romeo and Juliet that Los Angeles Ballet has added to their repertory of classics. Never before staged by an American company, it is a clever choice for LAB, and it gives audiences here a chance to experience the elegance and poetry of Ashton's choreography. It also proves an interesting contrast to Alexi Ratmansky's sumptuous version, danced by the National Ballet of Canada and seen in Los Angeles in 2014: https://seenandheard-international.com/2014/07/alexi-ratmanskys-exuberant-romeo-and-juliet/
Romeo and Juliet was staged by Peter Schaufuss, the renowned Danish dancer and choreographer, who inherited the rights from Ashton in 1988. The ballet consists of a prologue and eleven scenes, opening on Romeo dreaming of love and closing with the death of the lovers in the Capulet tomb. Although the dream sequence was puzzling, the playfulness of the townsfolk in the city square in Scene I drew the audience immediately into Ashton's style with its controlled but fluid arms, hip height arabesques, and intricate footwork. Ashton's choreographic world ̶ refined, exuberant, and soulful ̶ immerses us in a romantic idyll where we glimpse a loftier version of ourselves.
The weakness of the production came, to some extent, from the overall structure of Ashton's work. Scene changes required the curtain to be dropped frequently and slowed down the proceedings. Repetitive moments behind a scrim at the rear of the stage ̶ of Juliet running to and from Friar Laurence's cell or Mercutio and Benvolio running from square to ball and back to the square ̶ grew wearisome. The costumes, designed by Peter Rice and borrowed from the English National Ballet, were artful, but Rice's sets looked inexpensive and a bit dreary. Perhaps a more opulent setting and more clever staging could overcome these obstacles.
However, the corps gave voice to Ashton's vision in a fine performance, whether carousing in the city square or dancing formally in the Capulet ballroom. LAB dancers excelled as Juliet's friends, Paris's court, and in the charming Mandolin Dance.
As Juliet, Julia Cinquemani carried the gravity of the ballet on her delicate, expressive shoulders. From child-woman to despairing wife, she gave a nuanced performance. Kenta Shimizu as Romeo partnered Cinquemani with effortless grace.
Luke Schaufuss's Mercutio captured Ashton's wit but never quite soared in the high-flying role. Magnus Christoffersen was an adept Benvolio and Chelsea Paige Johnston's turn as Juliet's Nurse was full of charm and zest. Zheng Hua Li, with a dark goatee and aggressively black costume, looked more like Von Rothbart, the evil magician in Swan Lake, than Juliet's brother; but he was appropriately unsympathetic and predatory, as the part demanded. Tall and handsome in the role of Paris, Erik Thordal-Christensen's characterization felt unformed. Bianca Bulle, cast as Mercutio's girlfriend, was a lively addition. As Lord and Lady Capulet, LAB Artistic Directors Colleen Neary and Thordal Christensen were commanding and involving, though Lady Capulet's grief over the death of her children seemed more frantic than profound.
Los Angeles Ballet's programming includes a heavy dose of full-length story ballets, a strategy that has proved successful in gaining audiences; but without an orchestra they are at an enormous disadvantage. The lack of live music doesn't prove a hindrance in their triple bills of varied choreography, but comes at a cost in the classic repertory. Ballets like Swan Lake, Giselle, and The Nutcracker are operatic in sight, sound, and scale, and lose much with a recorded score. The dancers of LAB have proved with this Romeo and Juliet that they deserve to take their place in the city of Los Angeles with a permanent venue and a full-bodied orchestra.
Jane Rosenberg