Germany Wagner, Götterdämmerung: Staatskapelle Berlin, Staatsopernchor, Daniel Barenboim (conductor), Schiller Theatre, Berlin, 19.6.2016. (JMI)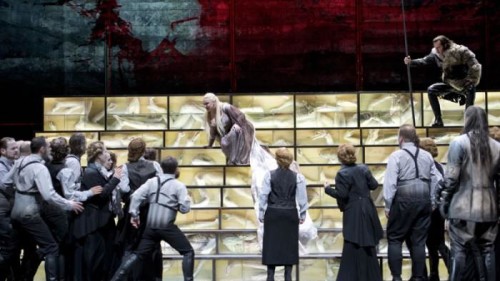 Production: Staatsoper Berlin in coproduction with La Scala
Direction: Guy Cassiers
Sets: Guy Cassiers and Enrico Bagnoli
Costumes: Tim Van Steenbergen
Lighting: Enrico Bagnoli
Cast:
Brünnhilde: Iréne Theorin
Siegfried: Andreas Schager
Hagen: Falk Struckmann
Gunther: Boaz Daniel
Gutrune: Ann Petersen
Waltraute: Ekaterina Gubanova
Alberich: Jochen Schmeckenbecher
First Norn: Anna Lapkovskaja
Second Norn: Ekaterina Gubanova
Third Norn: Ann Petersen
Woglinde: Evelin Novak
Wellgunde: Anna Danik
Flosshilde: Anna Lakpovskaja
Wagner's tetralogy came to an end in Berlin with a brilliant performance in musical terms, an acceptable stage production and a slightly uneven cast. Daniel Barenboim has again proved that he is one of the great conductors of today, and especially in Wagner operas. His Ring of the Nibelung has been superb, apart from a somewhat unconvincing Das Rheingold, but from that performance on, everything has worked perfectly. Götterdämmerung was the jewel in the crown.
Barenboim's conducting was controlled, inspired and brilliant, and the Staatskapelle Berlin gave a splendid performance. It truly is an exceptional orchestra, especially when Mr. Barenboim is on the podium. I should also mention the excellent work of the Staatsopernchor.
This Guy Cassiers production premiered in March 2013. Overall, it was the best staging of the Ring cycle here. The dancers were back on stage, but this time it wasn't intrusive: they were limited to accompanying Siegfried on his arrival at the Gibichung palace, and as the hero reached Brünnhilde's rock. The plot was well narrated, though perhaps too static. Video projections were attractive when they dealt with water or fire, but the strange images of humanoids were rather boring. The sets seemed to pay tribute to Belgian sculptor Jef Lambreaux, and partially reproduced, in illuminated display cases, his Passions Humaines (which can be seen in Brussels). This same work served as a final curtain in a bas-relief, and was also the opening curtain in Rheingold.
Swedish soprano Iréne Theorin repeated the role of Brünnhilde, and what I wrote about her performances in Walküre and Siegfried was true here. Her voice is nicely suited to the character, with an attractive middle range, and her singing always shows power and unquestionable quality. So far, everything is in order, and we have a very remarkable Brünnhilde. But apart from this, her high notes are always shouted, and I confess that I don't like it. Without the screaming, she would be a great Brünnhilde.
Andreas Schager was an exceptional Siegfried, one of the best today, if not the very best. His performance in Götterdämmerung did not achieve the brilliance he exhibited in Siegfried, but it was worthy of admiration. Rarely does one hear a heldentenor in this role who is able to overcome the difficulties of his narration before being killed: Wagner made it almost impossible for any singer. My question is whether he'll be able to maintain this level of excellence.
Falk Struckmann was back on stage, but this time as Hagen, a major character. I can't say that his performance was disappointing, but he is simply not the bass required in the role. Losing the high notes does not convert a baritone into a bass.
Baritone Boaz Daniel, a true professional, did nicely in the part of Gunther. Soprano Ann Petersen was a fairly modest Gutrune, and doubled as the Third Norn. Ekaterina Gubanova was quite good in the part of Waltraute; she doubled as Second Norn. Once again, Jochen Schmeckenbecher made an excellent Alberich.
The Schiller Theatre was sold out quite some time ago. The audience gave an enthusiastic reception to the artists, and especially to Daniel Barenboim and the Staatskapelle.
José M. Irurzun