United Kingdom Verdi, Il trovatore: Deutsche Oper Berlin Orchestra and Chorus, Roberto Rizzi Brignoli (conductor), Deutsche Oper Berlin, 16.6.2016. (JMI)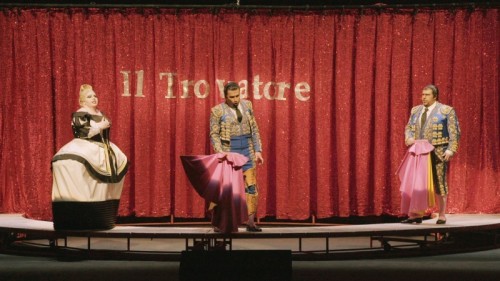 Production: Deutsche Oper
Direction: Hans Neuenfels
Cast:
Manrico: Carlo Ventre
Leonora: Angela Meade
Count Luna: Dalibor Jenis
Azucena: Dana Beth Miller
Ferrando: Marko Mimica
Ruiz: Burkhard Ulrich
Inez: Rebecca Jo Loeb
There are some opera productions – but fewer and fewer – that strictly follow a libretto and offer realistic, historicist visions of the work. There are others that move the action to modern times, trying to make the story easier to understand. And then there are productions that reflect the vision of the stage director with a dramaturgy that is partly, or entirely, alien to the plot. Examples of the latter can be seen every day, but I had never before experienced a production that turns a dramatic opera into an opera buffa.
It's not that Hans Neuenfels wants his Il trovatore to be original or profound; rather, he simply and deliberately chooses to mock the text. Many people have written about how difficult this opera is to comprehend. Neuenfels seems to share this view, and has decided to turn the work into an opera buffa in the best Rossini style. There are two possible responses: get irritated at such an outrage or enjoy what is happening on stage. I confess that my reaction was the latter, and I had fun with it.
The production had its premiere here 20 years ago, and Berliners seem to know exactly what is coming when this Il trovatore is announced: an opera buffa marked by huge doses of originality and amusement. It's worth attending just for the opening scene, with chorus members wearing medieval costumes and huge beards, and resembling the old friars I remember from when I was a child. Their humorous movements around the stage signal the sort of production to come. Then there's Leonora dressed as a Meninha, singing her aria as the two brothers, in bullfighter costumes, enter the stage. For the confrontation scene between them, Mr. Neuenfels has no better idea than to send down two big punching balls, but the  convent scene is worthy of the Marx Brothers. There is a glass-fronted coffin in which a female saint lies, and at a certain point she sits up to see what's going on and then lies back down. Of course, the two brothers are still dressed as bullfighters. Leonora's entrance is spectacular, surrounded by nuns in an authentic fashion show, a real display of nuns' habits in every imaginable color. Finally, a crucified man appears who, upon hearing "sei tu dal ciel disceso or in ciel son io con te," gets off the cross and dances with the bishop. The bearded soldiers do the same with the attractive nuns. I must say I was greatly amused by all this nonsense.
Unfortunately, Neuenfels's imagination seemed to have been exhausted by the first two acts, and the second half of the opera was, if not traditional, less crazy than earlier. The opera ends with Count Luna shooting every pistol available while the curtain falls.
The musical direction was in the hands of Roberto Rizzi Brignoli. The tempos were sometimes a bit slow and there was some abuse of volume, but overall it was satisfactory. The orchestra gave a solid performance, but the chorus had a better time acting than singing.
Carlo Ventre as Manrico gave his usual anodyne interpretation of the part. His voice is wide, almost too much so, and although he shines at the top, he's not very expressive. The aria "Ah, si ben mio" was a mere formality, and he avoided the agilities. As for "La Pira," it consisted, as is usual with him, of a single verse.
The best in vocal terms was American soprano Angela Meade in the part of Leonora. She has a beautiful voice, well suited to the role, and is an excellent singer, offering good piani in her arias. Her biggest problem is that she is not is not a paragon as an actress.
Dalibor Jenis did nicely as Count Luna though without much brilliance; his voice is somewhat coarse. Dana Beth Miller was not particularly convincing as Azucena. Her timbre is unattractive and here voice gets tight at the top. She was better in the last act than in the scene of the gypsy camp. Marko Mimica was a correct Ferrando.  Burkhard Ulrich as Ruiz was among the best in the cast, and Rebecca Jo Loeb did very well as Inez.
José M. Irurzun