Spain Puccini, La bohème: Liceu Orchestra and Chorus, Marc Piollet (conductor), Gran Teatre del Liceu, Barcelona, 20 & 21.6.2016. (JMI)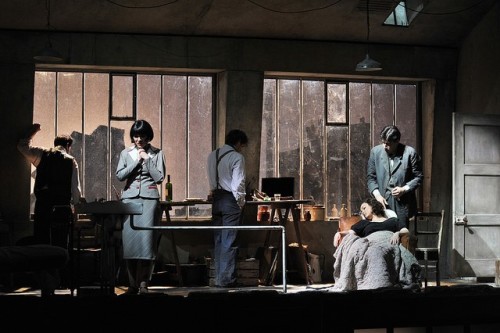 Production: English National Opera and Opera Cincinnati
Direction: Sir Jonathan Miller
Sets and Costumes: Isabella Bywater
Lighting: Jean Kalman
Casts:
Mimì: Tatina Monogarova/ Eleonora Buratto
Rodolfo: Matthew Polenzani/Saimir Pirgu
Marcello: Artur Rucinski/Gabriel Bermúdez
Musetta: Nathalie Manfrino/Olga Kulchynska
Colline: Paul Gay/Fernando Radó
Schaunard: David Menéndez/Isaac Galán
Benoit/Alcindoro: Fernando Latorre
This production of La bohème is not the first that Jonathan Miller has directed. I remember seeing an older staging by him twelve years ago in Bilbao which came from the Paris Opera. Both productions place the action in 1930s Paris, and this new production doesn't really offer anything that was not present in the previous version, although this one is less spectacular in Act II. It's a very traditional approach whose greatest merit is to facilitate scene changes: the sets consist of turning modules with the Bohemians' home on one side and Cafe Momus on the other. The Bohemians' attic is a somewhat cramped space at the top of the stage, accessed by a staircase to the right. All in all, it's a traditional production, and rather lifeless.
Accompanying the first cast, Marc Piollet gave a routine reading of the score. The following day his reading was much better, with emotion that did not exist the first time around. The orchestra was no more than correct, and the same can be said of the chorus.
Tatiana Monogarova's Mimì was unconvincing. Her voice has a certain appeal, but loses quality in the upper register. The biggest problem is the monotony of her singing, which results in an impersonal Mimì. Eleonora Buratto was much more interesting in the second cast. Her voice has great homogeneity throughout the tessitura, and she is well able to convey emotion to the audience.
American tenor Matthew Polenzani offered the best singing in the first cast in his debut as Rodolfo; his voice reflects his bel canto background. I have the impression that the production worked against him: singing from a position at the top of the stage does not help with voice projection. He might have fallen short of squillo, but all in all he made a good debut in the role of the poet. Saimir Pirgu was a fine Rodolfo in the second cast, and very well-suited to the role. His voice is one of the most beautiful today, and it is a pleasure to hear him on stage.
Baritone Artur Rucinski as Marcello had more difficulty reaching the audience than in the past. I don't know if his voice projection has worsened, or if again it was a problem caused by the staging. I expected more from him. Gabriel Bermudez was insufficient as Marcello in the second cast, and at times inaudible.
Nathalie Manfrino was rather modest as Musetta, tight at the top, while young soprano Olga Kulchynska was excellent. She may have an excellent career ahead.
Both Collines were too light, and especially Paul Gay. Fernando Radó was better.
The two Schaunards, David Menéndez and Isaac Galán, did very nicely in the role.
 José M. Irurzun