United Kingdom Various composers, Betroffenheit: Kidd Pivot and Electric Company Theatre, Sadler's Wells, London, 31.05.2016. (J.O'D)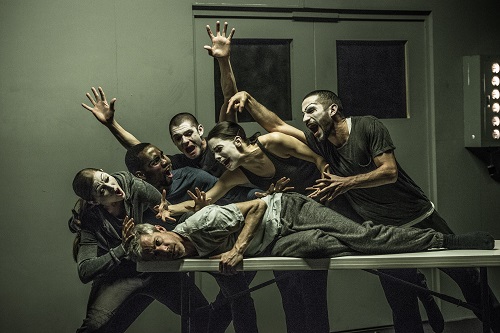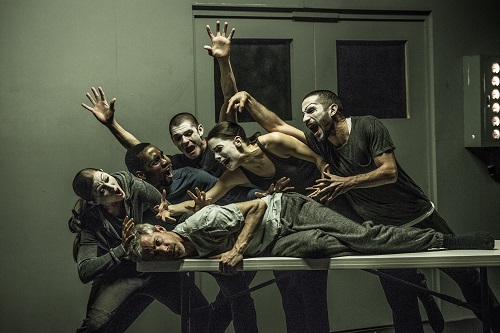 Performers: Bryan Arias, David Raymond, Cindy Salgado, Jermaine Spivey, Tiffany Tregarthen, Jonathon Young
Written by: Jonathon Young
Choreographed and Directed by: Crystal Pite
Composition and Sound Design: Owen Belton, Alessandro Juliani, Meg Roe
Set Designs: Jay Gower Taylor
Lighting Design: Tom Visser
Costume Design: Nancy Bryant
'Betroffenheit is an extraordinary and affecting work that I think will resonate powerfully with you,' writes Sadler's Wells Artistic Director Alistair Spalding at the end of his introductory note in the programme. If whooping, cheering and a standing ovation during the curtain call are signs of powerful resonance, he is right. Looking around me, I seemed to be the only person in the audience with whom this dance-theatre collaboration between the choreographer Crystal Pite and the actor and playwright Jonathon Young had hardly resonated at all. It was mostly the fault of the dance.
I wanted it to resonate. I wanted to be moved by a work to which Jonathon Young's 'personal story of trauma and loss', the death of his teenage daughter and her two cousins in a fire in 2009, is central. I was moved, towards the end of the second act, when Young (who is one of the performers) says, quite simply, 'There's no coming at it' and 'There's no room to forget', and when he describes everything that has gone before as an 'attempt'. I wished there had been more of this simplicity throughout the piece.
The German word 'Betroffenheit' is taken here to mean the state of bewilderment experienced after a traumatic event. This state is represented as a room in what could be a particularly shabby hospital or prison. It is both a physical and a psychological space. Jonathan Young is in the room; the room is in him. It is his state of mind. 'Don't respond,' a voice that is his own repeats. 'You're past that. The accident has happened.'
Gradually, the room is inhabited by more people. They are the dancers of Crystal Pite's Kidd Pivot company. Pite is a 'family friend' who Young asked to collaborate. 'Because we are theatre makers,' she explains in an interview published in the programme, 'we were drawn to using "Showtime" as our image of "substance" and a state of distraction.' What this means is that much of the first half of the piece is cluttered up by phantasmagorical, white-faced tap dancers and showgirls (with a bit of cross-dressing thrown in) as Young tries to go back to his life. It is interesting to see Crystal Pite's usual palette of grey given sequins and touches of colour, but Jermaine Spivey, as Young's alter ego, is the only dancer whose presence seems really necessary.
The stage, after the interval, is clear except for a vertical girder which divides the space as a piece of piping divided it in the previous act. The Kidd Pivot dancers return, in grey 'practice' clothes and without face paint. As in Crystal Pite's The Tempest Replica (2014), there is a sense that the exposition is 'over with' and that it is now time to 'watch the dancing unfold'. But because of the dance that has already occurred, watching this dancing is like going over old ground. The company's animatronic movement style comes across as mannerism (as it did in The Tempest Replica); the open mouths, outstretched arms and splayed fingers with which they express grief are too frequent and too literal.
Jonathon Young's final words can not fail to have an effect. But the ending is weakened (for me, at least) by more dance: a 'feel-good', piano-accompanied solo for Spivey in which he goes from limping, to running, to leaping in the air before walking slowly off the stage.
John O'Dwyer