Germany Wagner: Die Walküre, Staatskapelle Berlin, Daniel Barenboim (conductor), Schiller Theatre, Berlin, 12.6.2016. (JMI)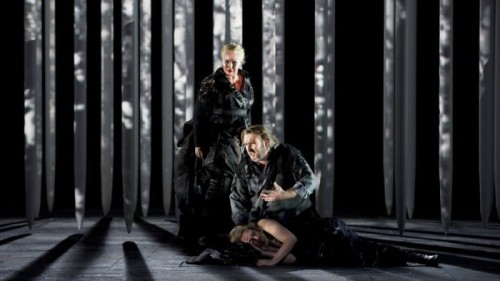 Production:
Direction: Guy Cassiers
Sets: Guy Cassiers &Enrico Bagnoli
Costumes: Tim Van Steenbergen
Lighting: Enrico Bagnoli
Cast:
Brünnhilde: Iréne Theorin
Wotan: Iain Paterson
Sieglinde: Anja Kampe
Siegmund: Simon O'Neill
Fricka: Ekaterina Gubanova
Hunding: Falk Struckmann
Gerhilde: Sonja Mühleck
Helmwige: Vida Mikneviciute
Waltraute: Anja Schlosser
Schwerleite: Anna Danik
Ortlinde: Anna Samuil
Siegrune: Julia Rutigliano
Grimgerde: Anna Lapkovskaja
Rossweisse: Simone Schröder
Right from the storm at the beginning of the opera, I had little doubt that Daniel Barenboim's reading would not be along the lines he offered in Das Rheingold. And so indeed it was. His conducting was bright and inspired, although the level of excellence was not consistent throughout the opera. Act I was superb, one of the best I've ever attended. Here Mr. Barenboim demonstrated his great talent as conductor and musician. In the second act, the confrontation with Fricka and the Wotan Monologue were not at the same high level, but it all improved remarkably in the scene of Siegmund's Death Announcement. The Act III ride of the Valkyries was unconvincing, and there were some debatable sounds coming from the stage. However, Mr. Barenboim was terrific in the scene between Wotan and Brünnhilde, although the Magic Fire was somewhat short of emotion. Once again, the Staatskapelle Berlin was exceptional, truly one of the best opera orchestras today.
As for the Guy Cassiers production, it helped that this time there were no dancers on stage, and we went from mediocre (Rheingold) to acceptable. Overall it's a hybrid production, falling somewhere between modernism and pure tradition. The staging incorporates video projections more frequently than in Rheingold, but they are of little interest. The stage is very dark, especially in the last act, and the lighting leaves something to be desired. The sets are not particularly attractive. A translucent and closed cube in Act I represents Hunding's dwelling; the second act opens with a sculpture of horses that soon disappears. Act III is unattractive, particularly with regard to the Magic Fire, which is suggested by red lights beaming down from the ceiling, as if Brünnhilde were having a session of UVA rays. The costumes for Fricka and the Valkyries reminded me of designs usually offered by Christian Lacroix. During Wotan's monologue there is a rotating sphere where images of the god are projected, but they were photos of René Pape, who was Wotan at the premiere. It can't be that costly to change or even to suppress them. The stage direction is not of particular interest, but it narrates the story correctly.
As at the premiere of this production in Berlin five years ago, Brünnhilde was played by Swedish soprano Iréne Theorin, who demonstrated the virtues and defects seen on other occasions. Among the former, her broad voice is well suited to the demands of a dramatic soprano, and she is a skilful interpreter. Among her shortcomings it should be noted that her high notes are invariably shouted, but this did not seem to matter to the Berlin audience.
Again, as in Das Rheingold the day before, Wotan was played by Iain Paterson. His performance was correct but not strong enough for him to join the list of the great Wotans today. His voice lacks amplitude and falls short at the low notes, which results in somewhat monotonous singing.
Anja Kampe has always been Sieglinde in this production in Berlin, and she repeated her compelling performance. She was irreproachable in terms of vocal intensity, but her high notes are problematic.
New Zealand tenor Simon O'Neill was a convincing Siegmund. His voice is not the strongest and his sound is sometimes nasal, but he has power enough to overcome the difficulties of the character. He excelled in "Wälse, Wälse," did well in the scene with Brünnhilde, and ended the first act brilliantly.
Ekaterina Gubanova has always been Fricka in this production, and she sang with gusto and intention, though her volume is not huge. Falk Struckmann did not convince me as Hunding. He is more baritone than bass, and Hunding demands a genuine bass.
The group of Valkyries was somewhat irregular vocally. Overall, the mezzos were more successful than the sopranos.
José M. Irurzun