United Kingdom Wagner, Tristan and Isolde: Soloists, Chorus and Orchestra of English National Opera / Edward Gardner (conductor). London Coliseum, London, 9.6.2016. (JPr)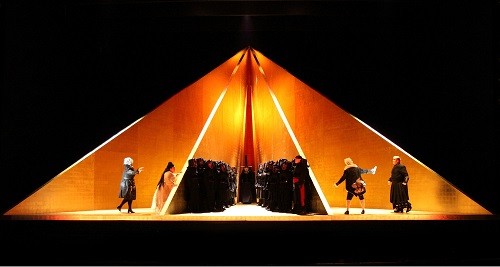 Wagner, Tristan and Isolde
Cast:
Tristan – Stuart Skelton
Isolde – Heidi Melton
King Marke – Matthew Rose
Kurwenal – Craig Colclough
Melot – Stephen Rooke
Brangäne – Karen Cargill
Shepherd – Peter van Hulle
Steersman – Paul Sheehan
Young Sailor – David Webb
Production:
Director – Daniel Kramer
Set Designer – Anish Kapoor
Costume designer – Christina Cunningham
Lighting Designer – Paul Anderson
Video Designer – Frieder Weiss
I have absolutely no wish to put the boot into English National Opera, a company I have been following for more than 40 years. However, this must be the worst Wagner that they have put on during those years. It is much easier to say what was right about this performance rather than what was wrong.
Briefly, should there be anyone reading this who does not know the story let me remind you: Tristan, a Knight, has killed Morold the fiancé of 'the wild Irish maid' Isolde who, in revenge, wants him to die too. Her servant Brangäne switches the deadly drink Isolde has picked out for this with a love potion which makes the sworn enemies fall for each other. Isolde's hand in marriage has been promised to the ruler of Cornwall, King Marke … and that is nearly it for the plot. The illicit lovers are betrayed by Melot, Tristan's closest friend, and full of remorse Tristan is severely wounded when challenging Melot. Taken home to Brittany Tristan succumbs to his wound before Isolde can arrive to heal him again as she once did when he fought Morold.
This story of fateful love unfolds (intervals excluded) over 3½ hours to (as here) four hours and more. This depends on how slowly it is conducted. Under Edward Gardner – one of ENO's recent music directors – the orchestra began proceedings with a gripping account of the yearning Prelude which was full of unhurried eroticism. The orchestra at London's other opera house (Covent Garden) could never – in my opinion – play this music as well as this. I began to almost believe I was in for a memorable evening – and so I was for all the wrong reasons! Throughout the opera the orchestra maintained this very high standard and Gardner brought lucidity to the music, as well as, an over-arching sweep and coherence to the myriad musical ideas. Mostly the balance of sound was ideal except he indulged his poor Isolde (Heidi Melton) too much in her effortful phrasing. Gardner also seemed to lose faith in both the main protagonists somewhat as the opera's tragic denouement approached.
Daniel Kramer, ENO's newly appointed artistic director, is saddled with – or has saddled himself with – incoherent sets and costume designs by Sir Anish Kapoor and Christina Cunningham, respectively. Mostly the drama loses out at the expense of striking visuals. Tristan and Isolde is a music drama and should engage the brain as much as the eyes. As I left the London Coliseum I felt as clueless as Parsifal at the end of Act I of that opera when he does not understand what he has seen! In Act I, Tristan and Isolde are trapped in a tripartite pyramid-like structure and both separated on either side of it. Katharina Wagner's current staging at Bayreuth employs pyramidal symbolism (and some stars we also later see here) and Herbert Wernicke had Tristan and Isolde in two colour coded boxes in a production at Covent Garden in 2000. Act II takes place in what could have been the grotto-like interior of a huge version of the TV Clangers' planet though it is probably a meteor. Later the two lovers must have been driven so insane by their passion and apparent urge to self-harm that they had to be strapped to hospital beds. Act III is probably the best with – courtesy of Frieder Weiss's videography – blood flowing from Tristan's wound following him across the stage. Later the 'grotto' comes back and the lighting effects get a little erratic.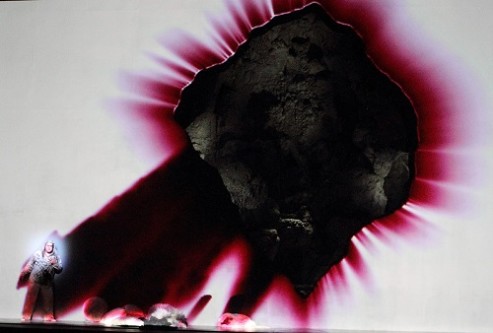 In Act I Kurwenal and Brangäne fuss around as characters out of an eighteenth-century restoration comedy. (At one point Isolde reveals a farthingale so big that some wag suggested that when she was finished with it Anish Kapoor would put a slide inside it as he is for his sculpture at London's Olympic Park!) Tristan is a samurai, King Marke's men seem to have wandered in from Star Wars and will later be transformed late in Act II into medical staff when the elderly bearded King Marke appears to have wandered in from the Old Testament. In Act III everyone has aged dramatically; Brangäne – who in Act II seems to have been at St Trinian's – now along with Kurwenal hint at Beckettian tramp clowns or at the very least their Russian Circus counterparts. My heart sank with Kurwenal's so-called funny business involving some steps and a telescope! To be truthful, the opera seems to have been directed from the middle of the stalls and not all the action reached even as far as the front of the Dress Circle. Unfortunately, it may not have been Daniel Kramer's fault that he had two leading singers with difficulties moving elegantly on the stage and so he possibly did the best with them he could.
Finally, about the singing, and it is clear that the team behind the casting had too much faith that the relatively inexperienced Heidi Melton (yet another young American soprano at ENO) could deliver an acceptable Isolde. There was no announced indisposition so I can only comment on what I heard and hers was possibly the worst I have sat through in the opera house. There is a chance she might become an Isolde in the future but on this evidence she is not one now. The middle of the voice was never an issue despite having a prematurely aged sound, but the highest notes were often yelps or simply shrieks. Throughout her breath control seemed disturbingly compromised. Karen Cargill is clearly now more than a Brangäne and had the solid technique and incisive voice Melton lacked. How much better things might have been had Cargill sung Isolde, with Melton as Brangäne.
Matthew Rose sang with deep conviction and richly sonorous tones as King Marke. Diction from all concerned was exemplary at least until the more tumultuous moments so every word of the late Andrew Porter's translation could be clearly heard. There was some fine singing in the relatively minor roles of Young Sailor (David Webb), Helmsman (Paul Sheehan), Shepherd (Peter Van Hulle) and Melot (Stephen Rooke) but Craig Colclough's stalwart Kurwenal was a little too craggy sounding for his hyperactive stage personas.
As Tristan, Stuart Skelton had some good moments especially when ranting his way through his Act III delirium, even if he sounded more like Peter Grimes than Tristan. I will suspend full judgement on him until I can hear him sing the role in German. Very occasionally he sounded as if he was striving for a particular vocal effect because he thought it was what the role needed. Heidi Melton was so tired at the end that her Verklärung (Liebestod) was almost like Sprechstimme and even Skelton – before his heart-wrenching final 'Isolde!' – was struggling to produce the necessary volume. Skelton certainly might get better as the fairly lengthy run of 8 performances continue but I am not sure Heidi Melton will …nor do I expect this production to be revived at English National Opera anytime soon, if ever.
Jim Pritchard