United States Faccio, Amleto: Soloists, Opera Delaware, Anthony Barrese (conductor), Grand Opera House, Wilmington, Delaware. 20.5.2016. (BJ)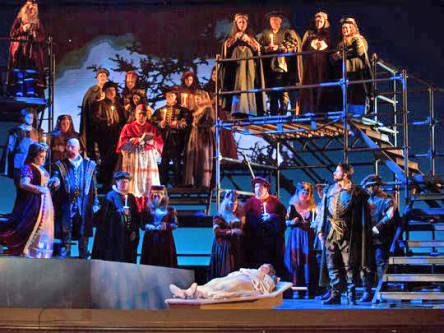 Faccio, Amleto
Production:
Director: E. Loren Meeker
Chorus Master: Jeffrey Miller
Set Designer: Peter Tupitza
Costume designer: Howard Tsvi Kaplan
Lighting/Projection Designer: Driscoll Otto
Make-up and Wig Designer: Brittany Rappise
Fight Choreographer: Lewis Shaw
Technical Director: Robert Parker
Stage Manager: Kaley K. Smith
Cast:
Amleto (Hamlet): Joshua Kohl
Ofelia (Ophelia): Sarah Asmar
Geltrude (Gertrude): Lara Tillotson
Claudio (Claudius): Timothy Mix
Lo Spettro (The Ghost): Ben Wager
Laerte (Laertes): Matthew Vickers
Polonio (Polonius): Harold Wilson
Orazio (Horatio): Justin Hopkins
Marcello (Marcellus): José Saćin
Un Sacerdote (A Priest): José Saćin
Un Araldo (A Herald): Douglas Rowland
Il Re Gonzaga (King Gonzaga), an actor: James Haughom
La Regina (The Queen), an actor: Marcelle McGuirk
Luciano (Lucianus), an actor: Ben Wager
Primo: Becchino (First Gravedigger): Harold Wilson
Franco Faccio (1840-1891) is a musician I had always, on the basis of George Bernard Shaw's enthusiastic review of the 1889 London premiere he led of Verdi's Otello, thought of purely as a conductor. He was indeed one of the leading opera conductors of his time, serving from 1871 to 1889 as music director of La Scala in Milan, where his successor was Toscanini. But I was unaware that, in addition to that activity and to his friendship and collaboration with Arrigo Boito (which led, among other things, to Verdi's reconciliation with the latter, and thus to the composition of Otello and Falstaff), Faccio was himself a composer of notable stature.
Besides some chamber and orchestral music, including three symphonies, his output included a large number of songs and other vocal works. As part of a nine-day festival dedicated, around the 400th anniversary of Shakespeare's death, to music associated with the playwright, Opera Delaware put us all in its debt with the fully-staged East Coast premiere, in Wilmington's handsome Grand Opera House, of Amleto, the second and by far the more successful of Faccio's two operas, which had been presented there in a concert version in 2014. (It was composed, in 1865, to a libretto that was the first one Boito completed; the Falstaff he created 28 years later for Verdi was to be his last.)
The conductor, and the man responsible for putting the long-neglected score in performable shape, was Anthony Barrese, and it is a pleasure to report that the performance he led was in every musical respect of the highest quality. The orchestra did ample justice to a score of considerable sophistication, reminiscent of the quasi-symphonic richness pioneered a couple of generations earlier by Spontini, rather than of the more melody-centered style espoused by Italian opera composers from Rossini to Verdi and beyond. Jeffrey Miller's chorus made excellent contributions to the musical whole, and the solo roles were strongly sung, with particularly impressive voices deployed by Lara Tillotson and Timothy Mix as Gertrude and Claudius. Joshua Kohl, too, was equal to the vocal challenges of the title role, and though not at all fat and by no means scant of breath (characteristics his mother attributes to him in the original play, which some actors, including Alec Guinness in one long-ago production, have sought to represent literally), he made a convincing and often subtle Hamlet.
On the dramatic side, E. Loren Meeker's production also carried a fair degree of conviction, and though Peter Tupitza's set was clean and practical, and the use of a central screen with projections designed by Driscoll Otto offered ample opportunity for evoking poetry and mystery along Shakespearean lines, I felt that more striking effects could have been produced from both these potential advantages. The main projection, an entirely un-mysterious head shot of the late Hamlet senior's ghost, lacked any element of misty or cloudy background to loom out of. And instead of emulating a brilliant I Puritani production by Linda Brovsky on a similarly multi-level Robert A. Dahlstrom set that I saw in Seattle some years ago, which enabled the audience to spot at once every character making an entry on one of the upper levels, this Amleto offered no such clarification of the action. There were just a lot of people around, and the spectator was left to work out who was who—and who had just started singing—more or less unaided.
Nevertheless, the production was free from the sort of overweening "look how clever I am" ideas that so many directors these days seem to find irresistible. The music, though admittedly a shade lacking in memorable tunes, was often enthralling; it was splendidly sung and played; the drama was powerful; the play-within-the-play was brilliantly done; the fight between Hamlet and Laertes was thrilling; and the resuscitation of so serious and absorbing an opera reflected enormous credit on general director Brendan Cooke's ambitious and already highly accomplished company.
Bernard Jacobson