United Kingdom Tchaikovsky, Eugene Onegin: Soloists, Garsington Opera Orchestra & Chorus / Douglas Boyd, Garsington Opera at Wormsley, 5.6.2016 (CR)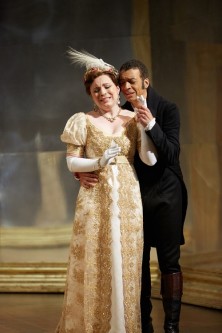 Sung in Russian with English surtitles
Cast:
Eugene Onegin, Roderick Williams
Tatyana, Natalya Romaniw
Lensky, Oleksiy Palchykov
Olga, Jurgita Adamonytė
Larina, Louise Winter
Filippyevna, Kathleen Wilkinson
Prince Gremin, Brindley Sherratt
Triquet, Mark Wilde
Peasant leader, Adam Temple-Smith
Zaretsky, Andrew Tipple
Guillot, Adam Torrance
Production:
Director, Michael Boyd
Designer, Tom Piper
Lighting Designer, Giuseppe di Iorio
Movement Director, Liz Ranken
Acrobatic Choreographer, Lina Johansson
Tom Piper's sets look simple but they, and Michael Boyd's direction, underline the fact that the tragedy at the heart of this opera is as much Eugene Onegin's as it is Tatyana's. The claustrophobic, inhibiting world of honour and duty which stifles Onegin's passion in the first place, leads to the fatal duel with Lensky, and obliges Tatyana later on to remain faithful to Prince Gremin, is evoked by the way in which the sections of the walls are pushed round to form a confining curve around the stage action first for Tatyana's bedroom and the celebration of her name-day, and later on for the ballroom in St Petersburg years later. This results in a lot of movement on stage, but for the most part that is handled neatly enough.
In his first appearance in the drama, Roderick Williams as Onegin is coldly detached and formal, emphasised by the stark way that he and Lensky sit opposite to the sisters Olga and Tatyana when Onegin is introduced to them at Madame Larina's. Williams exudes considerable presence throughout, and he certainly sings finely, but he lacks the vocal heft of a Russian singer and so his characterisation somewhat underplays Onegin's psychological and emotional development which brings him round to responding to Tatyana's personality at the ball years later.
The tragedy of Onegin's friendship with Lensky turned sour is hauntingly realised here. After the duel, the dead Lensky remains on the floor for the beginning of the ballroom scene, and then continues to interact with Onegin as a spectre in other ways. Oleksiy Palchykov's was well-chosen for Lensky as the rich-toned lyricism of his singing long remained in the memory as a musical presence and so what the audience sees on the stage is a visual counterpart to that.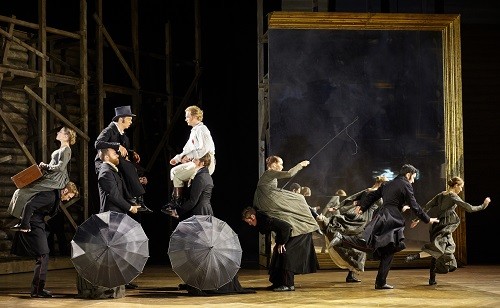 Natalya Romaniw caught the varied and confused aspects of Tatyana's feelings sympathetically, and sustaining a convincing sequence of thoughts and expressions in her extended Letter scene. There she expressed the tenderness of her emotions and her vulnerability with some singing of radiant, soaring power. As her sister, Olga, Jurgita Adamonytė is no less of a musical force to be reckoned with, but she brings out the more playful, coquettish side to that character, setting her in notable contract with Tatyana who remains calm and considered, despite all that befalls her. Their mother, Madame Larina, was able sung by Louise Winter if without any particular insight into the role as she recalls her youth with the old nursemaid Filippyevna. In the latter part Kathleen Wilkinson brought an amiable, earthy humour which contrasted well with Madame Larina's formality and Tatyana's daydreaming.
Whilst the confusion of emotions between the two sisters, and the jealousy between Lensky and Onegin play out during Tayana's nameday celebrations, the artificiality of Monsieur Triquet's ode to her was wittily brought out by Mark Wilde, relieving dramatic tension temporarily and adding a dash of humour. Brindley Sherratt revealed the nobility of Prince Gremin, the retired general whom Tatyana marries. Although he only appear briefly, Gremin seems to be a much simpler character than Onegin, but the expressiveness of Sherratt's depiction left us in no doubt of his devotion to Tatyana and highlighting what ought to have been Onegin's response to start.
In the pit Douglas Boyd maintained an urgent pace with the score and securing some fine playing from the Garsington Opera Orchestra, whether in the detail of more intimate moments (particularly from solo instrumentalists in the Letter scene, or Lensky's aria, for example) or in the overall effect of more extrovert sequences such as the waltz or polonaise. Often he drew a symphonic sweep across scenes with shimmering strings leading to notable climaxes in the music to stress the dramatic action. Although the production enlists separate choreographers for movement and acrobatics, there is actually comparatively little movement or dance. Nevertheless the Chorus sang with vigour and charm in the public scenes of the opera, working with the soloists to advance the playing off of outward probity and inner turmoil among the protagonists.
It is possible to imagine more lavish ways of staging this drama, but this production makes reflect us upon the interiority of the narrative by drawing out its psychological implications rather than leaving it as a melodrama, and speaks more powerfully in consequence.
Curtis Rogers
Garsington Opera's production of Tchaikovsky's Eugene Onegin, conductor Douglas Boyd, is now available to view on the BBC Arts website at  http://bbc.in/29mWMll