United Kingdom Wagner, Tannhäuser: Soloists, Chorus and Orchestra of Longborough Festival Opera / Anthony Negus (conductor), Longborough, 14.6.2015. (JPr)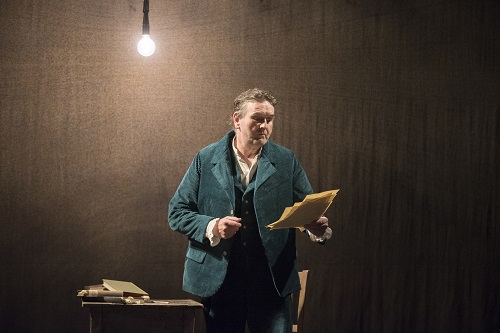 Wagner, Tannhäuser
Cast:
Tannhäuser: John Treleaven
Venus: Alison Kettlewell
Hermann, Langrave of Thuringia: Donald Thomson
Elisabeth: Erika Mädl Jones
Walther: Julian Hubbard
Biterolf: Stuart Pendred
Heinrich: Brian Smith Walters
Reinmar: Charles Johnston
A Young Shepherd: Chiara Vinci
Production:
Director: Alan Privett
Designer: Kjell Torriset
Lighting Designer: Ben Ormerod
Choreographer: Michael Spenceley
Chorus Master: Philip White
My review of last year's Tristan und Isolde (to be revived in 2017) was entitled 'Longborough Festival Opera Set High Standard in Wagner'. Well I am happy to report that with this year's Tannhäuser they have raised that standard even higher.
I have written ad nauseam how I have been coming to Longborough Festival Opera since around the turn of the century and watched it become the epitome of country house opera. Martin and Lizzie Graham – the visionary and possibly initially reckless – progenitors of summer opera at Longborough have converted over the years an old chicken shed into a more-than-adequate small theatre for 500 sitting mainly on recycled  seats from London's Royal Opera House. Front-of-house has been much improved recently and there is a terracotta façade topped by Mozart, Verdi … and of course, Wagner. The roof remains functionally metal and there is no air-conditioning which could be a problem on a very hot day but over the years an orchestra pit has been created where 60 freelance musicians are crammed together. (There were 72 musicians on this occasion if you count the off-stage players.) Sitting close to the stage I wonder whether there has been some effort to address what was one of Longborough's last problems … the lack of depth (as well as height and width) to the stage. For this Tannhäuser – albeit only utilising a small chorus of 24 – everything seemed more than adequate. Truth be told, this was the first Wagner I have seen there that was 100% an international standard and nowhere – even with the minimal sets LFO's funding allows – was there any sense of a 'let's put on a show' mentality. It was better in every way than a performance of the recent Tannhäuser revival at Covent Garden I saw.
When I see Tannhäuser I mostly remember in 1977 when the legendary tenor, Jon Vickers, withdrew from the Royal Opera's new production of this opera that was being mounted especially for him. Despite plans for these performances having begun in 1974, Vickers announced he now considered the role to be 'blasphemous' and refused to sing it. Plans for further performances at the Met were also cancelled and this conflict of personal religious conviction with contractual professional obligations created a considerable furore at the time that seems all but forgotten now. The role of Tannhäuser was considered, even then, to be one of the most difficult in the repertory, and his cancellation was dismissed by many as an admittance that he was unable to connect with it (at best) or was unable to sing it (at worst). However, Vickers was adamant that his withdrawal was due to his Christian beliefs, the story of the opera and its words.
When arriving at the theatre I heard of the death of a Wagner singer I hugely admired, Alberto Remedios, a rival of Vickers. One of the funniest stories – of many funny stories – he told audiences during the numerous interview evenings we did together around the country was about a performance of this opera on tour (if I remember rightly) with Sadler's Wells. The minstrels included Leon Greene (later an actor in several films) and Donald McIntyre (who needs no introduction). Apparently they spotted someone fast asleep behind the legendary Reginald Goodall (a mentor to Anthony Negus) who was conducting and this made them start laughing. Unfortunately, they were carrying the dummy of Elisabeth's body down a fairly steep ramp when their supressed laughter caused the bier to begin to shake and – you might possibly have guessed it – Elisabeth's head fell off!
Even at the end of his life, Wagner still felt he owed the world a Tannhäuser and tinkered around with the score – which was always one of his most popular – leaving us with the 1875 Vienna version where the original 1845 Dresden music has accreted revisions from ill-fated performances in Paris in 1861 (including the Venusberg ballet) and a number of subsequent post-Tristan refinements. As an opera it remains an uneasy mix of German Romantic opera and Franco–Italian opera, two distinctly opposing traditions. Longborough's music director, Anthony Negus, is finally getting the recognition as a Wagner conductor he deserves after initial decades of being mostly overlooked. He wrote how we would hear 'the Paris-Vienna revision with its extended and enriched Venus scene, but we will make a small cut to some of the preceding Bacchanale.'
Tannhäuser, is supposedly a medieval thirteenth-century knight, with conflicting sensual and spiritual sides to his character. He desires both Venus and Elisabeth, but cannot have either and can only find redemption in death. Wagner 'plots' this out in a typically sophisticated way and it can be seen best in Tannhäuser's Act I 'Hymn to Venus'. In a series of dialogues with Venus, the tenor sings moving up half a tone each time as Wagner demands more and more from his voice so that the physical strain caused by the music mirrors the emotional conflict within the character. He praises the goddess with his lips, his eyes and his heart, whilst part of his heart still lies elsewhere. This 'elsewhere' is revealed when Tannhäuser sings a third time and it is not in Venus's key (E major) but the key of Elisabeth (E flat). Then in Act II as Tannhäuser passionately reprises the hymn again during the singing contest to win Elisabeth's hand, it is now in E major and so Tannhäuser is singing for Elisabeth but in the key of Venus. This role is far from an 'easy sing' and, as in everything in Wagner's oeuvre; a complex character is illuminated by his music.
John Treleaven's voice gave moments of early concern but I thought overall he had an inspired evening. He certainly embodied the demons that are plaguing Tannhäuser and the role's cruel tessitura seemed to hold no fear for him. The moments of heroic declamation were everything you would want from a Tannhäuser and I much preferred listening to him than Stuart Skelton's Tristan a few days earlier for English National Opera.
This was the director, Alan Privett's, best work at Longborough and functional designs by Kjell Torriset seemed to update Wagner's medieval Thuringia to the Victorian age. During the Overture Tannhäuser is seated at a desk and he is supposedly Wagner trying to worked on yet another revision of the opera. Through lots of miming his first wife Minna is fussing about trying to give him a letter presumably from an admirer (Elisabeth?). Much to her consternation he passionately kisses his wife who leaves the stage. Tannhäuser soon pulls back a curtain and we are in Venus's domain of the Venusberg and naturally(!) she is on a swing rather like a mature Alice. Alison Kettlewell is a vibrantly rich Venus whose mezzo sound resonated throughout the small auditorium. There is a stage deep ladder which doesn't seem to have much purpose here or in Act III unless it is a way up or down from Venusberg. In Act II stepped platforms to either side starkly represent the Hall of the Wartburg where the song contest will take place. The Landgrave and his very straightlaced minstrels represent a male dominated, repressed and puritanical society and Erika Mädl Jones's Elisabeth is a psychologically scarred individual having, I believe, been a victim of abuse by her uncle, the Landgrave, whilst growing up. Hers was a very captivating performance and she sang with resplendent and intelligently nuanced tone throughout. I look forward to hearing her again.
All the other male roles are cast from strength: Donald Thomson was an impressively authoritative Landgrave, Hrólfur Sæmundsson was an honourable and introspective Wolfram who is deeply in love with Elisabeth. His plaintive 'O du, mein holder Abendstern' lacked nothing in comparison with Christian Gerhaher who nearly stopped the show recently when singing it at Covent Garden. Julian Hubbard, Stuart Pendred, Brian Smith Walters, Charles Johnson are also extremely effective as Walther, Biterolf, Heinrich and Reinmar respectively and confirm there is no weak link in the cast. Chiara Vinci performed the tiny role of A Young Shepherd with a wonderful piping voice and I have rarely heard this sung better.
Tannhäuser is sent to seek absolution from the Pope but he refuses his plea, and his redemption comes through Elisabeth sacrificing herself – and possibly here committing suicide – for him on earth and then intervening with God on his behalf in heaven. Yet despite this Tannhäuser dies anyway (or at least he should, though not here). Although it is the love of a good woman that finally sets him free all the Christian references we have seen or heard in this opera, it must have meant something and this included Alan Privett's intelligent use of the auditorium for the entry and exit of the pilgrims as if they were part of a liturgical procession. A word of praise here for the small chorus who sang splendidly throughout. John Treleaven's culminating Romerzählung was the crowning glory of his performance. He revealed impressive reserves of strength and wonderfully conveyed not only Tannhäuser's biting sarcasm, but his genuine anguish as well. The downside the whole evening until this point was that he clearly was never the 'young man' of the libretto and looking slightly shambolic in a green corduroy suit he seemed no more able to engage in 'hellish orgies' in his mid-sixties than I am! In Act III this did not matter in the slightest.
The greatest hero of this – and all Wagner at Longborough – is Anthony Negus. Certainly the orchestra at Covent Garden never played the score as well as this and in fact Negus brought the same lightness of touch to the score that Hartmut Haenchen did there. There was persuasive grandeur but no pomposity with a cumulative build that gave ample space to the unfolding drama. Sadly, most of his good work during the Overture was drowned out by rain hitting that metal roof on a day more suited to Der fliegende Holländer than Tannhäuser!
Jim Pritchard
For more about Longborough Festival Opera this year and next visit https://lfo.org.uk/.