United Kingdom Wagner Das Rheingold – semi-staged concert performance: Soloists and Orchestra of Opera North / Richard Farnes (conductor). Royal Festival Hall, London, 28.6.2016. (CC)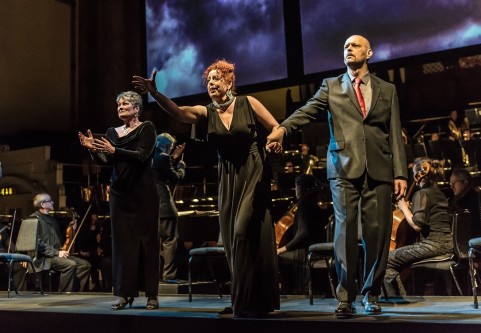 Wagner, Das Rheingold
Cast:
Woglinde: Jeni Bern
Wellgunde: Madeleine Shaw
Flosshilde: Sarah Castle
Wotan: Michael Druiett
Donner: Andrew Foster-Williams
Froh: Mark Le Brocq
Loge: Wolfgang Ablinger-Sperrhacke
Fricka: Yvonne Howard
Freia: Giselle Allen
Erda: Ceri Williams
Fasolt: James Creswell
Fafner: Mats Almgren
Alberich: Jo Pohlheim
Mime: Richard Roberts
Staging, Concept, Lighting and Projection Designer: Peter Mumford
"A Ring for Everyone" proudly proclaims the publicity material. And so Wagner's Ring should ever be. Viscerally bestowing its many-layered secrets and wisdom – this particular onion surely takes at least several lifetimes to unpeel – the Ring cycle melds our deepest links with the world of myth to inevitable corollaries with contemporary political events. Power-hungry "gods" acting only for their own interests; a Wotan whose Valhalla we know will crumble around him; and scheming everywhere certainly strikes home as the current series of Channel 5's Big Brother unfolds. Oh yes, and there's a Brexit going on, as well, with Westminster-as-Valhalla in freefall, the Abyss beckoning in much of the population's minds. At least Cameron-Wotan fell on his own sword. Wotan's rune-encrusted spear has other work to do.
And so in the spirit of education and enlightenment, this performance was made available to Transport for London workers, two London secondary schools (only two?) and a four-course dining experience (!) for first-time opera goers aged 25-40 on June 30 and July 2. The cycle is the backbone of the Power of Power Festival, exploring the Ring.
For Rheingold, three huge screens at the back of the hall showed scenes of Nature, translations, and action updates/stage directions. Peter Mumford's excellent concept meant that at the front of the stage a platform for the singers provided space for the action. Lines were sometimes aimed at an unknown "other space" out in the distance as opposed to direct confrontations; this, in conjunction with the magnificent projected images, was a refreshing solution to the staging problem. The problem of invisibility with the Tarnhelm was managed by simply taking the spotlight off the singer. Having the orchestra on stage lent the whole a visceral quality; and in tandem with Richard Farnes' x-ray conducting, lent the whole a vibrant transparency while losing none of the music's chthonic power.
The superb horns of Opera North brought a sense of Ur-awakening to the famous beginning, as images of water saturated our vision. Throughout Farnes marshalled his forces superbly, regularly finding fresh-minted detail, careful to avoid (pardon the pun) drowning his singers, and injecting real urgency; yet tenderness was fully honoured. The scene-change between Scenes 1 and 2 was exquisitely, beautifully and affectionately rendered. A dozen anvil players on either side of the stage ensured Nibelheim was as clangorous as Wagner surely intended. And most importantly, perhaps, this Vorabend's score emerged as just as powerful as those of the Trilogy proper.
Each Rhinemaiden had her own character, yet the three melded beautifully together: Jeni Bern's Woglinde nice and light, Madelaine Shaw a solid Wellgunde and Sarah Castle a strong Flosshilde. Interacting with them was (arguably) the star of the night: Jo Pohlheim's feisty, scheming Alberich, his Scene 1 denial of Love superbly strong – as was his Scene 4 Curse: even without translation, there was no doubting the meaning of "Verflucht". His "slippery rocks" found him slip-sliding from one Southbank chair to the other, his firm voice not faltering one jot; the third scene interactions with Mime were beautifully managed. As the latter character, Richard Roberts was fully in character, one of society's dumped-upon. Portrayed as something of a dolt, what was intriguing about this Mime was that Wagner's lines occasionally seemed very close to those of the Simpleton from Mussorgsky's Boris Godunov.
It was a pity that Michael Druiett (Wotan) was having a bad night – one source has suggested he was ill, but no announcement was made so we were left to draw our own conclusions. In the second scene, it was his lowest register that gave the most obvious clue that all was not as it should be, despite physically exuding gravitas; and his voice gave out completely in the final minutes of the opera, despite or perhaps because of valiant efforts to bring dignity to these closing scenes. Wotan and his excellent wife, Fricka (the consistently vocally stunning Yvonne Howard) appeared in evening dress. Howard relished Fricka's every line, and gave a lovely, nuanced account, wonderfully confident throughout. If only the same could have been said for Giselle Allen's Freia. Miss Allen has one of the loudest voices I have come across; everything came across in a piercing fff.
The demi-god Loge must be such a fun part to play. Here, Wolfgang Ablinger-Sperrhacke camped it up just the right amount, his hands flickering like the projected flames. His "Immer ist Undank" was a simply magnificent bit of character acting and singing. Fasolt and Fafner stood implacable, Opera North's clear equivalent of The Management. Gray-suited with red ties and handkerchiefs (one of which was used to denote giant's blood later in the music-drama), they made a great, convincing pair; their doltish, thuggish, greed-driven rivalry towards the end of the piece was eminently convincing. Both excellent vocally – with perhaps James Creswell's Fasolt having a small vocal advantage over Mats Almgren's Fafner – they were magnificent. The barefoot Erda, Ceri Williams was superbly resonant, her warnings almost impossible to resist (except for Wotan, of course). Perhaps she, and only she, really had her feet on the ground. Mark Le Brocq was an adequate Froh, while Andrew Foster-Williams really came into his own towards the close as a fine Donner.
We are told that the Nibelung's scream was "recorded by Opera North Children's Chorus", and very effective it was too. This was a terrific evening, held together by the glue of the Opera North orchestra, excelling itself at every turn (those wonderfully watery six harps were a treat) and the incredibly intelligent, fluid conducting of Farnes. Magnificent!
Colin Clarke