United Kingdom Verdi, Nabucco: Soloists, Chorus and Orchestra of the Royal Opera House / Maurizio Benini (conductor). Royal Opera House, Covent Garden, London. 6.6.2016. (JPr)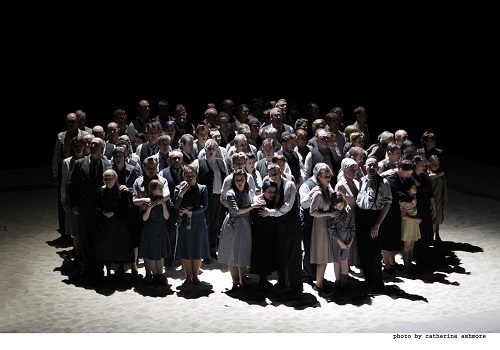 Verdi, Nabucco
Cast:
Nabucco: Plácido Domingo
Abigaille: Liudmyla Monastyrska
Fenena: Jamie Barton
Zaccaria: John Relyea
Ismaele: Jean-François Borras
High Priest of Baal: David Shipley
Abdallo: Samuel Sakker
Anna: Vlada Borovko
Production:
Direction: Daniele Abbado
Associate Director: Boris Stetka
Designer: Alison Chitty
Lighting Designer: Alessandro Carletti
Video Designer: Luca Scarzella
(Co-production with La Scala, Milan, Chicago Lyric Opera and Barcelona's Liceu.)
The advert for the Royal Opera House's Endowment Fund in the programme for this Nabucco revival was headed 'The show must go on' and so it seems it must for Plácido Domingo. He is at least 75 years young and as his biography states 'has given more than 3,800 performances as a singer' in a 'repertory of 147 roles'. I have not seen him sing live for a few years and in some recent cinema opera broadcasts he has looked much older than his years but that is no wonder considering he never stops because his mantra for some while seems to be 'If I rest, I rust' and he just doesn't seem to know when to quit.
I first heard him sing at the Royal Opera House in 1977 as Radamès in Aida and obviously many times since. The good news is that he can – most definitely – still sing and what was special about his voice as a tenor is still there in this latter phase as a 'baritone' – a burnished timbre, secure tone, fluid phrasing, charisma and physical presence. Domingo's voice is amazing for someone in his seventies but the bad news is that age is catching up with what must have been a more prodigious memory in his youth and at certain times he revealed only a tenuous appreciation of what he should be singing. This undermined his performance only significantly once when everything stopped for him to be fed his next line by a prompter. The only other time I can remember seeing a prompt box at Covent Garden was during the cinema transmission of this Nabucco when it was first staged with Domingo in 2013.
Mostly the elderly despot Nabucco (the biblical Nebuchadnezzar who was driven insane by God for attempting to destroy the Jews) fits like a glove at this stage of his career and the libretto has copious references to him as an 'old man'. Actually when Domingo first strode on stage the years seemed to have rolled away and it was a reminder of him in his prime. Throughout, as he roamed around or was frequently on his knees and having to stand again his agility seemed that of a much younger man. His character's decline was pitiable in a Lear-like way but thoughts of the singer was never far away from what he was singing. Nevertheless, Domingo used all his vast experience to make his Part III plea ('Oh di qual onta aggravasi questo mi') to save his daughter, Fenena, from being put to death extremely moving. I realised then that if this was to be the last time I heard this great singer live then I would remember it very fondly and not with the feeling of seeing someone who has clung to the stage for far too long.
To be honest Verdi's best 'character' in Nabucco (or Nabucodonosor as I have just learnt the opera was called originally) is the chorus and he provides them – as both the Hebrews (the heroes) and Babylonians (the villains) – with some memorable opportunities. Unfortunately, Daniele Abbado (yes the late Claudio's son) does little in his modern dress staging (sets and costumes by Alison Chitty) to tell us who is who on stage, apart from the yarmulkes that was a giveaway for the Jews. Everyone seems to be in drab grey outfits which were appropriate for the 1940s' Holocaust and Diaspora themes of Abbado's staging. Memories are stirred by the flames seen in Part II and that is about it apart from a huge 'Wicker Man' figure for the pagan god, Baal. Statues like this are known as La vecchia in Northern Italy and burnt once a year in town festivals. There is also some black-and-white videography to the rear of the stage that occasionally mirrored or enhanced what we saw on stage but how much you appreciate this would depend on where you sit in the theatre.
Nabucco was Verdi's third attempt at an opera and the one that put the 29-year-old composer on the map. The Biblical tale of ancient religious hatreds in the Middle East has an eternal relevance for the later twentieth and early twenty-first centuries. I have not seen this early Verdi opera many times and I doubt it could be dramatically any more convincing if performed with elaborate sets. All it appears to need to succeed are a great chorus, a conductor giving it some authentic Italian fervour and a soprano with secure technique and big lungs for Abigaille. Since here it was the always reliable Royal Opera Chorus, Maurizio Benini (an Italian) with the baton and the stentorian Ukrainian Liudmyla Monastyrska, the evening was unashamedly an old-fashioned 'can belto' one … laudable for the singing and the music we heard which made up for the rather disappointing visuals.
Monastyrska is a forthright – incredibly loud at times – spinto soprano with a voice that has a great range of dynamics and colour though – unless it was my ears – she also gabbled her words at times. When she brandished a flaming torch at the start of Part II it seemed a rehearsal for Brünnhilde's Immolation Scene, yet her reflective cavatina, 'Anch'io dischisuo un giorno' showed she was capable of some refined lyricism at times. Throughout the evening Monastyrska's voice was more Wagnerian than Verdian and she stomped around the stage like Petra Lang in her legendary Bayreuth performances as Ortrud. The rest of the cast were very good but not so incredibly good as to stop me wondering why the only British singer in any supporting role was David Shipley as an authoritative High Priest of Baal. Jamie Barton, an American, was a pleasant if rather bland Fenena, and Jean-François Borras from France was a plangent Ismaele. He sounds an exciting tenor prospect and is someone I would look forward to hearing again. Canadian John Relyea had the gravitas for Zaccaria the High Priest whose is shown here in the guise of a Rabbi. His prayer scene would have resonated more with me if I had not been puzzling over the lack of Italian words I was hearing.
Maurizio Benini did his best to overcome the routine nature of some of the score with its endless repetitions of the 'Va, pensiero' theme with an account full of energy, insight, and theatricality. He displayed complete sympathy with the score and accompanied the singers alertly, drawing out the arias sensitively. As soldiers, captives and priests the chorus – under the direction of Genevieve Ellis – cannot ever have sounded better in Nabucco or in anything. 'Va, pensiero' was beautifully sung and tugged at the heartstrings. Mostly the choral singing was full-blooded and magnificent throughout, giving a visceral frisson to the big ensembles.
 Jim Pritchard
To view the full list of productions for the remainder of this season and for 2016/17 visit http://www.roh.org.uk/.
The performance on 9 June 2016 will be broadcast live to outdoor screens around the UK and to YouTube around the world for free – find a BP Big Screen near you.