New Zealand Mozart, The Magic Flute: Freemasons New Zealand Opera Chorus, Orchestra Wellington, Conductor: Wyn Davies. St.James Theatre, Wellington. 28.5.2016. (PM)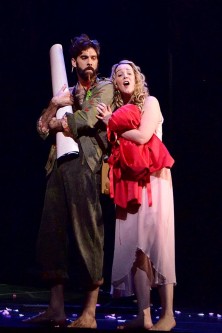 Mozart, The Magic Flute
Production:
Director: Sara Brodie
Sets: John Verryt
Costumes: Elizabeth Whiting
Lighting: Paul Lim
Chorus: Michael Vinten
Cast:
Tamino: Randall Bills
First Lady: Amelia Berry
Second Lady: Catrin Johnsson
Third Lady: Kristin Darragh
Papageno: Samuel Dundas
Queen of the Night: Ruth Jenkins-Robertsson
Monostatos: Bonaventure Allan-Moetaua
Pamina: Emma Fraser
Genie 1: Barbara Graham
Genie 2: Katherine McEndoe
Genie 3: Kayla Collingwood
Armed Man/Priest: Derek Hill
Sarastro: Wade Kernot
Speaker/Armed Man/Priest: James Clayton
Papagena: Madison Nonoa
Nothing could be more different to Mozart's previous work for the stage than The Magic Flute, his last opera. Most famously he had previously, with librettist Lorenzo da Ponte, composed Le Nozze di Figaro, Don Giovanni and Così fan tutte, each of these exploring the foibles of love and human interaction in more-or-less everyday settings. By contrast the "Flute" libretto featured fantastic scenarios and characters, magical devices and ritualistic sequences, wrought from various sources and written by a singer/actor friend of Mozart's, Emanuel Schikaneder. From this part-fairy-tale, part-allegory Mozart developed a fantastic stage-work in which serious operatic conventions readily rubbed shoulders with melodramatic and pantomime-like effects.
The story can be seen as representing a journey through life by two very different people – Tamino, a prince, and Papageno, a birdcatcher – Tamino, with his sweetheart Pamina, search for "enlightened" values, while Papageno, with his mate Papagena, seek nothing more than home comforts and earthly contentment. Both Mozart and Schikaneder were Freemasons, and the opera may have seemed an ideal vehicle with which to promote ideas such as liberty, equality, tolerance and benevolence, all under the sway of logic and reason.
However, as German poet and writer Christoph Martin Wieland tartly observed at the time, "The Masons opened their hearts to women, but not their Lodges." They obviously took on much of the age's attitudes to women in general as well, judging by the chauvinistic pronouncements thrown up by the work's libretto at various points – and most ironically, out of the mouths of some of the characters who were supposed to be the story's "good guys", in particular, from Sarastro, Ruler of the Temple of Enlightenment.
So, how did Mozart himself regard women? His attitude is surely reflected in the music he wrote for them, rather than in the situations which were devised for them in the operas by a librettist (not the composer) – for example, here in the "Flute" story, the Queen of the Night is portrayed as the embodiment of evil, and yet the music she sings in her first Act aria "Oh do not tremble", describes the loss of her daughter at the hands of Sarastro with heart-breaking emotion. Here was someone capable of professing great love and adjoining sorrow as eloquently and unreservedly as she vowed revenge and murderous intent, as witness her expression of the latter in her Act Two aria, "The revenge of hell boils in my heart".
Most significantly, we were even more profoundly moved by the opera's other leading woman character, Pamina, daughter of the Queen of the Night, and especially at Emma Fraser's heart-rending delivery of the character's second-act aria "Ah, I feel it now has vanished", which describes her despair at the thought of losing her Prince Tamino's love. She had, earlier, along with Samuel Dundas's engaging and characterful Papageno, well-and-truly charmed the audience with the beautiful duet in praise of love and marriage, "All men who can feel love", and her singing and focused presence as a character was a joy throughout. Of course, the work being sung in English this time round, and with subtitles, immeasurably helped the characters convey to us their feelings and intentions.
Referring to the astonishing (and, apart from the highest note in her first aria's coloratura section, remarkably convincing) performance as the Queen by English soprano Ruth Jenkins-Robertson in the NZ Opera production's opening night in Wellington, I was both stunned and bemused by the singer's depiction of an elderly woman, complete with walking-sticks – certainly not what I was expecting, even if these days it's very much a case of "expect the unexpected" regarding almost any operatic production, live and/or filmed, one attends. The Queen's somewhat "Miss Rocky-Horror Havisham" appearance certainly has stayed with me these last couple of days and given rise to all kinds of delicious and fanciful ideas concerning her true nature – except that such extremes would, I'd have thought, made less likely the black slave Monostatos's idea of forming, in default of favours from Pamina, a liaison with her mother (as per the libretto).
Monastatos, played with lusty vigour by Bonaventure Allan-Moetaua, seemed to exude more a crass kind of "Boys' Own" curiosity towards the object of his desire, Pamina, than actual menace, as witness his ineptitude with her person once he'd gotten her into his clutches. His naivety made me feel sorry for him at being literally "strung up" as part of his punishment from Sarastro – however, as with the attitudes to women, his depiction in the opera was influenced by Enlightenment thinking regarding people of coloured races. The libretto has Monostatos exclaiming to himself, "I must shun love, because a black man is ugly!", which upholds a patent prejudice by suggesting shame on the part of a black man at desiring a white woman. Obviously, them were the days! Quite apart from these less salubrious matters was the slight disappointment I felt at having only Monostatos being enchanted by the sound of Papageno's magic bells and dancing away on his own from Pamina, rather than having a whole gang of miscreants on stage thus enchanted, who, a minute before, had arrived to help their leader do unspeakable things.
If the Queen of the Night was almost Dickensian, then her sworn enemy, Sarastro, the role sung by Wade Kermot had at certain times more than a touch of necromancy in his aspect and character. I couldn't help but enjoy what seemed like cross-references to the still-recent Harry Potter and the Lord of the Rings movies during the evening – a basilisk-like snake appearing from beneath the bed on which Tamino, the Prince, was shown sleeping when the curtain was first lifted (the well-known phobia of "things under the bed" nicely dovetailed in, here), and an Aragog-like spider spectacularly descending via its web to answer the "call of nature" from the Prince's flute, (an appearance which certainly put the conventional Disney-like lineup of curious forest creatures in the shade!)
Later on, towards the Second Act's conclusion, Sarastro briefly became a kind of Gandalf-like protector of the realm, standing on the ramparts and deploying his staff with its glowing circle of light directing thunder and lightning towards the Queen and her cohorts, thus consigning them to oblivion. Wade Kernot's warm and dignified Sarastro I thought effective and human, if somewhat small-of-scale in impact, due to his wanting real vocal "heft" in the lower regions of his voice, which would have given his character added presence. Still, there's many a true bass who's struggled with the more extreme vocal aspects of Sarastro's role (as have a succession of Queen of the Nights with theirs), and Kernot's vocal quality in the more lyrical sections of his arias was most attractive.
Assisting Sarastro were two Priests (roles sung by James Clayton and Derek Hill) who also took the brief but portentous and significant lines delivered to Tamino by the Two Armed Men who guard the entrance to the Underground leading to the places of Trial. James Clayton as well had the part of the Speaker, a kind of doorkeeper/priest at the temple whom Tamino first encounters. In these various assumptions Clayton's singing had plenty of impact and colour, and he and Derek Hill imparted a properly forbidding character to the Armed Men sequence which suited their louring aspect. Derek Hill's portrayal of the Second Priest was, as with the Queen of the Night, of a person encumbered with age and physical frailty to a degree I found almost uncomfortable to witness – obviously an intended effect, though apart from thinking it demonstrated a kind of inclusive instinct in portraying extremes of age on stage, I confess to being little the wiser as to any significant point of throwing these infirmities into such bold relief.
I've already briefly mentioned Samuel Dundas's Papageno, perhaps for a singer the opera's most rewarding role – certainly the character of the happy-go-lucky birdman is given plenty of opportunities to shine, both in spoken and sung exchanges, as well as in solo and ensemble music. Dundas gave the famous Act One "birdcatcher" aria plenty of life, pursuing birds charmingly presented on the ends of sticks as he sang, at one point climbing one of the set's wooded archways to try and effect such a catch. Throughout, he conveyed his character's simple ingenuousness, providing the perfect foil for his high-minded counterpart Tamino's seriousness and unity of purpose. His duetting with Pamina regarding the joys of connubial bliss was heart-warming, as was the range of his responses to his Papagena in her different guises, old and young – and what exuberance, what freshness, what sauciness and earthy appeal did this Papagena, Madison Nonoa, generate right throughout the theatre, when she finally appeared!
Next to such a vibrant Papageno any Tamino would have struggled to make some kind of lively impression, given the seriousness of his character. Randall Bills did, I thought, as well as any, helped by a true and sweet tenor voice which, if it didn't ever truly "command" the stage, such as during his big "portrait" aria, "This picture is enchanting fair", it negotiated the treacherous tessitura of the last few utterances sweetly and accurately. I did wonder at the start just how the story was going to be played, given that Tamino was still in bed when the curtain opened, obviously dreaming about his pursuit by a snake, only to find that the beast WAS there under the bed after all – but was he still dreaming this discovery? And again, was he rescued from danger by the Three Ladies, or did he dream that as well (despite appearing to be trampled on fairly comprehensively by those three spear-carrying Amazons)? And was, in fact, the whole story from then on still a dream?
As a character in a once-popular children's book called "The Jolly Postman" declared bemusedly at one point – "Did we dream you or did you dream us?" If such was the case in this "Flute", who, then, was/is currently dreaming who? Then again, could the snake have been some kind of phallic symbol representing unworthy desires and impulses on Tamino's part, which had to be accordingly "dealt to" by the Three Ladies, whose Queen required the hero to turn his attentions towards Pamina instead? This idea would at least account for Tamino being asleep in bed when the opera opened, instead of questing through some foreign land as Schikaneder and Mozart intended – his "dream" thus representing inappropriate longings which needed desperate measures to counter, such as we observed.
Leaving aside such psychoanalytical wonderings, one returns (with some relief) to the characters in the story! It's high time to praise the work of two groups of three – firstly, the Ladies who entered, warrior-like, almost at the story's beginning and woke Tamino from/entered into/drew Tamino into the story with great panache and vocal splendour, displaying impressive valour at the snake's killing, as well as showing endearing, all-too-human interest in the male occupant of the bed they'd just boarded like a group of buccaneers swarming over a merchant vessel on the high seas!
After indulging in some less-than-loving-sisterly interactions regarding which of them was going to claim the prize catch of the operation, the three intrepid rescuers took themselves off with a "if I can't have him, then neither of those two can!" feistiness. This trio of Ladies, Amelia Berry, Catrin Johnsson and Kristin Darragh, impressively owned their place in the scheme of things with a vengeance, doing nothing by halves, and thoroughly convincing us with their acting throughout. Their vocal teamwork was brilliant and varied, and they thoroughly relished the numerous racy "updatings" of the vocal exchanges, the street-wise vernacular enabling us to enjoy the fun all the more as well. This spirited engagement with things continued throughout their various appearances in the story, with sequences such as the interim padlocking of Papageno's mouth as a punishment for telling lies, and the beautiful, lump-in-throat passages which introduced the idea of the "Three Genie" watching over the two seekers after Pamina, vividly presented to us.
Which brings me to the "second" group of three – originally three boys (whose vocal timbres I do normally prefer in these roles, having occasionally seen such casting on stage, to wondrous effect), here this time round were three women, each carrying a kind of mannequin whose shape they manipulated to portray the character while singing their roles. Though they weren't ever going to replicate those pure, innocent-sounding vocal timbres peculiar to boys, Barbara Graham, Katherine McIndoe and Kayla Collingwood sounded appropriately youthful, unearthly and angelic. Thanks to the arched-over character of the set, with its elevated ways, the three (plus their doppelgänger) were able to adroitly establish with their movements both an earthly and extra-terrestrial presence.
In short everybody played their part in making the presentation bubble with wonderment, energy and excitement. The English "translation" enhanced our understanding of the story's twists and turns, and the subtitles reinforced this process without intruding – in fact, I thought it all "put us in touch" with something of the immediacy which audiences of Mozart's time would have experienced in Emanuel Schikaneder's Freihaus-Theatre auf der Wieden. I thought Sara Brodie's conception of the work as presented here, a judiciously-set array of the disparate elements she noted in her director's notes in the programme – "…superstition versus enlightenment, anima versus animus, night versus day". Along with these esoteric concepts her direction also brought out the "seriousness versus sheer fun" aspect of the work, which, as we know, was very much part of the composer's character, right to the end.
Even the evening's conductor, Wyn Davies joined in with the fun during the curtain-call, making a surprise appearance through the stage trap-door, to everybody's delight! Orchestrally, conductor and players were right there with the singers supporting and enhancing their solo lines and ensembles throughout, even if, for some reason I found it difficult during the overture to "connect" with the orchestral ambience. Orchestra pits in opera houses aren't noted for being especially resonant places anyway, and at first everything sounded to my ears dry and lacking in atmosphere to a disconcerting degree. Following, as the conductor did, the currently fashionable penchant for swift tempi and clipped phrasing in performance of music from this era, it all made for me what seemed a somewhat small-scale beginning to the opera – which wasn't what I was expecting. Fortunately, once the curtain was up and the characters on-stage, I found myself getting caught up in it all, with singers and instrumentalists weaving their spells around and about my head, and "drawing me into" the work's fantastic world.
So, with its remarkable amalgam of theatrical and philosophical unities and discrepancies, Mozart's (and, in spirit, Schikaneder's) "Flute" enchanted its audience afresh in the time-honoured manner, New Zealand Opera's own production delivering a life-enhancing and profoundly engaging theatrical and musical experience.
Peter Mechen