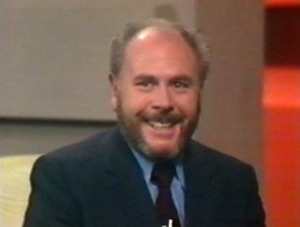 The death has been announced of Liverpool-born internationally renowned tenor Alberto Remedios CBE
From Dr Rodney Newton
ALBERTO AND ME – memories of a friendship
The story of the friendship between myself and Alberto Remedios began in the nineteen-seventies when I joined the orchestra of Sadlers Wells Opera (soon to become English National Opera).
I first heard Alberto sing when, as a Wagner-mad schoolboy, I attended a performance of Tannhaüser in Birmingham in which he sang the role of Walther von der Vogelweide. However, he really came to my attention in the early 1970s by means of a broadcast of The Twilight of the Gods. I then saw him in a production of Lohengrin at the London Coliseum and I was struck by the youthfulness of his voice and its lyricism, very different from the 'Bayreuth bark' of some of the Heldentenors I knew from recordings and broadcasts.
When I joined Sadlers Wells Orchestra in 1974, Alberto had just returned from the United States and was singing the role of Chevalier Des Grieux in Massenet's Manon. His powerful, true tenor voice suited the part well, we toured the opera and gradually we got to know each other. Then came the Wagner performances. I must have taken part in over thirty cycles of The Ring when I was with the company, and Alberto sang either Siegmund or Siegfried in many of them. He lived not far from me in North London, and, as we got to know each other better, I would be invited to his home where I soon became one of the family, enjoying the company of his wife, Judy, and his children, Richard and Tonina. Once, I took a young friend who had aspirations to be an operatic tenor to see him. With typical directness, Alberto auditioned him on the spot: 'Yes, you've got a voice,' he said to my friend's surprise and delight, adding, 'I could do something with you.'
In the mid-eighties, I left the opera company to work as a composer, orchestrator and musical director in films and television. Alberto also went off on his travels around the opera houses of the world and we lost touch with each other for a while. However, in the 1990s, I joined the Wagner Society and met up with him again during his various recitals for the organisation. This time, our friendship deepened and I began to act as his chauffeur, driving him to out-of-town engagements by music clubs. I also chauffeured him to a wonderful concert at St. John's Smith Square in honour of his forty years as a professional singer. The manager of the concert hall had made him a present of the venue for the evening and the audience included many old friends such as Raimund Herincx, Derek Hammond-Stroud and Margaret Curphey, who had flown all the way from her home in the Isle of Man to attend the event. Public figures also were present (I remember seeing Sir John Major towering above the other guests) and, in a review a few days later, the critic, Noel Goodwin, wrote, "As the concert progressed, the years fell away and we were listening to the young Alberto Remedios again." I once presented a concert for the Wagner Society in which Alberto sang the demanding second act duo from Parsifal with Hannah Francis, having learnt it in a remarkably short time.
Alberto told me of his desire to write down his memoirs: he even had a title for them – From the Mersey to the Rhine. However, he did not feel confident enough to set down the memories himself and asked me if I would be his amanuensis. I agreed like a shot and, over the coming months and years, the autobiography began to take shape with the assistance of his wife, Judy, who acted as a proof reader and checked everything for accuracy. I was fairly quiet work-wise at the start of the project, but gradually more work began to intrude, slowing us down. At length, I suffered a major stroke, which landed me in hospital for six weeks and ended my career as a performer (although I managed to return to conducting). Alberto, very distressed by this, treated me with great kindness, took me to his home and once more, work resumed on From the Mersey to the Rhine. We had completed ten chapters and were working on an eleventh, when he dropped a bombshell: he and his family had decided to emigrate permanently to Australia where their son, Richard, was now living. That brought our work on his autobiography to a standstill. Nevertheless, I hoped that we might be able to resume the project in some way, possibly by means of the newfangled Internet which was increasingly proving its value. However, a few years after the family had settled in Sydney, Alberto himself suffered a stroke and any hope of completing the memoirs faded.
Alberto treated me like a brother, chiding me, encouraging me and making me rock with laughter every time we were together. We both had Mediterranean blood in our veins (his was Spanish, mine Italian) and we always felt comfortable in each other's company. Despite his forthright Liverpool manner, he was a sensitive man and it was easy to upset him. Once, someone referred to him in an insulting manner in a newspaper article and it hurt and angered him. A little while later, we met the offender at a memorial service in St. Paul's Covent Garden and the man offered Alberto something of a light-hearted apology, pointing to his chin and saying, 'Come on, hit me.' Considering the place and the occasion, Alberto controlled his feelings and said little, but afterwards he quietly remarked to me, 'If we hadn't have been in church, I'd have given him a right sickener!'
Life with Alberto could be hectic, noisy, sometimes even frustrating, but always great fun and never dull. He was the most loyal of friends, even to the extent of getting an autograph from Astrid Varnay for me when, on one occasion, he met the soprano in Bremen. He remembered that I was a great admirer of her Wagner roles and took the opportunity to do something which both delighted and touched me by its kindness and thoughtfulness. Although we were separated by more than ten thousand miles and hadn't had direct contact since 1999, Alberto's passing has left huge void in my life: I feel enormously privileged to have worked with this great artist and to have known him as my friend.
Rodney Newton was a member of the Sadlers Wells/English National Opera Orchestra from 1974 until 1885, the last five years as principal timpanist. He has worked in films and television and has been involved with brass and military bands, taught at music and film colleges and worked in music journalism. He was educated at Birmingham School of Music, London Film School and Salford University and was awarded MA and Ph.D degrees by the latter.
From Jim Pritchard
One of the finest heroic tenors of the twentieth century died at 81 on Saturday 11 June 2016 in Australia where he had been living in retirement for several years. Seen and Heard sends it condolences to the extended Remedios family on their sad personal loss and that one of opera's greatest voices is silent now forever. There are already some wonderful tributes and memories to be online and all those who knew him appreciate very much that the performance of Tristan and Isolde on Wednesday 15 June at the London Coliseum is dedicated to his memory – https://www.eno.org/news/alberto-remedios-1935-2016/.
Perhaps it was quite fitting that I heard about Alberto's death at a performance of Tannhäuser at Longborough because one of the funniest stories – of many funny stories – he told audiences during the numerous interview evenings we did together around the country was about a performance of this opera on tour (if I remember rightly) with Sadler's Wells. The minstrels included Leon Greene (later an actor in several films) and Donald McIntyre (who needs no introduction). Apparently they spotted someone fast asleep behind the legendary Reginald Goodall who was conducting and this made them start laughing. Unfortunately, they were carrying the dummy of Elisabeth's body down a fairly steep ramp when their supressed laughter caused the bier to begin to shake and – you might possibly have guessed it – Elisabeth's head fell off!
My wife, Sandra, and I were great friends of Alberto and his extended family and it is laughter we remember most either with him on similar occasions are I have just recalled, backstage or in his home.
The singer with the Spanish name and Liverpudlian accent – his grandfather was a Spanish seaman who disembarked at Liverpool and stayed – was for many years probably the world's finest heroic tenor. It is a pity he never completed a journey that already had taken him from a Merseyside church choir to the banks of the Rhine but never ended at Bayreuth – despite Alberto having auditioned for Wolfgang Wagner and impressing him. By the way some might remember his younger brother, Ramon Remedios, who was a fine lyric tenor and also, like Alberto, sang with Sadler's Wells – or English National Opera as they later became.
Alberto was the first to admit that only by adopting the costume of a particular role – combined with direct audience contact – was he sufficiently relaxed to overcome a sort of psychological block that might prevent him putting himself into perfect vocal focus. Nevertheless, thankfully today we have just enough examples of Alberto's fresh sounding, ringing and effortless voice (either on CD or YouTube etc.) to bring back memories for those who saw him in his prime of his friendly and sincere countenance and the elegance of his youthful and unaffected stage presence – or can introduce him to those who those who do not know his name.
Alberto was born in 1935 and shared the date of 27th February with his idol Caruso. It was for Liverpool Grand Opera in 1951 he made his debut as The Prince of Persia in Turandot. At this time, he was combining singing lessons with singing in amateur opera and in working men's clubs – sometimes on the same bill as the young Ken Dodd who was starting his career about the same time. But at the same time he was also working nine hours a day as an apprentice welder for Cammell Laird in Birkenhead. He played amateur football for New Brighton until he was prevented by injury from doing so and until the end of his life Liverpool Football Club remained a major passion in his life.
Alberto was turned down by the Carl Rosa Opera Company because only being 16 he was too young, however, in 1952 he auditioned for Norman Tucker at Sadler's Wells Opera and having completed his National Service began his contract with the company in 1955. The same year the new young principal singer won a two-year scholarship from the Vic-Wells Association which led him winning the Queen's Prize at the Royal College of Music in 1957 where he was taught by Clive Carey. Alberto made his debut for Sadler's Wells Opera as Tinca in Puccini's Il tabarro in 1957. The highlight of this early part of his career was in 1959 when he replaced and indisposed Charles Craig as Bacchus in Strauss's Ariadne auf Naxos a role he subsequently repeated with much success throughout the world including his Metropolitan Opera debut in 1976.
The two adjectives that were often used to describe him during his career was 'ringing' and 'outstanding', as well as, more qualifying and imaginative descriptions. Although early in 1976 he was a victim of the legendary 'This Is Your Life' series he was always surprisingly modest – and while aware of his own calibre as a singer never became the product of a publicity machine and – to be truthful – there was very little of that in his day compared to today.
By the early 1960s Alberto was one of the up-and-coming stars of Sadler's Wells Opera and from there he began to conquer the other great opera houses of the world. This international recognition was achieved through the winning of First Prize at the finals of the International Young Opera Singers Competition in Bulgaria in 1963. This led to an invitation to tour Australia and New Zealand in 1965 with an International Opera Company that included a couple of singers you may just possibly remember, Joan Sutherland and Luciano Pavarotti! Alberto sang Alfredo (in Verdi's La traviata), Edgardo (in Donizetti's Lucia di Lammermore), Lensky (in Tchaikovsky's Eugene Onegin) and the title role in Gounod's Faust.
On the tour 'down under' Alberto met his second wife, Judy, who was a dancer with the Company, and she became the person in his life who would do her best to convince him he could always do 'more' and even 'better'. They had two children Tonina and Richard to add to another son, Antony, from his first marriage to Shirley. Even though she too remarried, together with her second husband, Nelson, they always loyally turned up for any important performances or events involving Alberto during subsequent years.
On his return to the UK in 1965, Alberto made his debut at the Royal Opera House, Covent Garden, as Dimitri (in Mussorgsky's Boris Godunov) a role that was also his American debut at the San Francisco Opera in 1973. Around this time, he returned to sing Aeneas in Berlioz's Les Troyens and two early Wagner roles Froh in Das Rheingold and in 1966, Erik in Der fliegende Holländer – he had previously performed both of those with great success for Sadler's Wells. In 1970 there was another important role debut as Mark in Tippett's A Midsummer Marriage and later he sang a marvellous Max in Weber's Der Freischütz.
He was chosen to sing Walther von Stolzing with Reginald Goodall who he had met several years earlier when he sang another Walther – this time Walther von der Vogelweide in Tannhäuser – which included the incident I reported above. His debut in Sadler's Wells Opera's The Mastersingers of Nuremberg on 31st January 1968 is still remembered by all fortunate enough to be there. Alberto said about Wagner's music that it is 'the most sensuous ever written and it affects me very deeply.'
The rest – as they say – is history and will be well equally documented elsewhere.
His involvement in the affectionately remembered Goodall Ring followed where his Brünnhilde was Rita Hunter who he had first met as a teenager during singing lessons in Liverpool. The distinguished Sunday Times music critic David Cairns said 'No heldentenor can equal Remedios as Siegfried' and Alberto subsequently sang the role in Seattle (1978, '79 and '80). Throughout his career music critics also consistently commented on Alberto's seemingly tireless voice which was not found wanting in August 1979 when he sang both Siegmunds and all 4 Siegfrieds in two English National Opera Ring Cycles. He was first British tenor to accomplish this feat – and I was there for one of them! In truth when Alberto sang in this country I always tried to be there if I could. This was all the more remarkable since not only had he been suffering from a chest infection but he had also just returned from Seattle and his two Siegfrieds there meant he completed a marathon eight performances inside a month.
He had spent an interesting time with the Frankfurt City Opera from 1968 to 1970 singing Florestan (in Beethoven's Fidelio), Erik, Tamino (in Mozart's Die Zauberflöte), The Duke (in Verdi's Rigoletto), the Italian Tenor (in Strauss's Der Rosenkavalier) and a role in Honneger's Jeanne d'Arc au Bucher, all in the original languages. It was during this time in Germany that he flew at very short notice to London to sing Florestan for Otto Klemperer at Covent Garden. He repeated the role in Madrid and then at the London Coliseum in 1980 in a Fidelio of exceptional depth, power and maturity conducted by Mark Elder.
By the late 1970s there had been many offers for Alberto to sing Wagner abroad nevertheless if he was not to get to Bayreuth then it was the invitation to sing Siegfried at Covent Garden that he wanted the most and that would be the pinnacle of his heldentenor career. He achieved that in the autumn of 1980 when Alberto became the first British tenor to sing Siegfried at Covent Garden since Walter Widdop in 1935, the year of his birth. At the time Edward Greenfield in the Guardian wrote 'As for the Siegfried of Alberto Remedios, he remains a joy to the ear with no barking whatever. And how often can one say that of a heldentenor today?' He sang in the Ring there again in 1982 and again received virtually unanimous critical acclaim. Alberto expressed a real sense of achievement in having sung Siegfried at Covent Garden and in German at last and he found he was thinking more deeply about his interpretation. He said there was something new every time and he could never tire of the role.
Up until his retirement there was so much more including adding Peter Grimes to his repertoire with performances in 1979 at the Teatro Colón, Buenos Aires, and he showed a total identification, both musically and dramatically, with the protagonist. He repeated his Grimes the same year at the Prague Spring Festival but unfortunately in the UK at the time they just wanted Jon Vickers and he only sang some of it for a Gala Night at the London Coliseum in 1980 whilst in January 1981 – in a rare appearance on the concert platform – he sang all of Grimes for the first time in Britain at St John's, Smith Square. In August 1981 he was reunited with Reginald Goodall and the English National Opera in a long awaited new production of Tristan and Isolde to sing Tristan for the first time. He repeated the role to even greater success there in 1985 in a different production. In 1981 he was awarded a CBE by the Queen and he was very proud of that recognition.
In the 1980s he was back and forth to Australia singing some wonderful concerts performances of Tristan und Isolde with Rita Hunter and conducted by Charles Mackerras as well as Radamès (in Verdi's Aida), the title role in Verdi's Otello, and Siegmund. His final performance for English National Opera was in Janáček's The Adventures of Mr Brouček in 1993 and he last sang at Covent Garden in 1991 as the First Man in Armour in Die Zauberflöte. There was a wonderful performance in 1991 of Siegfried's death-scene at a memorial concert for Reginald Goodall at the Royal Festival Hall which showed what a remarkable voice he still had. Many of his friends and former colleagues gathered in 1995 for a great celebration of Alberto's 60th birthday at St. John's Smith Square.
During these later years of his active career he was always very helpful and supportive of young singers. Alberto finally retired to Australia in 1999 and never came back to the UK, he sadly died there on Saturday 11th June.