France Verdi, Don Carlo: Soloists, Chœurs de l'Opéra national du Rhin, Orchestre symphonique de Mulhouse, Daniele Callegari (conductor), Opéra national du Rhin, Strasbourg. 23.6.2016. (RP)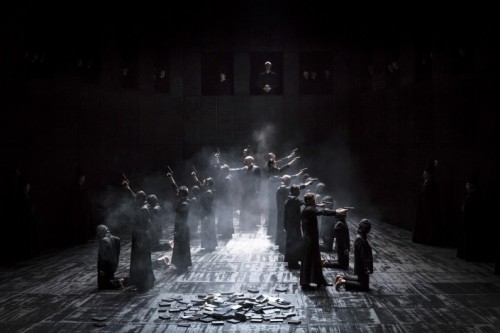 Cast:
Don Carlo: Gaston Rivero
Elisabetta di Valois: Ludmila Slepneva
Rodrigo: Tassis Christoyannis
Philip II: Stephen Milling
Princess Eboli: Elena Zhidkova
Tebaldo: Rocío Perez
Conte di Lerma: Camille Tresmontant
Grand Inquisitor: Ante Jerkunica
Celestial Voice: Francesca Sorteni
Production:
Director: Robert Carsen
Set Designer: Radu Boruzescu
Costume Designer: Petra Reinhardt
Lighting Designer: Robert Carsen & Peter Van Praet
Dramaturgy: Ian Burton
Chorus Master: Sandrine Abello
Movement: Marco Barriel
 Giuseppe Verdi's Don Carlo is not for the faint of heart. The father/son rivalry over a woman and power is messy enough, with Philip seeming to have no remorse over wedding his son's betrothed, and practically none when he turns his son, Carlo, over to the Grand Inquisitor for punishment, undoubtedly involving torture and a gruesome death. For director Robert Carsen, the family conflicts are almost secondary to the contemporary relevance of the Spanish Inquisition and the corrosive power of religion. His new production for the Opéra national du Rhin depicts a Europe torn apart by religious conflicts fueled by unbridled ambition. There is no guessing as to its present-day counterpart. The auto-da-fé scene ends with Protestant ministers from rebellious Flanders being hooded by black-robed priests and shot in the head ISIS style. The woman seated next to me covered her eyes and shrank back in horror at the scene. All of this, while the UK was voting on the Brexit.
When in doubt, black is the default for stage directors at the moment, and Carsen is no exception, although this production has better lighting than most. The set was a black box that served as palace chambers, a fragrant Spanish garden, a prison, and King Carlos V's tomb. The symbolism was stark – a skull, white lilies delineating a cross in the opening scenes, the regalia of the Roman Catholic Church, and rows of coffins in the final scene. The black was alleviated not only by the white flowers, but also the clerical collars of the doomed Protestants. Most of the costume budget was spent on the king's spectacular royal regalia and priestly robes, complete with a glittering black crown in the form of the Papal tiara.
The King Philip of Stephen Milling towered over all, his imposing size coupled with an equally impressive voice. Carsen and costume designer Petra Reinhardt had to have seen photographs of the bear-like Russian Tsar Alexander III. His ceremonial robing (taken straight from historical footage of the coronation of Queen Elizabeth II) in preparation for the day's festivities – book burnings and mass execution of the Protestant heretics – was the focus of the auto-de-fé scene. His earthly power yielded only to that of the Grand Inquisitor, sinisterly portrayed by Ante Jerkunica. The dramatic impact of their scenes together was due not only to their youthful, virile bass voices, but also to their imposing stage presences. The Grand Inquisitor, lean and sinister in his monk's robe, was no less power hungry than the king in all of his magnificence.
The bromance between Rodrigo and Carlo is also central to the plot. Is there any more thrilling music than Verdi's heroic duet for these two ill-fated men? Tenor Gaston Rivero was called upon to – and indeed did – compel one's complete attention when alone on an empty stage with only a single prop: variously the skull, a few white lilies, and finally the chain that tethers him in a dungeon cell. Rivero's swarthy, handsome looks, complemented his dark, rich voice. He was a fine Don Carlo. Baritone Tassis Christoyannis was also well cast as his seemingly devoted friend (more on that later), Rodrigo. His robust voice blended perfectly with Rivero's in their duets, although his high notes had more force than ring.
The relationship between Philip's queen, Elisabetta, and Princess Eboli is equally complex. Eboli is not only the king's mistress, she also loves Carlo. His spurning of her advances puts much of the action in the final scenes into play. Soprano Ludmila Slepneva was a last-minute replacement for Elza van den Heever, who had cancelled only that morning. A member of the National Theatre of Mannheim, Slepneva had sung the role previously, but allowances had to and must be made. Dramatically she was a perfect fit. The role was not in her voice, however, as evidenced by strident, wild high notes. The loveliest scene of the entire evening was her duet with Carlo on a carpet of white lilies. Elisabetta's confrontation with Eboli, where the princess confesses that she has betrayed Carlo and is the king's mistress as well, showed her to her best advantage.
Elena Zhidkova and Slepneva are both slim, beautiful women, and were costumed similarly most of the time in simple black dresses. For once, it did not strain the imagination that Carlo could mistake one for the other. Zhidkova's voice is on the light side for what is one of Verdi's great mezzo roles. Her Veil Song was tentative, but she found much more congenial turf in "O don fatale". Smaller roles were well cast, with Francesca Sorteni particularly pleasing as the Celestial Voice, a mere snippet of a role that has launched many a soprano's career.
Within a few bars, it was clear that Daniele Callegari had Verdi in his blood. The pulse, the shape of the phrase, and the colorings were all there from the start. String sound was inconsistent – at times thin, at others rich and throbbing – but overall the orchestra was just fine. Verdi lavished such wonderful music on the brass in this opera, and it was played with panache. The choral singing was also of consistently high quality, especially the men in their various groupings and configurations. They were dressed as priests, at time donning bishops' miters; when not in nuns' habits, the women were also attired as priests.
Just as Carsen yielded to the current vogue for black, he also followed suit in tinkering with the plot, as if this one is not convoluted enough. Rodrigo is indeed shot when he visits Carlo in prison, but as the scene ends he comes back to life, helped up off the ground by what appeared to be his priest-assassin. The denouement comes in the final moments, when both Carlos and Phillip are shot in rapid succession. Rodrigo then enters in royal regalia, his authority diminished not only by his comparatively smaller size, but with the realization that he was just a pawn in the Grand Inquisitor's hands. The few boos at the end were undoubtedly directed at the messy ending and were quickly drowned out by applause. You can't help wondering, though, just what was Carsen thinking?
Rick Perdian