United Kingdom Brahms: Naomi Johnston (soprano), Christopher Dollins (baritone),Three Spires Singers and Orchestra, Christopher Gray (conductor), Truro Cathedral, 25.6.2016. (PRB)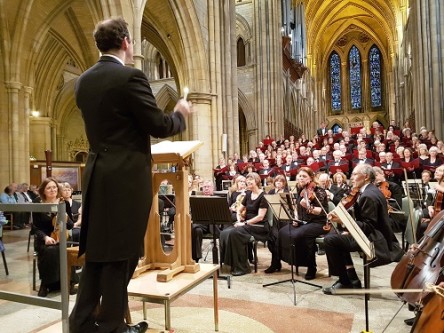 Brahms, Symphony No 2 in D major; Ein Deutsches Requiem
Three Spires Singers was formed back in 1981 by the late Richard Hickox, and is now recognised as one of the leading choirs in South West England. Their current conductor is Christopher Gray, Director of Music at Truro Cathedral – Cornwall's county town and only city, in fact the southern-most one in the country – took over the baton in 2008.
As cathedrals go, Truro's is a relative youngster. Since 1259 or so, there has been a Parish Church of St Mary located on the site, but it was initially assumed that when Truro Cathedral was built, the Parish Church would be completely demolished in the process. However, due to the persistence of the architect, permission was eventually granted to keep at least part of the old Parish Church, and he cleverly set about incorporating the South Aisle of the church into his design for the new Cathedral, so that, both physically and symbolically, the Mother Church of the Diocese – or district under the pastoral care of a bishop – appears to have a protective arm around one of her daughter-churches. Two Foundation Stones were laid in 1880 by the then Duke of Cornwall (later Edward VII) and, essentially a Gothic revival of Victorian Vision, the Cathedral first opened in 1910, In 2002 it embarked on what was hoped to be a fifteen-year project to restore the east end, the west front, and the central tower and spire, as funds permitted.
Gray is known for his innovative and ambitious programming, so whereas directors of similar-sized ensembles might prefer to get the most mileage from their singers on the night – possibly by padding out the programme with some shorter vocal works – here he opens with Brahms' Second Symphony, and follows with the composer's German Requiem.
This has real advantages for choir members, as well as broadening the appeal of the concert as a whole. It allows for detailed and intensive rehearsal of a major work in the choral repertoire, without needing to divert unnecessary time and effort to preparing a number of smaller titbits. Three Spires Singers is still an amateur choir, despite the high standards it achieves, and its members join of their own volition to enjoy an extra-mural activity that has proven benefits, both medically and psychologically. The orchestra, on the other hand, are professional, and clearly relish the opportunity to play at least one substantial work in a superb acoustic, and where they are not obliged to keep the volume checked, lest they overpower the singers. Here it was good that the choir was already in place during the opening work, both providing an in-the-round experience, as well as resolving the logistics of where you park a choir when they're not on stage. And even from the acoustic standpoint it made sense to have around 120 bodies to bounce the sound back off.
Brahms wrote four symphonies, and while the First was instantly popular, some critics dubbed it 'Beethoven's Tenth'. The Second Symphony, in the oft-described 'sunny' key of D major, was written during a summer holiday, the year following the première of the First, and is the least ponderous of the composer's symphonic output, with all four movements in a major key. Indeed it is associated with one of the happiest periods in Brahms' life, and this certainly is reflected in the score and the writing. Gray is clearly a graduate of the restrained-school of conducting, where gesture is quite minimal, and applied only when needed, where the beat is clear for all to see, and upbeats perfectly managed and communicated, establishing a taut ensemble from the very outset. Whether this stems from his training and work, it was so refreshing to watch as he teased out lines and inner-parts, with the insight of a true academic, uncluttered by superfluous gestures. But the ensuing performance was still exciting, the playing vibrant and stamped with the mark of an individual interpretation – and Brahms the Romantic was always very much in attendance. In brief conversation with Gray after the concert, when asked about his approach to the task of conducting two large works by Brahms, he said that he had been studying the musical scores for months in preparation – and this certainly showed on the night, as he knew what he wanted to say, and subsequently gave his instructions in such clear and succinct manner.
Devon and Cornwall isn't awash with fine orchestral musicians, and, apart from London-based Pauline Lowbury, who led the orchestra with such calm assurance, inevitably a lot of rank and file players will have sat together in various different ensembles over time. But tonight the sound they produced and the way they played just seemed all rather special.
There is undoubtedly a high level of expertise and humanism in Brahms' German Requiem, but this has rarely been sufficient for it to achieve the same popularity as those, for example, by Verdi, Mozart or Fauré. But the quite sublime performance by Three Spires Singers and Orchestra very much brought a new sense of meaning to the work, and perhaps even more so to those of us who felt we were already familiar with it.
Clearly Gray had again thought long and hard about his approach to the work, in terms of addressing the seemingly complex nature of its apparent duality – on the one hand sacred and classically-restrained, yet at the same time non-liturgical and full of romantic outpouring.
In fact, his approach, and ultimate solution once more achieved this in the easiest of ways – by faithfully observing the composer's intentions, and communicating them with such unassuming sincerity to his performers, who then simply responded as one.
Choral events where the orchestra is brought in just for the performance, and with limited prior rehearsal time, frequently present a perennial problem of balance between instrument and voice. Usually there are two ways by which this is resolved. Either the orchestra still plays with full gusto, effectively drowning out most of the choir's hard work over the last few months, or the conductor spends much of his time physically keeping them down, and which, rather like a car's speed-limiter, can be quite frustrating should you try to put your foot down. On this occasion Gray scarcely, if ever, sought to mute his instrumentalists yet, uncannily the balance seemed always right.
Much intrigued, I was later also able to ask Gray how he'd managed this none-too-easy, yet absolutely vital task. Once more his solution was blindingly obvious – in the final orchestral rehearsal, he merely asked his players to listen in the performance, and thereby ensure that they complement, rather than obliterate the singers. An essentially softly-spoken, and eminently personable conductor, he remarked that he had made his point 'forcefully', but there were none of the unnecessary tantrums or histrionics others sometimes feel the need to resort to – mutual respect between musicians, as in life, doesn't come with the position, but has to be earned.
The well-drilled choir was in superb voice from the very outset, and none more so than the soprano section. Just like any good piano-tuner, they'd noticeably been trained to 'think above the note', meaning that not only was the lead from the top sure and secure pitch-wise, it remained so throughout. Encouraged by the fine acoustic, the choir produced some lovely dynamic contrasts, from the wonderful calm of How lovely are thy dwellings to impressively powerful fortissimos elsewhere, with no apparent loss of ensemble or clarity of line in any of the fugal or contrapuntal sections.
There isn't a great deal for the two soloists to do, especially the soprano, but it can be a serious error of judgement merely to consider this fact when engaging suitable artists. Both Christopher Dollins (baritone) and Naomi Johnston (soprano) did a sterling job, ensuring their respective deliveries were more in tune with that of Lieder singer than opera star, and so apt for Brahms' musical writing and the unique character of his chosen texts. Here the astute decision to perform the work in the original language very much paid off. With abundantly clear diction also came a sense of real understanding, so essential for the performers, even if the audience had the advantage of a translation in the programme, and sufficient ambient light to be able to follow it.
Many large amateur choirs and orchestras will have a President – usually someone well-known in the professional world who at one time or another has agreed to assume this role. Three Spires Singers and Orchestra is far more fortunate in that they have an extremely active and supportive one in BBC Radio 3 presenter Petroc Trelawny, who grew up locally and, despite a busy broadcasting schedule in London, was still there in the front row on the night, applauding with unbridled enthusiasm and genuine appreciation, and patently so proud to be associated with such an outstanding group of performers.
Philip R Buttall