Argentina Bellini, I Capuleti e i Montecchi: Soloists, Chorus and Orchestra of Buenos Aires Lírica, Conductor: Jorge Parodi. Teatro Avenida, Buenos Aires. 3.6.2016. (JSJ)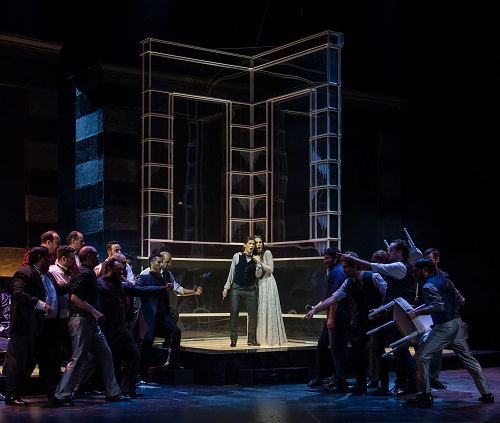 Production:
Director/sets: Marcelo Perusso
Costumes: Stella Maris Müller
Lighting: Rubén Conde
Chorus: Juan Casasbellas
Cast:
Giulietta: Rocío Giordano
Romeo: Cecilia Pastawski
Tebaldo: Santiago Ballerini
Capellio: Walter Schwarz
Lorenzo: Sebastián Angulegui
At times Buenos Aires seems far removed from the world at large when it comes to opera. Once, and now only a memory for a fast disappearing generation, the city was one of the top opera cities of the world. At the same time some trends seem to have largely passed the city by, such as the revival of the baroque and the works of Handel and Vivaldi. Indeed, there is a whole swathe of operas that remain little performed compared with for example, Europe.
One of these is Bellini's I Capuleti e i Montecchi which was last put on in Buenos Aires as far back as 1971. One of the group of works for which Bellini is best known, it is also the one – despite reusing music from his previous work – that cemented his fame. The first production in Buenos Aires – October 1852. And for this new production we have to thank the tireless efforts of Buenos Aires Lírica to return such gems to the local stage.
I Capuleti e i Montecchi is of course an adaptation of the Romeo and Juliet story, here updated to a modern dark and shiny Mafia-like setting. The Capuleti, led by Capellio, had a refined air (appropriate to the Guelphs) whereas the Montecchi, led by the young Romeo, were more like a band of rebels (appropriate to the Ghibellines).
A street march in the vicinity of the Teatro Avenida turned the journey getting there into a nightmare for many people, myself included. Despite a late start for the performance, we still missed the overture, joining at that moment of tension at which Capellio sets off the chain of events that lead ultimately to the final tragedy of the death of Giulietta, his daughter.
In the role of Giulietta, Rocío Giordano brought a dramatic presence but was uncomfortable in the highs. As Romeo, Cecilia Pastawski, a regular in 'trouser roles', was a natural choice and she brought off the role with agility and intensity. Santiago Ballerini was a sound Tebaldo with a strong vocal line and Walter Schwarz a dignified Capellio, while Sebastián Angulegui was a satisfactory Lorenzo.
Jorge Parodi, now resident in New York, conducted with precision and style and there were good interventions from the chorus to make up a good, if not exceptional, production.
Jonathan Spencer Jones
Buenos Aires Lírica's I Capuleti e i Montecchi. Photo Liliana Morsia