Italy Strauss, Der Rosenkavalier: Soloists, Teatro alla Scala Chorus and Orchestra, Treble Voices: Chorus of the Teatro alla Scala Academy, Zubin Mehta (conductor), Teatro alla Scala, Milan. 24.6.2016. (RP)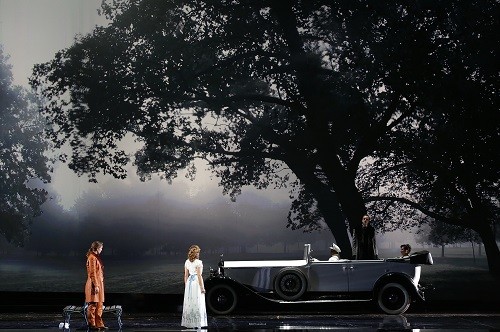 Cast:
The Marschallin: Krassimira Stoyanova
Baron Ochs: Günther Groissböck
Octavian: Sophie Koch
Faninal: Adrian Eröd
Sophie: Christiane Karg
Marianne: Silvana Dussmann
Valzacchi: Kresimir Spicer
Annina: Janina Baechle
Police Commissioner: Thomas E. Bauer
Notary: Dennis Wilgenhof
Italian Singer: Benjamin Bernheim
Innkeeper: Roman Sadnik
The Marschallin's Major Domo: Franz Supper
Faninal's Majordomo: Michele Mauro
Leopold: David Meden
Mohammed: Yannick Lomboto
Production: Salzburg Festival Production
Director: Harry Kupfer
Set Designer: Hans Schavernoch
Costume Designer: Yan Tax
Lighting Designer: Jürgen Hoffman
Videos: Thomas Reimer
Chorus Master: Bruno Casoni
Teatro alla Scala is currently presenting the 2014 Salzburg Festival Production of Richard Strauss's Der Rosenkavalier with certain singers from the original production – notably Krassimira Stoyanova as the Marschallin, Günther Groissböck as Baron Ochs, and Sophie Koch as Octavian – recreating their roles. The delightful Christiane Karg is new to the cast as Sophie. Undoubtedly the most substantial change is Zubin Mehta on the podium in lieu of Franz Welser-Möst. I've no doubt that Welser-Most conducted a fine performance, but Mehta conducted a sublime one. Strauss' melodies soared under his baton, and he wonderfully captured the wit, sparkle, and elegiac mood of this beautiful score. The final trio was transcendent, with the orchestra swelling in both volume and emotion, enveloping but never overwhelming the singers. It was truly unforgettable.
Veteran stage director Harry Kupfer's production, updated to what would appear to be the 1930s, is traditional, atmospheric, charming, and quite sensuous. The first two acts take place on an open stage with a few architectural elements that suggest grand Baroque palaces and Art Deco furnishings to provide the appropriate period feel. Act III is set in a shabby inn, where one can almost feel the grime on every surface. Hanging above the inn is a large metal whale with a gaping mouth. Projections of grand rooms, building exteriors, and parks create a sense of grandeur and spaciousness. The Marschallin and Faninal ride off in an enormous, chauffeur-driven, white limousine, as she sings her final words, "Ja, ja." It was all so elegant.
Previously, I had only heard Krassimira Stoyanova in recital and was impressed by her performance of Mussorgsky's Songs and Dances of Death. That in no way prepared me for the sheer beauty of her voice as the Marschallin, remarkably even throughout, and with the creamiest high notes imaginable. The size of her voice and her effortless ability to spin out phrases enabled Mehta to sculpt expansive musical lines that throbbed with emotion. Gracefully attired, first in a flowing white peignoir with fur cuffs and later a simple, pale lilac gown and overcoat, her Marschallin, while refined and dignified, was also earthy and sensual. She was acutely aware that her beauty would fade and with it her sexual allure, especially for men half her age.
Günther Groissböck broke the conventional mold of Baron Ochs as a portly, unkempt, older country cousin to the sophisticated Marschallin. There is nothing subtle about Groissböck's uncouth Ochs, but he cut a virile figure charged with sexual energy, ripping open his shirt in a frenzy of rage and lust in the third act. His Ochs, partnered by the lanky, red-haired David Meden as his servant Leopold, brought discomforting associations with one of opera's other great sexual predators, Don Giovanni. Groissböck's voice is wonderful, but although his lowest notes sound, they do not resonate, which is essential to mine the full musical and comical depths of Ochs.
As his intended, Christiane Karg was an unusually rich-voiced Sophie, with crystalline high notes that were absolutely beautiful. Each one bloomed above the orchestra under Mehta's baton, seemingly suspended in time. Within seconds of meeting him, it was very clear that she was not going to let Ochs lay one finger on her, over the protests and to the great dismay of her high-strung father, a very funny Adrian Eröd as Faninal, who sees his social-climbing aspirations slipping away. Her transformation from a young girl in love with being in love into a far more worldly, if no less innocent, young woman, hesitant to believe that Octavian will forsake the Marschallin for her and ultimately surrendering to true love, was fully rendered.
Koch looked every bit the dashing, sexually charged young count, and was equally convincing as Mariandel, portrayed as a savvy country maid in homespun clothes, with an awkward gait and a hilarious accent. The presentation of the silver rose was expertly timed: marble floor slabs quickly and quietly became a path straight to Sophie. At his first glimpse of her, Cupid's arrow struck Octavian's heart both visually and musically. Again, Mehta's phrasing and timing were impeccable, and that moment was captured to perfection in the orchestra. However, Koch's singing was uneven: the middle of her voice is warm and rich, but the bottom thins out and top notes are frequently harsh, marring duets and ensembles.
Benjamin Bernheim was every bit a temperamental Italian tenor, with clear, ringing high notes, produced with his customary ease. Smaller roles were all well cast, although the women left more of an impression visually and vocally than the men, particularly Silvana Dussmann's fastidious and funny Marianne, with bright red hair and a purple silk dress, and Janina Baechle's conniving Annina, who could take on Ochs with one hand tied behind her back. Mohammed, the Marschallin's footman, never says or sings a word, but Kupfer provided him with some fine bits of stage action. Yannick Lomboto's Mohammed would appear to be about the same age as Octavian, and just as intrigued by sensual delights. The curtain fell as he buried his face in the Marschallin's perfumed handkerchief, intoxicated by its scent.
Rick Perdian