United Kingdom Handel, Tamerlano: Soloists, The English Concert Orchestra, Laurence Cummings (conductor), Buxton Festival 2016, Opera House, Buxton, 10.7.2016. (RJF)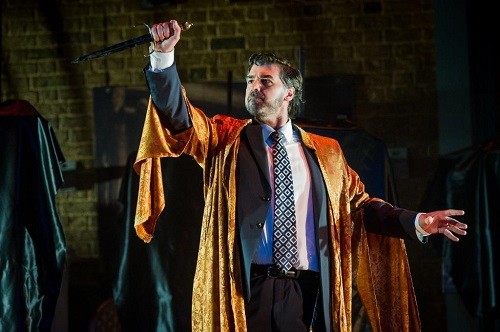 Opera in three acts 1724, rev 1731. Sung in Italian with English side titles.
Cast:
Tamerlano, Emperor of the Tartars – Rupert Enticknap
Bajazet, Sultan of the Turks – Paul Nilon
Andronico, a Greek prince – Owen Willetts
Asteria, Bajazet's daughter – Marie Lys
Irene, Princess of Trebizond, betrothed to Tamerlano – Catherine Hopper
Leone, friend of Andronico and Tamerlano – Robert Davies
Techelles, a follower of Tamerlano – Simeon John-Wake
Zaida, Asteria's attendant – Jennifer Parker
Production:
Director Francis Matthews
Designer – Adrian Linford
Lighting Designer Simon Corder
As the programme notes, between February 1724 and the same month a year later, Handel composed three of his greatest stage works including Tamerlano, coming between Giulio Cesare and Rodelinda. It is a story of frustration and bitterness played out in the palace of a despotic Oriental tyrant. The composer managed to portray the distinctive scenarios of these three operas within the confines of the contemporary baroque period style. This style, involving de capo arias and recitatives along with concentration on vocal display involving castrati is what the moneyed audience at The King's Theatre paid for, via subscription, and demanded.
The plot centres on the defeated Turkish monarch Bajacet and his daughter Asteria, prisoners of the tyrant Tamerlano who lusts after Asteria despite already being betrothed to Irene. The set by Adrian Linford is comprised of an exotic melange of furniture, statues and columns with a central staircase to a door to an unseen upper floor. The costumes are mostly present day, an exception being the long ornamented cloak worn by the eponymous dictator from time to time and colourful drapes for Asteria.
As the pursued Asteria Marie Lys sings with appealing light flexible tone and acts well. Her favoured male, Andronico, is taken by countertenor Owen Willetts with an appealing mezzoish tone. His slight figure compared to the more bulky eponymous Tamerlano adds to the story as the latter interacts with him within the framework of the evolving drama. In this second counter tenor role, that of the dictator himself, Rupert Enticknap is physically imposing – regrettably not a quality he is able always to reflect in his singing. As Irene, who gets little to sing, Catherine Hooper acquitted herself well. In the role of the defeated and imprisoned Bajacet Paul Nilon sang strongly albeit not always with purity. I first heard him as a student at the RNCM in the early 1970s when he shared the role of Rossini's Almaviva with Barry Banks. His vocal flexibility is still evident if not always pure, but his tone has darkened and coarsened. As always his acting, and ability to convey emotion, is undimmed as in this performance.
The English Concert Orchestra, conducted by Laurence Cummings were idiomatic and appropriately in period as befits their international reputation.
For enthusiasts of Baroque opera, and particularly Handel's opera seria, this is a rare opportunity to hear the music well performed. There are further performances on July 14th, 21st at 7.15pm, and on Sunday 17th July at 2.30pm.
Robert J. Farr