United Kingdom Jette Parker Young Artists' Programme Summer Concert -Janáček, Gounod, Tchaikovsky, Leoncavallo and Strauss opera excerpts: Orchestra of the Royal Opera House / Paul Wynne Griffiths, Paul Wingfield & Jonathan Santagada (conductors). The Royal Opera House, Covent Garden, London 18.7.2016. (JPr)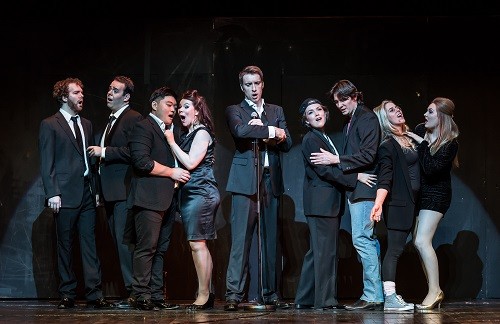 Janáček, Kát'a Kabanová (Act II, scene 2)
Conductor: Paul Wynne Griffiths
Katěrina (Kát'a): Vlada Borovko
Varvara: Emily Edmonds
Boris Grigorjevic: Samuel Sakker
Vána Kudrjáš: David Junghoon Kim
Gounod: Mireille, Act IV aria 'Voici la vaste plaine'
Conductor: Paul Wingfield
Mireille: Lauren Fagan
Tchaikovsky, Eugene Onegin (excerpts from Act III, scenes 1 and 2)
Conductor: Jonathan Santagada
Tatyana: Jennifer Davis
Eugene Onegin: Yuriy Yurchuk
Prince Gremin: James Platt
Leoncavallo, La bohème, Act IV excerpt
Conductor: Paul Wynne Griffiths
Mimì: Lauren Fagan
Musetta: Emily Edmonds
Marcello: Samuel Sakker
Rodolfo: Samuel Dale Johnson
Schaunard: David Shipley
Strauss: Die Fledermaus, Act II finale (excerpt)
All the artists
Conductor: Paul Wynne Griffiths
It was end of term for the Royal Opera and time for some on the Jette Parker Young Artists Programme to leave school. Many in the audience, I suspect, will have noted the acknowledgements to Jette Parker without having paid much attention to who she is. Married to British billionaire businessman, Alan Parker, she is one of a group of philanthropists in the USA and UK without whom many important arts activities would not be possible. Their Oak Foundation was formally established in 1983. Early grants were made in Denmark to organisations supporting single mothers and torture victims and in Zimbabwe to groups supporting vulnerable children and families, primarily at community levels. Grants continued to be made annually in several countries until a new phase for Oak Foundation began in the early 1990s, when annual grant-making increased and staff were hired to run substantive programmes. The first two programmes to get underway were Environment and Child Abuse, followed by four others – Housing and Homelessness, International Human Rights, Issues Affecting Women and Learning Differences. Five of Oak's programmes also fund initiatives in India, and, in 2012, Oak Foundation joined this work under the banner of the Joint India Programme. Since its establishment, Oak Foundation has made more than 3,600 grants to not-for-profit organisations across the globe.
The Jette Parker Young Artists Programme was set up in 2001 and continues to support the artistic development of professional singers, conductors, directors and répétiteurs at the start of their careers. Selection for the Young Artists Programme is by an annual competition consisting of auditions and interviews. They then spend two years at the Royal Opera House as full-time salaried company members and benefit from a personalised programme of daily coaching in all opera disciplines, tuition, opportunities to study major roles, observation of the rehearsal and production process and guidance on career development. Each artist works on productions for the Royal Opera, whether singing small roles, covering larger roles or joining the music or directing staff, and they also take part in a variety of concerts. The culmination of their activities each year is what we were seeing on this humid summer Sunday lunchtime, an annual performance. In 2005 Oak Foundation made a very generous long-term commitment to the programme which has since renewed. Since 2006 a position as a Jette Parker Principal, Associate Conductor or Associate Director allows support for further individual development.
Not to descend into the world of current politics – yet as (Royal Opera) house-trained the Young Artists are – those who are home-grown in the Programme are often in the minority. Not that there is anything wrong with that, but I do wonder where most of Britain's young singers get their experience? Let's just celebrate the talent of the current JPYA generation. The excerpts chosen were not easy options and featured all ten singers in various disparate roles, in unfamiliar repertoire and requiring foreign languages some learnt phonetically.
It was a thoroughly enjoyable occasion as it always is but with the proliferation of opera live broadcasts, opera singers are expected not only to look good (which is an issue in itself!) but primarily to act well. These days a good voice may not be enough. Watching this summer concert, I wondered how much time actually was allotted on the JPYA Programme to other aspects such as acting. Nobody had anything less than a good voice but – in my opinion – only three singers genuinely commanded the stage and particularly drew my eyes to them: Russia's Vlada Borovko, Australia's Emily Edmonds and England's James Platt. Singing in Czech and Russian admittedly did cause all of them to be thinking more about the sound of their words rather than their acting; whilst all those involved were obviously happier when later singing in Italian or German.
Often these Jette Parker Summer Performances have been given a title, last year it was Betrothal and Betrayal (review) but there was nothing this time although Love and Death would have been very apt for everything except Die Fledermaus. Love and death is pivotal to the plots behind Kát'a Kabanová, Mireille, Eugene Onegin and La bohème from which we heard excerpts. Director Richard Gerard Jones's staging, such as it was, involved a stage-wide low wall with an opening allowing entrances or exits, modern clothes, a few props and some lighting effects from Nick Havell. Remembering this was a Sunday lunchtime I was surprised there wasn't a warning issued – for those with a sensitive disposition – about the video of a cartoon version of a naked pole dancer which was shown to usher in (for some reason) the tragic conclusion to Leoncavallo's La bohème … whose music I have not heard since it was put on in Wexford in 1994!
Sharing conducting duties were the vastly experienced Paul Wynne Griffiths, a former JPYA Paul Wingfield and Jonathan Santagada who leaves the Programme this year but will join the music staff of The Royal Opera next season. The Orchestra of the Royal Opera House were their usual competent selves in music some of which was familiar, some unfamiliar. In the Janáček the lovers, Varvara and Kudrjáš, were well sung by Emily Edmonds and David Junghoon Kim. Ms Edmonds as Varvara, was suitably coquettish, without overdoing it. Her role is to facilitate the meeting between Kát'a and Samuel Sakker's Boris. This Varvara showed she was clearly aware of what would be the consequences of their meeting – and of Kát'a's reluctance and fragile state of mind. Emily Edmonds's Varvara therefore becomes clearly complicit in orchestrating Kát'a's eventual demise later in the opera.
Singing with warm musical phrasing and bright tone Lauren Fagan expressed Mireille's plight in the Act IV aria from Gounod's rarely-performed eponymous work. She was shown in a sanatorium after self-harming and it worked for this 'bleeding chunk' as we saw how in her mind Mireille was dwelling on her love for Vincent and trying to get to him at this point in the story after hearing he is injured. Before the interval there was time for extracts from Eugene Onegin Act III featuring James Platt displaying a smooth, sonorous bass voice, ideally suited to Prince Gremin's declaration of love for Tatyana and ideal for the Wagner roles he will eventually be cast in. Here he was probably supposed to be a Russian oligarch with a trophy wife. Yuriy Yurchuk didn't have much opportunity to make Onegin anything other than a lovelorn dullard and Jennifer Davis overcame an announced summer cold to sing a Tatyana full of earnest regret at having to reject him as once he had spurned her.
The denouement of Leoncavallo's La bohème was the last substantial cheery(?) extract we heard. His version of the familiar tale of young Parisian bohemians is well worth seeing if ever you get the chance. If Puccini's masterpiece hadn't been written at almost exactly the same time this would have likely been to the forefront of the standard operatic repertoire. Mimì still dies of course and on Christmas Eve recalls her happiness with Rodolfo (a baritone!) exactly one year before. At least in the snippet we heard it is not as characterful as Puccini with none of the high jinks of his Act IV and Leoncavallo does not dwell on Mimì's death as much as his contemporary but Lauren Fagan was quite affecting. It was again Emily Edmonds' Musetta who caught the eye and ear as a tart-with-a-heart prowling the stage before taking pity on Mimì and being willing to pawn her hard-earned jewellery for money for a doctor and food for her. Mimì succumbs to tuberculosis and dies on the floor and is left there for a while as the scene morphed entertainingly into the toast to champagne and 'Brüderlein und Schwesterlein' from Die Fledermaus … nothing to do with love and death thankfully and a cheerful, optimistic end to an accomplished performance displaying the talents of a splendid ensemble.
Jim Pritchard
For more about events at the Royal Opera House in the 2016/17 season visit http://www.roh.org.uk/.