United Kingdom Bellini, I Capuleti e I Montecchi: Soloists, Buxton Festival Chorus, Northern Chamber Orchestra / Justin Doyle (conductor). Buxton Festival 2016, Opera House, Buxton, 9.7.2016. (RJF)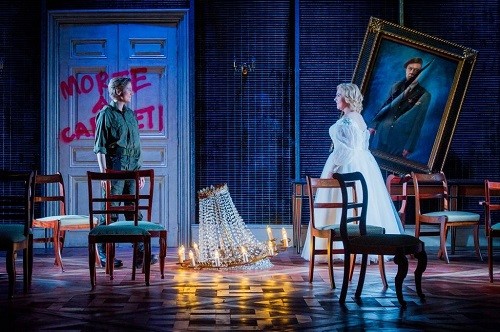 Lyric tragedy in two acts (1830). Sung in Italian with English side-titles
Cast:
Capellio, leader of the Capuleti – Jonathan Best
Lorenzo, a priest and advisor to Capellio – Julian Tovey
Tebaldo, commander of the Capuleti forces – Luis Gomes
Romeo, leader of the Montecchi, – Stephanie Marshall
Giulietta, Capellio's daughter – Sarah-Jane Brandon
Production:
Director, Harry Fehr
Designer, Yannis Thavoris
Bel canto received some welcome productions of this genre during Andrew Greenwood's directorship of Buxton Festival with performances of Donizetti rarities Roberto Devereux, the last of his Stuart trilogy in 2007 (see review), Lucrezia Borgia in 2009 (see review) and Maria Di Rohan (see review) in 2011. Under Stephen Barlow other operatic rarities have been seen with a mediocre Lucia di Lammermoor in 2015 (see review) and a concert performance of Rossini's rarely heard Otello in 2014 (see review). When I saw the naming of Bellini's I Capuleti e I Montecchi Bellini's sixth opera for this year I was particularly thrilled.
Premiered, a little later than planned, on March 11th 1830 this was an immediate and immense success and was performed eight times in the ten days left before the end of the season. After the third performance a huge crowd preceded by a military band playing music from his operas conducted Bellini to his lodgings! The opera was seen twenty five times at La Scala, opening the Carnival season at there on December 26th 1830, and elsewhere in Italy, before quickly spreading abroad.
The story of the Capulets and Montagues predates Shakespeare and appears to have been derived from an earlier novella. Set in thirteenth century Verona it tells the tragic story of Romeo, a Montague, who loves Giulietta, daughter of Capellio leader of a rival faction whose son has been killed by him. Despite Giulietta returning Romeo's love Capellio determines to marry her to Tebaldo, one of his faction. Romeo attempts to persuade Giulietta to go away with him but she refuses to leave her family. Lorenzo persuades Giulietta to take a potion that will make her appear dead. Lorenzo is unable to convey this information to Romeo who, hearing her funeral dirge as he prepares to fight Tebaldo, rushes to her tomb and takes poison himself. Giulietta revives as Romeo dies.
In the pre-performance talk Director Harry Fehr mentioned the Shakespeare anniversary whilst noting the predating of the story. He talked about creating the ambience of Verona whilst avoiding conflicts such as Palestine and the like and using the word updating. Many of the audience would have seen Opera North's appalling and unpopular abuse of the Romeo and Juliet story in their series of Shakespeare subject related works with Gounod's opera in 2008 (see review), and kept their fingers crossed. While not of that lack of class, like all young contemporary directors he could not avoid, along with this designer the Eurotrash or Regietheater model. Their version was set in a high walled razor protected compound with the participants in modern army type dress and costumes, the Capuleti in green berets the Montecchi in balaclavas and blacked up for disguise. This take also involved a proliferation of modern armaments, armalite rifles and pistols proliferate! Those intimations of disapproval, or just disappointment, on my part were tempered by the fact that the drama worked, unlike some other updated productions and staging's I have sat through, or reviewed on film, whether Bellini would have recognised it without the benefit of his divine music is another matter.
Bel canto means, literally, beautiful singing and I must give credit to some very good singing that illuminated Bellini's melody and words. As the two lovers, Stephanie Marshall, in the travesti role of Romeo, and Sarah-Jane Brandon as Giulietta were as ideal a pair in the roles as I am likely to hear outside the international circuit. Each caressing Bellini's melody and often long lined cantilena with gentility or passion as the words demanded and acting with dramatic conviction. As Giulietta's Capulet would be lover Tebaldo, Luis Gomes sang with free tone and an elegant vocal line skills matched by Lulien Tovey's sympathetic and well acted and sung priest. Costumed like a superior army general, the physically imposing Jonathan Best seemed to me to be lacking the vocal sonority of past years.
After a rather bombastic orchestral opening Justin Doyle drew idiomatic playing from the Northern Chamber Orchestra whilst the Buxton Festival Chorus, with women sometimes dressed as men to give acting numbers, were outstanding as singers and actors.
Robert J. Farr