United Kingdom Prokofiev, Cinderella: Soloists and Artists of The Australian Ballet, English National Opera Orchestra / Nicolette Fraillon (conductor), London Coliseum, London, 20.7.2016. (JPr)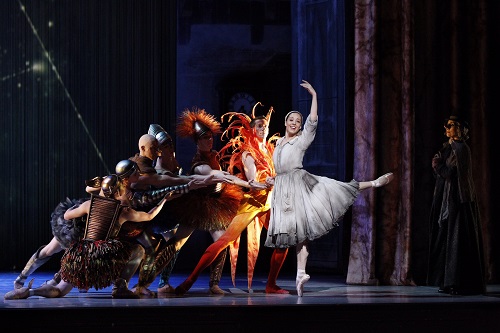 Principal Dancers:
Leanne Stojmenov (Cinderella)
Kevin Jackson (The Prince)
Amy Harris (Cinderella's Stepmother)
Ingrid Gow (Skinny Stepsister)
Eloise Fryer (Dumpy Stepsister)
Jasmin Durham (The Fairy Godmother)
Production:
Choreography: Alexei Ratmansky
Costume & Set Design: Jérôme Kaplan
Lighting Design: Rachel Burke
Production Design: Wendell K Harrington
What a difference a week makes! I don't think I was entirely out-of-step with others by not being overwhelmed by Graeme Murphy's Swan Lake as a royal love-triangle (review) which might have had some relevance a decade and more ago but not now. All the more strange to find out that The Australian Ballet have a newer more 'traditional' version (choreographed by Stephen Baynes) they chose not to show London on their current visit.
Alexei Ratmansky's Cinderella – was wonderfully uplifting – especially so after a horrendous journey travelling to the London Coliseum which gave me a jet-lag feeling just as if I had just flown in from Down Under! Valerie Lawson in her introduction in the programme, A Surreal Cinderella, writes: 'In his initial conversations with Ratmansky, the French designer Jérôme Kaplan suggested that the ballet's décor and costumes should refer to the age of Surrealism, the 1920s and 1930s. It was an intuitive decision, he said, to link the art movement with Prokofiev's haunting score for Cinderella. Replaying the music, written in the darkest days of World War II, Kaplan found the mood "strange and sad, and it became very clear that this music was close to Surrealism".' The latter is very true and Prokofiev's score is occasionally too morose. It is also often too redolent of his music for Romeo and Juliet which is a tragic tale and not the romcom fairy-tale fantasy which Cinderella is, despite its elements of darkness in the story. What was indisputable was how much better the English National Opera Orchestra played this Prokofiev compared to the Tchaikovsky I heard from them earlier in this short season. Nicolette Fraillon drew out of them a richly detailed account of Prokofiev's melodious score.
Ratmansky's Cinderella – here getting its European première – ticks all the important boxes for stunning design, a bit of old-fashioned theatrical magic, great technical skill from the dancers and a comfortable combination of the traditional story with modern adornments. It is suitable for young or old, whether ballet purists or those who enjoy seeing things that are a little less orthodox. We get the familiar story of Cinderella with just a few delightful liberties taken along the way. There is the drudgery Cinderella endures from her step family – who go through all their expected slapstick routines – but there is no pumpkin coach or fairy-like godmother, instead Ratmansky provides an absolute visual treat. Jerome Kaplan's inspired designs presents Act I – which has an irredeemably flawed structure regardless of version – backstage in a derelict theatre with the impoverished family surrounded by some objects – including Dali's Mae West Lips Sofa – they have managed to keep from better times. The crazily-nosed Fairy Godmother (Jasmin Durham) wears a trench coat and a bowler hat familiar from the works of Magritte – her coat will morph gloriously into a huge clock near the end of Act I. Act II is set in a sumptuous ballroom which was the result of Kaplan's visit to the Winter Palace in St Petersburg and culminates in some amusing – though perversely menacing – large topiary metronomes. Throughout this Cinderella there is some seamless video projection (by Wendall K Harrington) from the multiple copies of the portrait of Cinderella's mother near the start to the confetti and fireworks in the background that celebrate her burgeoning love for the Prince as the ballet ends.
Instead of having Cinderella encountering the fairies of Spring, Summer, Autumn and Winter during her journey to the ball, intriguingly Ratmansky has her meeting an assortment of cosmic characters — sun, moon and the planets – and this provides great opportunities for some intricate novelty dances which the dancers appear the relish. My one criticism of the whole evening would be that this part went on just a little too long. This apart, the plot – which surely everyone must know – rolls entertainingly along to its happy-ever-after ending.
The stepmother/stepsisters trio are usually over-the-top caricatures and are there to provide some comic relief to the genuine emotions engendered by Cinderella's plight and the Prince's search for true love. The stepsisters, Skinny and Dumpy, who have colourful bubble skirts and Ab Fab hairstyles rough-and-tumble with each other, unappealingly try to catch the Prince's eye, and generally make amusing idiots of themselves through outrageous leg splits and tottering about off-balance. Amy Harris (Stepmother), Ingrid Gow (Skinny) and Eloise Fryer (Dumpy) were uniformly excellent.
Leanne Stojmenov was Ratmansky's first Cinderella and clearly embraces this ballet, she was an utter delight and performed with fluidity and grace. In Act I she most affectingly shows her longing for a better life and – after her rags to riches transformation – is suitably star struck when she arrives at the ball. Stojmenov danced with lyrical freshness and immediacy through the ballroom scenes and despair permeated her entire body when she returned to her life in rags and the daily chores. Kevin Jackson was a suitably dashing Prince who leaps into his ball like a Hollywood celebrity meeting his fans. Jackson revealed a technique – well hidden in the Swan Lake I saw – that was almost as flashy as his garish white suit. Their wonderfully danced final pas de deux that includes the realistic gestures of two people in love – including much 'talking' (involving complex interlacing of hands and arms) –  concluded with an extraordinarily tender embrace – rather than a more usual ballet pose – as those fireworks erupted.
There are a number of standout performances in supporting roles including Dimity Azoury as the planet Venus and Vivienne Wong as the Lead Temptor whom the Prince encounters on his travels and travails to find the one the slipper fits. Meanwhile the hardworking corps de ballet were synchronised throughout and presented their characters strongly. There is so much to like throughout this Cinderella; the piece is clearly a challenge for the company and it is one The Australian Ballet surmount with considerable technical accomplishment, flair and joie de vivre. As an aside, it was a pleasure to sit behind Wayne Sleep and in some small way share the experience of this Cinderella with him. In bygone days I saw him dance the Jester in Frederick Ashton's much more traditional version of the ballet, as well as, later he was one of the stepsisters.
Productions from The Australian Ballet will be shown in UK cinemas later this year and it will be the first time the company has showcased its work to international audiences via cinema. Three productions will be shown at 200 UK cinemas, as well as, a further 200 cinemas worldwide – The Sleeping Beauty, shown in the UK on 4th October, this version of Cinderella, on 23rd November, and Coppélia on 19th April 2017. The ballets will not be screened live: The Sleeping Beauty and Cinderella were recorded as live as part of the company's last season. Coppélia has not yet been performed by the company and will be recorded in December. Look out for these at your local cinema where ballet and opera is shown.
 Jim Pritchard
For more about ballet at the London Coliseum visit https://www.eno.org/whats-on/.