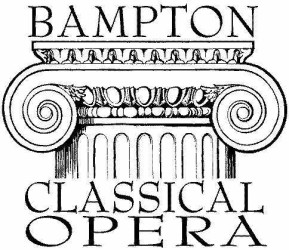 United Kingdom Gluck, Philemon and Baucis (1769) & Arne, The Judgement of Paris (1742): Bampton Classical Opere/Paul Wingfield (conductor), The Deanery Garden, Bampton, Oxfordshire, 22.7.2016.  (RJ)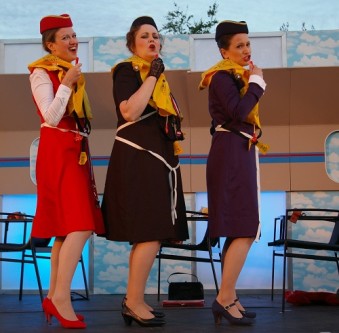 Gluck:  Philemon and Baucis (libretto by Giuseppe Maria Pagnini, translation by Gilly French))
Philemon: Catherine Backhouse
Baucis: Barbara Cole Walton
Jupiter: Christopher Turner
Chorus of Tourists
Thomas Arne: The Judgement of Paris (Libretto by William Congreve)
Mercury (Hermes): Robert Anthony Gardiner
Paris: Christopher Turner
Juno (Saturnia): Barbara Cole Walton
Paris: Pallas (Athena): Catherine Backhouse
Venus (Cytherea): Aoife O'Sullivan
Mechanic: Robert Gildon
Production:
Costume Designer: Vikki Medhurst
Movement Director: Triona Adams
Répétiteur: Harry Sever
Director and Designer: Jeremy Gray
In 1769 Duke Ferdinand, Louis XV's grandson, married Maria Amalia, Marie Antoinette's sister, and the event was celebrated in grand style in Parma with a four-part entertainment by Gluck entitled Le feste d'Apollo, of which L'atto di Bauci e Filemone was a part.  Nowadays the happy bridal couple would doubtless be members of the international jet set, so it was appropriate that for its first staging since 1769 the opera should be set in an airport terminal in Phrygia, with Philemon at the immigration desk and his fiancée Baucis dispensing refreshments.
Among the throng of arriving passengers and tourists is a dishevelled and disgruntled Jupiter who is not very godlike in appearance having travelled in economy class and been denied his usual glass of champagne. However, the airport staff rally around offering him tea and chocolate biscuits and he soon settles down. In gratitude he offers the couple money and "an enchanted gift of music" – his guitar.  As the god recovers from his journey Baucis praises her lover with a brilliant coloratura aria of ever-rising pitch and elaboration "You are my shepherd and my lover". I am not sure whether Barbara Cole Walton has a range of three and a half octaves like the soprano Lucrezia Aguiara who sang the role in the original production, but she certainly hit all the top notes with ease.
The couple's love is celebrated with a chorus and dance, after which Jupiter reappears in all his splendour – crown and cloak – to reveal his true identity, and offers to perform the wedding ceremony for Philemon and Baucis at no cost. "My affection and devotion will require no ritual treasure," he sings. Hymn books are passed around and the cast sing "Love divine, all loves excelling" in good Anglican style. After the ceremony there is much rejoicing, but Jupiter has one of his bad turns again recalling his poor treatment on the plane with "I burn with righteous fury". He calls forth a cataclysmic storm with thunder and lightning, which terrifies everybody. Eventually he calms down and before leaving appoints Philemon and Baucis custodians of his temple to general rejoicing.
The plot may be slight but there is plenty of good music to enjoy, including the turbulent storm scene where everyone dons plastic macs and puts up umbrellas, the pizzicato dance music, where the passengers partner their luggage and some really expressive arias. As Jupiter Christopher Turner is a real hoot, and there is fine singing from the two sweethearts. A lively supporting cast and fine playing from the orchestra under Paul Wingfield's direction were the icing on the cake.
We had a further opportunity to appreciate the orchestra's musicianship in the lengthy overture to Arne's The Judgement of Paris. This is by no means the only version of this opera: back in 1700 Lord Halifax launched a competition for composers to set a specially written piece by Congreve – the winner being John Weldon. Whether or not Dr Arne was aware of this competition is uncertain, but he certainly knew of Giuseppe Sammartini's version when he made his own attempt. Incidentally, Bampton Classical Opera did a semi-staged performance of this at Oxford's Holywell Music Rooms in November 2010 to coincide with Arne's 300th anniversary.
Christopher Turner is demoted in this second opera to the status of a mere mortal – Paris, a shepherd. The divine is represented by Mercury, the winged messenger of the gods, whose day job is as a pilot for Arne Air ("the low-cost airline – no frills, plenty of trills"). Mercury, sung by the distinguished-looking Robert Anthony Gardner, tasks Paris with judging the most famous beauty contest in the whole of literature, much to the shepherd's consternation.
The contest takes place aboard a plane – clearly in the first class section since Paris is the only passenger and is doted on by three air hostesses – who are also contestants in the beauty competition. They seek to engage their passenger's attention in the manner they enact the airline's safety instructions and drills singing "Hither turn thee, gentle swain". Jupiter's wife Juno (Barbara Cole Walton) in a navy blue stewardess's uniform assures Paris that he is born to be a ruler. Then Pallas Athena in red takes over with a barnstorming "The glorious voice of war calls aloud" from Catherine Backhouse, whose martial tones cause turbulence and an aircraft emergency. Her performance appears to have had a wider audience than expected for two bombers flew low over Bampton soon after, just as Venus was singing a seductive aria to Paris! It is Venus who entices Paris into the aircraft's toilet. And one can only speculate as to what happens behind the closed doors for Paris emerges with a frantic "I yield, I yield, O take the prize". The prize? An Apple iPhone, of course.
This was a typically imaginative production by Jeremy Gray who for 24 seasons has uncovered forgotten operas and breathed new life into them. This time, despite Jupiter's rantings, the weather was perfect for the two operas performed in the open air; and it is difficult to think of a pleasanter (or jollier) way of spending a summer evening. This was another triumph for Bampton Classical Opera.
Roger Jones