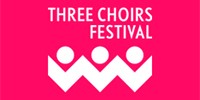 United Kingdom Three Choirs Festival (6) – Howells, Ravel, Schubert: Carducci Quartet [Matthew Denton, Michelle Fleming (violins), Eoin Schmidt-Martin (viola), Emma Denton (cello)]. St Barnabas' Church, Tuffley, Gloucester, 26.7.2016. (RJ)
Howells: Phantasy String Quartet
Ravel: String Quartet
Schubert: String Quartet No 14 'Death and the Maiden'
Having heard Howells' music at Evensong yesterday I was delighted to come across a chamber work by the Gloucestershire composer at this afternoon recital played by a string quartet who reside in the county. The Carducci's leader Matthew Denton admitted that the Phantasy String Quartet was a new venture for them, but they had sensed a connection between this quartet and the Ravel Quartet which followed. The link was Vaughan Williams who had studied with Ravel and whose Fantasia on a Theme by Thomas Tallis, premiered at the 1910 Three Choirs Festival, had impressed a number of younger composers, including Howells and Gurney.
The melody which opens the Quartet was supposed to be a folk tune – those were the terms of the chamber music competition Howells entered – but (just like Ravel) Howells was prepared to bend the rules; the so-called folk tune is actually an original composition. A sense of mystery was created at the beginning of the single movement work and the music livened up with a dance-like melody which was very much in the folk style. Later the theme took on a feeling of tranquillity undergoing a number of transformations before its muted melancholy close.
Ravel's Quartet was very avant-garde for its time and received very mixed reviews; its dedicatee, Fauré, disliked it intensely. Nowadays we appreciate it for its strong musical character, and it was clear that the Carducci enjoy performing it. There was a freshness and delicacy to their playing of the first movement matched by the vitality of the pizzicato in the Scherzo (Assez vif) with its slow poignant trio. The slow movement with its mysterious dreamscape had elements which reminded one of Mendelssohn's incidental music to A Midsummer Night's Dream, and was a delight to listen to. But we had a brusque awakening when the musicians tore into the lively finale full of surprises and violent changes of tempo.
Schubert's String Quartet No 14 is one of the best loved examples of this genre and right from the start the Carducci created an air of expectancy. There was no let-up in the emotional intensity of the first movement, with plenty of attack in the development section. The theme and variations based on the song Death and the Maiden were played with great sensitivity, the gentle playing of the theme succeeded by sharply differentiated transformations expressing inventiveness, melancholy, energy and intensity, and leading to a consoling pianissimo close. The Scherzo had a darker, grimmer aspect which was partially offset by its sunnier trio. The Carducci took the tarantella of the finale at a breathless pace but kept sufficient reserves of energy in place for a hard driven prestissimo coda.
Roger Jones
The Three Choirs Festival continues until Saturday 30th July. www.3choirs.org.