Sweden Daniel Fjellström, Det går an:  Soloists,  Läcko Opera Orchestra, Simon Phipps (conductor). Läckö Castle, 16.7.2016. (NS)
Cast:
Sara Videbeck: Frida Engström
Sergeant Albert: Carl Ackerfeldt
The Aunt/Waitress Maria/Anette: Monica Danielson
Captain Karlsson: Johan Wållberg
Kitchen maid Josefina: Lisa Carlioth
Vicar Palm: Fredrik af Klint
Baron Mörck/Hans the stablehand: Karl Peter Eriksson
Baroness Mörck/Linnea: Mette af Klint
Baron Stjerne/Lindholm: Jonatan Lönnqvist
Baroness Stjerne/Siggan: Jenny Hertzman
Dalkulla Anna: Johanna Wallroth
Dalkulla Frida: Helena Magnusson
Dalkulla Vera: Emma Sventelius
Steersman Kalle: Erik Rosenius
Maid Margit: Agnes Duvander
Children: Alice Jonhäll, Magda Hedlund, Tess Gullbransson, Jacob Göransson, Lucas Hjortlinger
Production:
Läckö Slottsopera (world premiere production) Libretto: Maria Sundqvist, after Carl Jonas Love Almqvist's novel
Direction and set: Linus Fellbom
Costume design: Anna Ardelius
Makeup design: Terésia Frisk
Lighting design: Markus Granqvist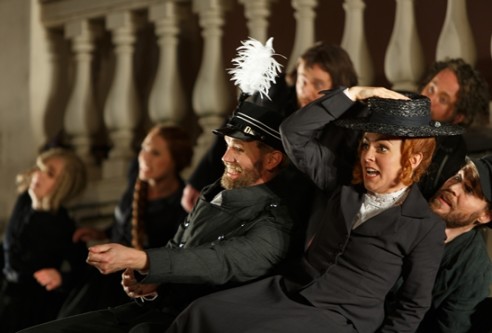 Carl Jonas Love Almqvist's 1839 novel Det går an (available in English translation as Sara Videbeck) is one of the best loved books of Swedish 19th-century literature, but its author so scandalised the country that he was hounded into exile. The book's depiction of a man and woman who enter a relationship based on equality and "only holding our love in common" was alien in a society where married women were legal minors until 1921. Though the story no longer shocks, it is beautifully told in Maria Sundqvist's vivid libretto, and still provides food for thought.
On a steamboat from Stockholm the sergeant Albert (Carl Ackerfeldt) meets and finds himself attracted to the glazier's daughter Sara Videbeck (Frida Engström). The opera follows these two characters as they learn about each other and as Sara explains why she wishes to separate love from the concept of lifelong marriage and a wife's near-total dependence on her husband. Sara also explains how she plans to navigate society's other barriers to women of her era: though she is a better glazier than her dead father was she will lose the right to work in that trade when the glazier's widow dies.
Sara Videbeck is a magnetic personality who is determined to forge the life she wants and never gives in to bitterness (though given the odds stacked against her she could be forgiven for it). Frida Engström's attractive soprano conveys Sara's self-confidence and her dreams with beautiful lyricism. She is also sensitive to Sara's moments of vulnerability, both in her wordless acting where she shows how she wonders if Albert shares her feelings and in the vivid depiction in Act 2 of how her mother had suffered under a drunken and violent husband.
Carl Ackerfeldt's lyrical baritone captures his character perfectly: strong, elegant and confident of his place in the world. This last confidence is challenged by Sara, who confuses Albert by her unconventional responses to his flirtations. Albert becomes comically irritated by Sara's insistence on paying her share when he invites her to a meal or shares a carriage with her. Mr Ackerfeldt judged his reactions to a tee, especially in the three scenes in Act 1 when he goes down to the steamboat's saloon to order food or drink – his treatment of the kitchen maid goes from brusque when he feels rejected by Sara to angelic when Sara agrees to continue the journey together. Mr Ackerfeldt's diction and projection carried his every word to the back of the courtyard.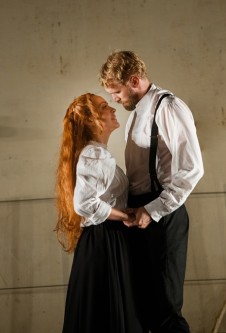 Linus Fjellbom's brilliant and witty production conjures up both steamboat and cart from mirrored surfaces and thin air by imaginative mime, but also brings the central couple to life with heart-warming tenderness. The minor roles in the story were without exception mastered by the versatile members of the ensemble, many of whom had two different roles as well as forming the chorus. It is genuinely difficult to single out anyone, but Lisa Carlioth's steamboat kitchen maid Josefina and Monica Danielson's waitress Maria were delightfully comic, and Karl Peter Eriksson managed to be first a snobbish baron and then a drunken stablehand with absolute conviction. Here I must also praise Lars Bethke's choreography: the cast through their swaying gave vivid impressions of the rolling of the steamboat and (most brilliantly) Albert's hell-for-leather driving style when he takes the rains of the carthorses.
Det går an is only Daniel Fjellström's second opera but it has all the musical assurance and beauty of a late Britten opera. Mr Fjellström's music harmoniously blends the chamber orchestra with the voices and catches the character of Almqvist's writing – in particular its undertone of gentle humour – amazingly well. The composer masters lyricism in the "glass theme" associated with Sara, haunting beauty in the magical ending to Act 1 and rhythm and excitement, such as in the fun and complex ensemble "Detta är Strängnäs", as well as heart-rending sorrow in the funeral music for Sara's mother. The music also develops with the characters, in particular following Albert's development from bluff soldier with his own martial theme to his becoming musically one with Sara as their love deepens. Simon Phipps and the Läckö Opera Orchestra lovingly presented the music with shimmering transparency and warm lyricism.
"To cut glass one must have a diamond," says Sara, which for Albert is metaphorical for his perceived failure to win her heart ("I have only flint in my pocket") in his spellbinding Act 1 final aria. This opera is outstanding, and is a diamond that should cut its way through the glass ceiling that prevents much new opera entering the repertoire.
Niklas Smith