United States Various composers: Alexei Ratmansky (choreographer), American Ballet Theatre, Dorothy Chandler Pavilion, Los Angeles, 8.7.2016 (JRo)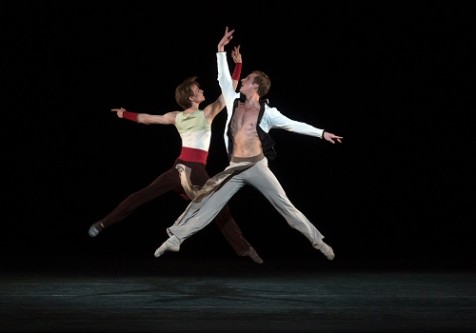 Symphony #9

Dancers: Veronika Part, Alexandre Hammoudi, Herman Cornejo, Stella Abrera, Craig Salstein, Corps de Ballet
Production:
Music: Dmitri Shostakovich (Symphony No. 9 in E-Flat Major, op. 70)
Conductor: David LaMarche
Scenery Design: George Tsypin
Costume Design: Keso Dekker
Lighting Design: Jennifer Tipton
Serenade after Plato's Symposium

Dancers: James Whiteside, Jeffrey Cirio, Calvin Royal III, Daniil Simkin, Marcelo Gomes, Blaine Hoven, Gabe Stone Shayer, Devon Teuscher

Production:
Music: Leonard Bernstein
Conductor: Ormsby Wilkins
Scenery & Costume Design: Jérôme Kaplan
Lighting Design: Brad Fields
Firebird

Dancers:
Firebird: Isabella Boylston
Ivan: Alexandre Hammoudi
Kaschei: Roman Zhurbin
Maiden: Cassandra Trenary
Firebirds, Maidens, and Men: Corps de Ballet
Production:
Music: Igor Stravinsky
Conductor: David LaMarche
Scenery Design: Simon Pastukh
Costume Design: Galina Solovyeva
Costume Consultant: Holly Hynes
Lighting Design: Brad Fields
Projection Design: Wendall K. Harrington
In Alexei Ratmansky's Symphony #9 and Serenade after Plato's Symposium, we find a choreographer at one with the music – elegant, inventive, exuberant, and contemporary.
Shostakovich's Symphony #9 functions beautifully as a ballet score, with sections ranging from jaunty and comical to dark and melodramatic. Ratmansky is at home with Shostakovich's mood shifts, and his dances – beautifully interpreted by Veronika Part, Alexandre Hammoudi, Herman Cornejo, Stella Abrera, and Craig Salstein – incorporate the variety found in the music: charming marches, hops and skips on point, sultry partnering, and grand leaps to name a few. Cornejo's artistry is on full display as he becomes the lynchpin of the dance, drawing the others into his turbulent world. Shostakovich composed the symphony in 1945, and the backdrop used in the last three movements reflects that time. Line drawings in black and red on a white background illustrate planes, soldiers, and banners, referencing the Soviet defeat of the German army. Done without pause, the dance that accompanies the final movements races forward, full of surprises and humor, delighting the eye and challenging the mind.
The orchestra, conducted by David LaMarche, gave a marvelous account of the score, as they did under Ormsby Wilkins' direction in Serenade after Plato's Symposium by Leonard Bernstein.
Plato's dialogue, The Symposium, contemplates the nature and aim of love; Bernstein composed the lyrical Serenade after reading the dialogue. Through a series of speeches at a symposium (an all-male dinner party in ancient Athens) by the likes of Aristophanes, Socrates, and Agathon, Plato examines the varieties of love: platonic, spiritual, and human. Just as one movement of the music grows out of the preceding one, so too does Ratmansky's choreography build movement by movement.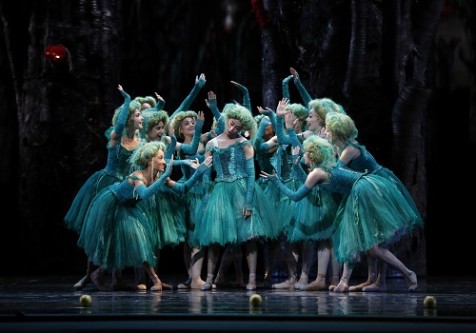 In elegant costumes by Jérôme Kaplan that hint at the togas and robes of ancient Greece, seven male dancers illuminate the masterful composition. Hints of Stravinsky's neoclassical music mingle with quintessentially Bernstein-esque urban rhythms to create a beautifully danceable score. The cast is sterling: James Whiteside, Jeffrey Cirio, Calvin Royal III, Daniil Simkin, Marcelo Gomes, Blaine Hoven, and Gabe Stone Shayer become singular personalities owing to their talents and the sharply expressive choreography. Devon Teuscher as the lone woman, possibly representing human love, is partnered by Gomes, the charismatic danseur noble. But this is mostly a male-dominated world as each in turn dances out his inner dialogue. Ratmansky succeeds in making thought visible by drawing out of each dancer very personal interpretations. Never one to ignore a humorous moment, the choreographer creates a riotous drunken dance performed by Simkin. Possibly reflecting Alcibiades, who arrived at the Symposium inebriated, Simkin's bounding jumps defy gravity and, coupled with his slight physique, make him seem more bird than man. A mixture of principals, soloists, and corps members comprise the cast, and if the three corps members, Hoven, Royal, and Shayer, are any indication, the male talent at ABT runs deep.
If you are a fan of the original 1910 L'Oiseau de Feu choreographed by Mikhail Fokine for Diaghilev's Ballets Russes, a word of caution: do not approach Ratmansky's Firebird with traditional eyes or expectations.
This is a Firebird packed with kitsch. Even Jeff Koons, the contemporary visual arts purveyor of kitsch, couldn't match it for sheer audacity. There are dances for seventeen male and female firebirds with blazing red feathers cascading from their lower backs that suggest chickens with bustles. There are zombie princesses in kelly green crinolines with feather fascinators attached to their frazzled blonde wigs who dance like exhausted marionettes. There is a highly sexualized wizard resembling Ben Stiller in Zoolander. And that's just the tip of the iceberg.
Is it entertaining? Hugely. Does it puzzle? Immensely.
Recreating fairy-tale ballets in the Russian canon is a specialty of Ratmansky's, and in them he sometimes lets loose his inner, adolescent boy. As in his version of Cinderella, he can favor the broad joke over subtle humor.
The story here follows the lines of the original but tinkers with the specifics. In Fokine's ballet, a compendium of Russian fairy tales revolving around a magical firebird and the character of Prince Ivan, Ivan traps a single Firebird who begs to be released. In exchange for her freedom, she offers him a magic feather that will call her in time of danger. Ivan meets a group of captive princesses and falls in love with one, the Princess Unearthly Beauty. He then decides that he must free the prisoners from the evil old sorcerer, Kaschei, and his demon court. As demons overpower Ivan, he uses his magic feather to call the Firebird, who puts the court to sleep. Shown the hiding place of the sorcerer's vulnerability, Ivan destroys Kaschei by smashing the hidden egg that houses his immortal soul. The captives, freed from the curse of Kaschei, celebrate the marriage of the Prince and Princess with a final, cathartic procession in Ivan's court.
Fokine worked closely with Igor Stravinsky to create a mysterious and compelling modernist ballet. It was the dawn of the 20th Century and old forms were being replaced with dance/drama works like Petrouchka, Rite of Spring, and Parade.
What's puzzling is that most of Ratmansky's references come not from 20th-century modernist works but from classics of the 19th century. It's a pastiche of 19th-century ballet allusions: the captive princesses spoof the Willis from Giselle and the life-size dolls of Coppelia; the flock of firebirds refer to the swans of Swan Lake; and Kaschei resembles more the diabolical Von Rothbart of Swan Lake than a demon lord. Even the ending, which finds Ivan releasing captive male courtiers locked inside trees (where did they come from?) is reminiscent of Sleeping Beauty (not to mention the gingerbread children of Hansel and Gretel, though not a ballet).
This may not hinder enjoyment of Ratmansky's zany creation, but it does raise questions as to whether the ballet transcends its campy nature to become an enriching art experience.
The only character in the ballet to remain rooted in the traditional dance universe of story-length ballets is Ivan. Dressed in princely white and danced by Alexandre Hammoudi, the character is a fish out of water in Kaschei's off-kilter world. Only in his compelling pas de deux with Isabella Boylston's dynamic and effective Firebird are we allowed to focus entirely on dance.
In fact, the ballet could be retitled Ivan in Wonderland. It opens on Ivan in a white room where the walls dissolve, leaving him in a threatening landscape filled with trees that resemble giant clumps of burning cigarettes pumping toxic smoke into the air. A nightmare? Has Ivan gone down the rabbit hole? Simon Pastukh's lurid set design certainly suggests an apocalyptic dream.
As for the dancing princesses (or maidens as they are called here), they bunny-hop (literally), fall, and fumble their way into one's heart. Cassandra Trenary as the chief maiden and Ivan's love interest executes the choreography and comedy to perfection.  Roman Zhurbin's vampiric Kaschei exudes eroticism and power. Ratmansky has given his youthful sorcerer a full-blown part, unlike the aged Kaschei of Fokine.
Catharsis comes not in the form of a stately procession as in the original, but in a jubilant dance for the released men in trees and the maidens, now in white nightgowns, having lost the blonde wigs to reveal blonde hair beneath (an odd decision, surely). It's a glittering ending of pure dance – an awakening from a dream. What shines brightest is Stravinsky's forever contemporary score, beautifully played by an orchestra composed of local musicians, many of them members of the LA Opera Orchestra, under the baton of David LaMarche.
Jane Rosenberg