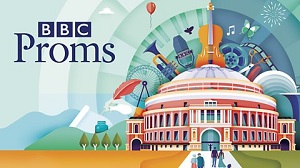 United Kingdom Prom 14 – Rossini, Il barbiere di Siviglia (semi-staged performance): Soloists; Glyndebourne Chorus; London Philharmonic Orchestra / Enrique Mazzola with Alessandro Amoretti (fortepiano continuo) and Pei-Jee Ng (cello continuo). Royal Albert Hall, London 25.7.2016. (CC)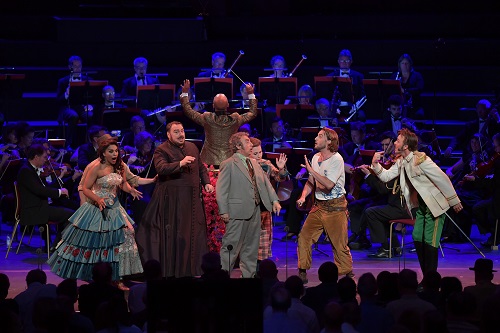 Rossini, Il barbiere di Siviglia
Rosina: Danielle de Niese
Dr Bartolo: Alessandro Corbelli
Count Almaviva: Taylor Stayton
Figaro: Björn Bürger
Don Basilio: Christophoros Stamboglis
Berta: Janis Kelly
Fiorello: Huw Montague Rendall
Original Director: Annabel Arden
Proms Director: Sinéad O'Neill
Designs: Joanna Parker
The annual jaunt of the Glyndebourne forces to the Proms is always eagerly awaited. That was especially the case for me this year because illness had prevented me from going to Glyndebourne to review this season's Figaro. That's a piece, of course, which is the ideal complement to Rossini's Barber. It came as a surprise that that this performance of Barbiere was in fact the work's first complete performance at the Proms, although there have been many excerpts along the way (including 'Largo al factotum' in the very first Prom in 1895).
And what a way to "introduce" the full score to the Proms! While Danielle de Niese might have been the stand-out attraction for some, for me it has always been Alessandro Corbelli who is the perfect example of a paragon of excellence. His Sulpice in Donizetti's La fille du régiment is one of the great operatic assumptions and is probably the finest of his comedic roles; yet one should remember he was magnificent as Bartolo at Covent Garden in 2014 (review).
But more of the singers shortly. First, the "production", or what there was left of it. Much stripped down, it utilised a strip at the front of the stage as the place of the main action. It could get crowded at times – each member of the male chorus at the opening having a guitar didn't help – but more often than not that added to the feeling of ongoing havoc Rossini so skillfully creates. The slapstick tomfoolery emerged intact, with plenty of interactions with Enrique Mazzola, the conductor, who threw himself into it all with good humour; and Sir Henry's bust getting a mimed haircut from Figaro.
Mazzola is a Proms debut artist who clearly has no problems exploring the lesser-known aspects of the repertoire as well as its gems: he opened the Deutsche Oper Berlin's season with Meyerbeer's Vasco da Gama. He has also recently conducted Barbiere for both Norwegian opera and the Deutsche Oper; previously at Glyndebourne he has tackled Poliuto, Cenerentola, L'elisir and Don Pasquale. That's a great pedigree. Mazzola's view of this particular Rossini gem is swift indeed, but rather than feeling rushed, one felt exhilarated. The orchestra – essentially a chamber orchestra – responded with incredible suppleness, while delivering a punchy and exciting Overture. A light touch was everywhere to be found from the excellent LPO players.
The chorus of guitar-toting masqueraders at the work's opening was excellent; Huw Montague Rendall's not totally assured Fiorello was perhaps not the perfect way to open. Another Proms debut artist, Taylor Strayton as Count Almaviva, also began slightly off-form, on the bleaty side vocally ("Ecco, redente in cielo") before the honeyed top end of his voice assured us of his stature; his way with Rossini's rapid figuration, too, was convincing. A somewhat reedy side to his voice remained throughout and he could have evinced more vocal power, yet his interactions with Figaro were pure joy. Neither Figaro nor Rosina had any problems easing into their roles, however, with German singer Björn Bürger huge of voice in "Largo al factotum" (where he descended down to the Prommers, shaking hands). Perhaps the upper range of Bürger's voice was a touch weak, but his reading was a fine, energetic one, and he engaged with the comedy heart and soul.
Rosina's rarely heard aria "Ah, se è ver che in tal momento", composed for an 1819 Venice production was included here (it goes up to a high D), an indication perhaps of de Niese's star stature. The aria occurs just before the Act 2 storm. It was a terrific performance that included both gently caressed phrases and real virtuosity – some great horn playing from the orchestra, too. De Niese's "Una voce poco fa" was a thing of beauty, her voice able to open out wonderfully, and with a fully formed lower register. She seemed positively to relish the roulades and disjunct intervals the role affords, and her comedic timing was delicious. Her pitching, too was spot-on – this was a major assumption of Rosina.
Corbelli's Bartolo was the most involved assumption of the evening, completely and utterly believable in a sea of events characterized by their unbelievablity; his diction was staggeringly good. Corbelli owned the stage everywhere, but nowhere more so than at "A un dottor della mia sorte". His Basilio, the sepulchral-voiced Christophoros Stamboglis, whose "La calunnia" was superbly focused vocally, was also a great stage presence.
It was lovely to see the experienced Janis Kelly there as Berta, her Act 2 aria astonishingly characterful, her voice strong. But let's be clear; despite the many solo arias, a Barbiere must have a palpable sense of ensemble theatre about it and at its finest that's exactly what was on offer here.
A magnificent, entertaining evening.
Colin Clarke