United Kingdom Natalia Osipova – Cherkaoui, Maliphan, Pita: Sergei Polunin, Jason Kittelberger, James O'Hara (Dancers), Sadler's Wells, London, 30.6.2016. (JPr)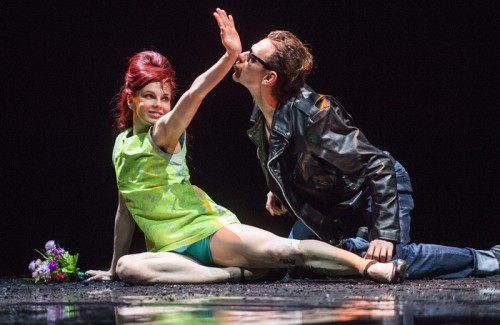 Sidi Larbi Cherkaoui's Qutb
Dancers: Jason Kittelberger, James O'Hara & Natalia Osipova.
Music by various composers and featuring Sufi Vocal Masters.
Set and Lighting Designer: Fabiana Piccioli.
Sound Design & Additional Instrumentation: Felix Burton.
Russell Maliphant's Silent Echo
Dancers: Natalia Osipova & Sergei Polunin.
Music composed by Scanner also featuring James Lavelle's Trouble in Paradise (Variation on a Theme).
Lighting Designer: Michael Hulls.
Costume Designer: Danielle Scutt.
Arthur Pita's Run Mary Run
Dancers: Natalia Osipova & Sergei Polunin.
Music by The Shangri-Las The Crystals, Frank Moon et al.
Sound Design: Frank Moon
Sets and Costume Designer: Luis F Carvalho.
Natalia Osipova's foray two years ago into contemporary dance was entitled Solo for Two and I began my review writing how it was 'the first programme like this from two of this generation's dance superstars, Natalia Osipova and Ivan Vasiliev; they are shown photoshopped together in variants of grand allegro jumps destined for a near-miss, at best, or a collision in mid-air, at worst! Previously ballet's "dream couple" because of a personal, as well as, professional relationship … it is now strictly professional only it seems. To be truthful that promo-shot is about the only time they appear as equals because on stage in this triple bill Osipova outshines her partner in the ease of her loose-limbed undulations and her general airy movement and rhythmic flexibility, fully embracing the differing demands of modern dance and announcing herself as the new Sylvie Guillem.'
Fast-forward to 2016 and Royal Ballet's Russian prima ballerina Natalia Osipova has moved on and is performing in the UK for the first time with her current inamorata, Ukrainian Sergei Polunin, who is often described as the tattooed bad boy of ballet. Could the new collaboration between two of classical ballet's biggest stars and three of the world's best contemporary choreographers be as a much of a disappointment as Solo for Two … well nearly but not quite. Osipova's foray into contemporary dance can be considered an interesting experiment, but – like Polunin – she should stick with her classical 'day job' and if they do I will look forward to seeing more from them both.
This was a world première of this new programme specially commissioned for Natalia Osipova and was an unmissable event as this short sell-out season suggests. However, your reaction to it all will depend on your appreciation of contemporary dance. I accept it is not necessarily a narrative form of art and therefore abstract, but unless there is an attempt to reach out and make a connection with those watching, it becomes little more than acrobatics and – what primarily came into my mind during Sidi Larbi Cherkaoui's three hander Qutb – circus balancing skills. The movement places great physical demands on the performers but – here and elsewhere in this triple bill – there was never a sense of strain or tension which is a credit to the fine technique of all concerned. The featured imagery of Qutb is an imminent eclipse but this possibly could have been an approaching meteor as three figures (Osipova, James O'Hara and Jason Kittelberger) seem to struggling to overcome an imminent disaster. They are more 'as one' when intertwined with each other and there are some extraordinary contortions, lifts and balances and this is where thoughts of circus skills particularly intrude. James O'Hara gets an expressive solo as if he is setting out on his own before an intense duet for Osipova and Kittelberger. The traditional chanting of Sufi singers was deeply atmospheric and anyone who has encountered the Whirling Dervishes will have recognised the frequently raised arm and slightly arched backs and the hints of trance-like turning.
Russell Maliphant's Silent Echo seemed a companion piece to Qutb as the twirling intensified and at one point Osipova and Polunin spin around each other. This was a highlight of this deconstructed classical pas de deux. Immediately it was clear how more at ease Osipova was with the movement than Polunin. Amongst much strutting and showing-off, they appear first together moving to an electronic drone with a clangorous pulse, Osipova gets a solo to something sounding like a scratched record with the needle stuck before Polunin has his own languorous solo to a piece by James Lavelle before they both come back together again.
After these two short works of more or less twenty minutes each, Arthur Pita's Run Mary Run was more substantial at least in running time. I am not certain how much Qutb and Silent Echo will be seen again apart from during Natalia Osipova's subsequent tour to the Edinburgh Festival and New York, but Run Mary Run might possibly have a longer life. Pita has explained how 'he drew his inspiration for the piece from thinking about the singer Amy Winehouse and her destructive relationship with her one-time husband Blake Fielder-Civil.' It isn't in the end about them but a couple called Mary (Osipova) and Jimmy (Polunin) living their own doomed drugged-fuelled rock-and-roll lifestyle to a background featuring songs by The Shangri-Las and The Crystals known as 'death discs' or 'splatter platters' recounting – as Pita writes – 'teenage break ups and death scenarios sung from the view point of the dead person's sweetheart or broken hearted teenage girl.'
Run Mary Run has some wonderful moments starting with Osipova's arms eerily emerging from a grave before she rises up and staggers around in deep mourning eventually pulling Polunin from the same grave. Amongst other incidents we also see some affectionately playful moments between Jimmy and Mary on a swing which is interrupted as he peels away to collapse and die of a heroin overdose. As the story ends with them both back in the grave we have witnessed the intriguing premise of their story being played out as if it is a DVD being run backwards. There is an evident striving for the 'narrative' element to be kept to a minimum and Run Mary Run suffers as a result. At least throughout – especially when Osipova (with a vivid red beehive) has her legs wrapped around Polunin (doing his best James Dean impersonation) and not letting him go as he goes back and forth across the stage having a post-coital cigarette – there seems a real connection between them both … as there should be in their circumstances.
Jim Pritchard
For more about events at Sadler's Wells visit http://www.sadlerswells.com/
This programme will be seen at Edinburgh Festival Theatre from 12-14 August and returns to Sadler's Wells 27 October – 1 October before going to New York City Centre from 10-12 November.