Spain Verdi, I due Foscari: Teatro Real Orchestra and Chorus, Pablo Heras Casado (conductor), Teatro Real, Madrid, 18.7.2016. (JMI)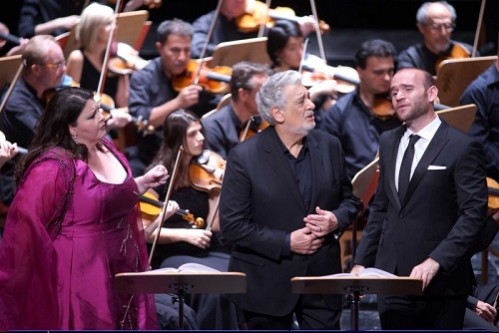 Concert Performance
Cast:
Francesco Foscari: Plácido Domingo
Lucrezia Contarini: Angela Meade
Jacopo Foscari: Michael Fabiano
Loredano: Roberto Tagliavini
Barbarigo: Mikeldi Atxalandabaso
Pisana: Susana Cordón
Plácido Domingo almost never misses his annual appearance at the Teatro Real, and he is here again this year with a concert version of I due Foscari. It has been a great success, due in part to the desire of the audience to award him a well-deserved tribute.
Two years ago, when I saw Domingo play the same character at Covent Garden, he was not up to his usual standard, and I ventured the opinion that there might not be many more occasions to see him on stage. But on this occasion he was much better vocally: his voice showed its traditional freshness, and his breath control has clearly improved. He really is a unique artist and, performing as he does at the age of 75, a miracle of nature. Not only was his performance more convincing than two years ago in London, but it was better than last February at La Scala. Obviously, he knows this opera upside down, and he knows how to reach the audience, reserving some strength for the big moments.
American soprano Angela Meade portrayed Lucrezia Contarini and she too was convincing. Her voice is especially well suited to the character, with sufficient amplitude and a beautiful timbre. In my opinion, she was better here than as Leonora in Berlin's Il trovatore last month.
The best part of the concert was the performance of American tenor Michael Fabiano in the part of Jacopo Foscari. From the moment he came on stage, I was reminded of the young Carreras, when he was still in top form. Fabiano's phrasing was magnificent, and he showed a total commitment to the character. His biggest problem is always the high notes, where the timbre loses quality and he is rather tight. But even then, the memory of José Carreras was still present. I hope Fabiano can come back to Madrid soon.
The evil Loredano was played by Italian bass Roberto Tagliavini, who was in excellent voice. The evolution of this singer is extremely interesting, and he is now at his best: one of the finest choices today in the Italian repertoire.
In the secondary characters Mikeldi Atxalandabaso was a superb Barbarigo, and Susana Cordón did well as Pisana.
Finally, the musical direction was entrusted to Pablo Heras-Casado, the current principal guest conductor of Teatro Real. It's the first time that I've seen him do an opera by Verdi, and the result was very satisfactory, although he may lack that extra something to be an exceptional Verdi conductor. He gave his best readings in the ensembles, which were always bright. Both the orchestra and chorus were impressive.
José M. Irurzun