United Kingdom Verdi, Il trovatore: Soloists, chorus and Royal Opera House Orchestra / Gianandrea Noseda (conductor). Royal Opera House, Covent Garden, London. 2.7.2016. (JPr)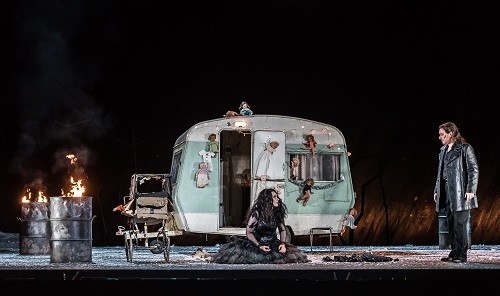 Verdi, Il trovatore
Cast:
Leonora: Lianna Haroutounian
Manrico; Francesco Meli
Count di Luna: Željko Lučić
Azucena: Ekaterina Semenchuk
Ferrando: Maurizio Muraro
Ines: Jennifer Davis
Ruiz: David Junghoon Kim
Production:
Director: David Bösch
Set & video designer: Patrick Bannwart
Costume designer: Meentje Nielsen
Lighting designer: Olaf Winter
Associate lighting designer: Nick Havell:
I believe the last Il trovatore at Covent Garden was a revival of Elijah Moshinsky's typically solid three-dimensional 2002 production. Maybe I was in an unusually good mood but this new staging by David Bösch was one of the most visually compelling evenings I have spent at the Royal Opera House. The setting is a war zone but when and where I was not sure. It might have been in former Yugoslavia at the turn of the century but the use of mobile phones at one point to take selfies hints at something more contemporary. Regardless, one of the first things we see is a tank with 'Luna' on it and the troops of this warlord are lolling around in fatigues. Patrick Bannwart's set has everything basically monochrome and at the rear of the stage there is some almost ever-changing videography (also by him) with eclectic images related – or sometimes somewhat unrelated – to what is being sung about. Mention of the gypsy and the supernatural seems to merit a flock of crows, there are lots of butterflies, and as Leonora sings of hearing the sweet chords of a lute we see a background of random musical notes. There is so much passing before your eyes – including what seems a freehand attempt at a version of Klimt's Lovers – but the most recurring image is what I can best describe as a love heart with L♥M in it! This has been central to the front cloth we see and Leonora seems to carve a smaller version of this into one of the spindly trees dotted around during her first appearance. Eventually this becomes a bloody smear (the only splash of colour seen) when Manrico assures her of his love despite facing death. When Leonora prepares to sacrifice herself for him then L♥M is shown on a gravestone.
The gypsies are an itinerant travelling show and Azucena emerges from a caravan clutching a baby doll clearly deranged about having brought about the death of her own son. For the convent it is just a field of crosses and everything concludes at Manrico's prison which is just wasteland with lots of barbed wire. Throughout there has been a constant threat of violence – stabbing, shooting, hanging, burning at a stake – but nothing is actually carried out until near the end as a prisoner is brought out and executed. A coup de théâtre is that as Azucena relives the past a huge pyre rises menacingly – glowing red and smoking – at the back very much like the appearance of the Christmas tree in The Nutcracker ballet! I found this use of video imagery so compelling and intriguing that I would be interested in a second look some time because there was so much and I will have missed a lot.
Thoughts about Il trovatore vary between whether it should or should not be considered a masterpiece though that word is difficult to define. I wouldn't think it is because it is little more than a 'numbers' opera melding many wonderful moments for soloists and chorus with some typical Verdi hokum about anti-clericalism, confused parenting, a romantic hero, unrequited passion and a woman's sacrifice – not forgetting the added attraction of a gypsy throwing the 'wrong' baby into a fire, for goodness sake! Performed like this Il trovatore is an enjoyable romp which I have been happy to sit through time and again simply because of its principals' vocal fireworks, its undoubtedly stirring choruses and the dramatic music.
Enrico Caruso famously declared that Il trovatore needs 'the four best singers in the world' to succeed. I don't really like dwelling on who I have heard over the years because the past is the past, though amongst those as Leonora and Manrico I have heard are Katia Ricciarelli, Elizabeth Connell, Rita Hunter and Jane Eaglen and also Carreras, Domingo and the late, inimitable, Franco Bonisolli famous for interpolating 'high Cs' whenever possible! They were supported by some compelling singers as Ferrando, Azucena and Count di Luna and I assure you I do not listen much to CDs so that most of what I recall, I heard live under some great conductors. With this performance – in a run which is double cast – Covent Garden possibly comes as close to that ideal of 'the four best singers' as I have experienced in recent years.
I thought matters began rather circumspectly from Royal Opera debutant Gianandrea Noseda and his orchestra, and I did not hear enough of the ghostly horrors or night-terrors evoked in the libretto and Verdi's music. He conducted the opera at the Salzburg Festival last year and here the Royal Opera House musicians gave a fine brooding account of the score that Noseda conducted with a grand sweep and an expressive flexibility that was often kind to his singers. The chorus sang lustily enough and were a credit as usual to their now-departing chorus director Renato Balsadonna.
The star (amongst stars) for me was the Russian mezzo, Ekaterina Semenchuk, as Azucena. The part needs a wide range from down deep to up high and hers was incredible, with some top notes probably added in for good measure. 'Stride la vampa!' (The flames are roaring) which tells the story of the burning of her gypsy mother, had all the necessary drama and horrific frisson. Most readers will know that Manrico is really the Count di Luna's brother and Azucena is not his mother: she had cast her own son into the flames and not the true Count's brother. It was with the opening to Part II – virtually the crux of the work –  that this Il trovatore took off both dramatically and in the orchestral accompaniment.
This was a typical Covent Garden 'United Nations' cast and Leonora was Armenian soprano Lianna Haroutounian. Her Leonora was strong of mind and passionate vocally and after a certain fragility to her sound at the start her voice gained focus and purity. Following a tender and accomplished 'D'amor sull'ali rosee' (Go forth sad sigh on the rosy wings of love) Haroutounian was at her very best when combining with Manrico for a deeply affecting 'Miserere' in which the chorus sang plaintively off-stage.
Italian bass Maurizio Muraro's gruff Ferrando failed to get the evening of to the rip-roaring start Verdi intended but in Part II Serbian baritone Željko Lučić appeared and this is the first time I can recall hearing live this fine singer who has impressed me so much in broadcasts from the Met. He perfectly embodied Count di Luna's droit de seigneur objective, jealousy, lust or vengeful fury. His voice perhaps lacked a true Verdian legato for 'Il balen del suo sorriso' (The light of her [Leonora's] smile) but he remains one of the finest singers of operatic villains we can hear on stage today.
Another Italian, Francesco Meli, sang the leather-jacketed Manrico and also announced himself as one of the best current interpreters of his role. He acted believably and sang with great ardour and a real sense of style. Despite thinning out at little at the top Meli's voice soared heroically in the big numbers and displayed a kind of tragic ecstasy that fitted his troubled role to a T. He was capable of the vocal refinement necessary for 'Ah sì, ben mio; coll'essere io tuo' (Ah yes, my love; when I am yours) in Part III and despite the climax being a bit of a damp squib, overall he was equal to the challenge of a testosterone-fuelled 'Di quella pira' (both verses) as he set off to save his mother from the flames.
I suspect my real interest in Il trovatore actually stemmed from its pivotal role in the classic Marx Brothers' 1935 film A Night at the Opera … and for me it remains – when sung like this – the epitome of a great night at the opera!
Jim Pritchard
See for yourself as Il trovatore will be shown live on BP Big Screens around the country on Thursday 14 July at 7.15pm. For more information visit http://www.roh.org.uk/about/bp-big-screens.
To view the full list of productions for the remainder of this season and for 2016/17 visit http://www.roh.org.uk/.