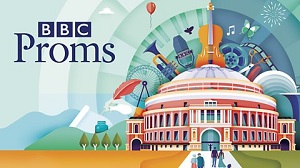 United Kingdom Prom 4 – Ravel, Rachmaninov, Ustvolskaya, Strauss: Behzod Abduraimov (piano) Alexei Petrenko (reciter), Munich Philharmonic Orchestra/Valery Gergiev (conductor) Royal Albert Hall, London. 18.7.2016. (LB)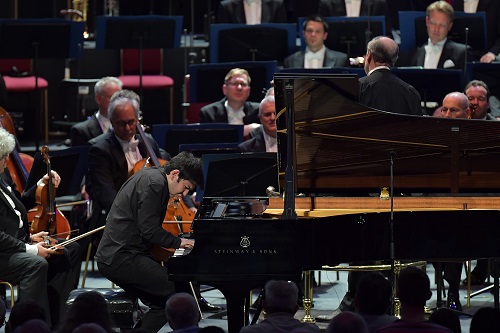 Ravel, Boléro (1928)
Rachmaninov, Piano Concerto No.3 in D minor Op.30
Ustvolskaya, Symphony No.3, 'Jesus Messiah, Save Us' (1983)
Strauss, Der Rosenkavalier  – Suite (arr. Attr. Rodziński, 1945)
This evening's fourth BBC Promenade concert was a flamboyant affair, with a virtuosic programme conducted by an extravagant showman, featuring a prodigiously commanding soloist, and an outstanding symphony orchestra.
The programme began with Ravel's colourful and universally adored "….one long, very gradual crescendo…", Boléro. The opening snare drum ostinato was only just audible at the outset, and that underscored not only the confidence of the drummer, but also that of the orchestra as a whole. Gergiev seemingly possesses the power, with the flick of a wrist, to motivate and inspire musicians to produce some of the most stunning musical accomplishments, and Ravel's Boléro proceeded via a number of superb individual solo contributions, to a conclusion of immense power, with a palpable swagger.
The now independent constituent republics of the former Soviet Union continue to produce an avalanche of brilliant pianists, but Behzod Abduraimov, from Tashkent in Uzbekistan, really is uniquely outstanding. Virtuosity is a cherished, if misunderstood phenomenon, and Abduraimov is undeniably the embodiment of virtuosity: his command of the keyboard is absolute and effortless, and he approaches everything he plays with obvious delight.
This evening the vehicle for his musicianship was Rachmaninov's colossal third piano concerto. From the delicacy and ingenuity of his opening phrase, it was clear that we were in for a real treat, and Abduraimov handsomely fulfilled this promise. This was as effortless and persuasive a performance of Rachmaninov's concerto as one is ever likely to hear, and the thunderous applause with which his performance was rewarded confirmed his power as a uniquely communicative artist.
Abduraimov's encore of Liszt's La Campanella was at least as mesmerizing as his Rachmaninov, and there is no doubt that his contribution to the musical world will be a distinguished one.
Galina Ustvolskaya was a student of Shostakovich, and possesses a uniquely identifiable voice that is characterised by a dissonant, declamatory and almost unrelentingly pessimistic style, for which David Fanning in his excellent programme notes suggests the label sado-minimalist might not be inappropriate. Ustvolskaya's Symphony No.3, 'Jesus Messiah, Save Us, is scored for the peculiar combination of five oboes, five trumpets and double basses, with trombone, three tubas, percussion, piano and reciter, and received its first performance at the Proms this evening.
This chilling music is much like a prolonged anguished cry from beyond the grave, and narrator Alexei Petrenko's dark and menacing voice added to the sense of drama.
The programme was brought to an exuberant conclusion, with a virtuosic performance of Strauss's Der Rosenkavalier Suite, in the arrangement attributed to Rodziński. With the entire resources of the Munich Philharmonic at his disposal, Gergiev unleashed his magic on the music, skillfully conveying its extravagant essence, and the orchestra played with total commitment, evident enthusiasm and absolute abandon.
Gergiev and the orchestra performed two encores, the 'Hungarian March' from Berlioz's Damnation of Faust and Bach's 'Air', both dispatched with supreme confidence.
Leon Bosch