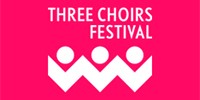 United Kingdom Three Choirs Festival (12) – Jackson, Mahler, Puccini, Tavener, Barber, Bach, Palestrina, Debussy, Chapman, Recknell, Allegri, Pärt, Howells: The Rodolfus Choir / Ralph Allwood (conductor), St Peter's Church, Gloucester, 28.7.2016. (RJ)
Gabriel Jackson: To Morning
Mahler: Die zwei blauen Augen (arr. Clytus Gottwald)
Puccini: Christo Smarrito (arr. Ralph Allwood)
Tavener: Hymn to the Mother of God
J. S. Bach: Die mit Tränen
Barber: Agnus Dei
Palestrina: Stabat Mater (ed. Wagner)
Debussy: Des pas sur la neige (arr. Clytus Gottwald)
Edward Chapman: The Three Ravens
Tom Recknell: Ozmandias
Allegri: Miserere (arr. Ivor Atkins)
Arvo Pärt: Tribute to Caesar
Howells: Even Such is Time
Ralph Allwood has devised some fascinating programmes for past Three Choirs Festivals, and this one, entitled By Special Arrangement, focused principally not on original works but on the art of arranging. To perform the works were the Rodolfus Choir, an elite ensemble of young, enthusiastic and well trained singers who combine flawless precision with considerable musical intelligence.
The first of the arrangements was a multi-voiced a capella arrangement by Clytus Gottwald  of Mahler's Die zwei blauen Augen, for which choir members were placed around the church to produce an antiphonal effect. This was a powerful and profound setting, with the words "blaue Augen" echoing through the work. Another of Gottwald's inspirations was to add words to Debussy's piano prelude Des pas sur la neige and transform it into a gripping, though glacial,  choral work in which "death plays the violin … the violin of ice".
Ralph Allwood himself is also an arranger of some distinction, and his intriguing reworking of material from Puccini's string quartet Crisanthemi conveyed the story of the Virgin Mary's search for her son in the temple (Christo Smarrito) very movingly. I was sceptical at first about his plan to combine Chopin with medieval poetry, yet Chopin's Prelude in C minor fitted the words of Pro peccatis suae gentis, attributed to Jacopone de Todi, like a glove, Ralph Allwood admitting that very few modifications to the music had been required.
Samuel Barber seems to have adapted his famous Adagio for Strings for all kinds of musical combinations, but his Agnus Dei setting was truly inspirational with a notable contribution from one of the choir's sopranos. It was a surprise to hear Palestrina and Wagner mentioned in the same breath, but the German composer clearly did not tamper with the character of the former's Stabat Mater when he came to edit it, and the Rodolfus' performance brought out the richness and variety of feeling in this fine work. Ivor Atkins' arrangement of Allegri's Miserere in which plainchant alternates with polyphony also made a strong impression.
The programme also included a number of works which were not arrangements. Edward Chapman's setting of The Three Ravens gave a particular poignancy to a traditional ballad in which ravens eye the body of a slain knight who is taken away for burial by a doe. Recknell's setting of Shelley's Ozymandias with its repetition of word "antique" created a sense of remoteness from the start.  Ozymandias' proud boast "Look on my works, ye mighty and despair!" were at odds with the scene of bleak desolation evoked by the quiet, measured tones of the singers.
Tavener's Hymn to the Mother of God, using a bass drone and two choirs, showed the influence of Orthodox church music and offered a sharp contrast to the other pieces belonging to the Western musical tradition.  Pärt's setting of a passage from St Matthew's gospel also felt outside the mainstream with its sense of unadorned Nordic piety.
One remarkable feature of Rodolfus Choir concerts is the way the members regroup for virtually every work, some of them heading for different parts of the church before returning later to take up their places in  the main choir. They did this with almost military precision and little fuss, so that the movements were scarcely noticeable. The variety of stereophonic sound effects thus produced added greatly to the stunningly high quality of their singing.
Roger Jones