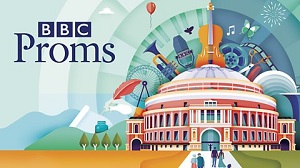 United Kingdom Prom 3. Mozart, Haydn and Fauré: Thomas Hopkins (treble), Lucy Crowe (soprano), Paula Murphy (mezzo-soprano), Robin Tritschler (tenor), Roderick Williams (baritone), Choir of King's College, Cambridge, Orchestra of the Age of Enlightenment, Stephen Cleobury (conductor), Royal Albert Hall, London, 17.7.16 (AS)
Mozart: Exsultate, jubilate, K165
Haydn: Mass No. 9 in C, Hob.XXII:9, Paukenmesse
Fauré: Pavane, Op. 50
Fauré: Cantique de Jean Racine, Op. 11
Fauré: Requiem, Op. 48
Haydn has been unfairly neglected at the Proms for a few years: in fact two recent seasons have been completely devoid of his music. This season and last year there have been small steps forward in recognising his status as one of the greatest of classical composers, but Mozart still gobbles up all his contemporaries in today's concert programmes.
It was Mozart's music, indeed, that opened this programme, in the shape of Exsultate, jubilate. It must be quite difficult for a soprano soloist to plunge into this most demanding work at the beginning of an evening, and it took Lucy Crowe a minute or two to settle down, but soon we were able to enjoy her lovely voice and superb technique to the full.
For Haydn's Paukenmesse (also known as Missa in tempore belli), Crowe, the OAE and Stephen Cleobury were joined by the evening's three other solo singers and the King's College Choir, which comprised 17 treble choristers, and 14 young adults, who took the three lower vocal lines. Lucy Crowe was again a joy to hear, but most surprisingly the usually admirable baritone Roderick Williams often sang slightly flat. The mezzo and tenor soloists have less chance to shine in this work, but both Paula Murphy and Robin Tritschler sang nicely.
We don't often get the opportunity to hear all-male choirs in secular contexts, and it was good to experience the characteristically pure sound of boy trebles on this occasion, so different from the mature timbre of female sopranos. They and the men sang out confidently in a disciplined and accomplished manner throughout the choral sections of the Mass. The vastly experienced choral director Stephen Cleobury has nurtured the King's College Choir now for over a period of 30 years. His task is more difficult and frustrating now than in former times, since the treble voice now breaks at an earlier age than it did in earlier times.
As a conductor Cleobury has a clear but rather basic technique, and his beat is not very expressive. His performance of the Haydn had clarity and good rhythmic impulse, he chose sensible tempi and ensemble was good, but it was a slightly plain and placid reading. The composer's engaging musical personality came through well enough, but there was a certain lack of drama and tension.
I suspect that listeners to the live Radio 3 broadcast and the slightly delayed BBC4 television relay will have heard a better orchestral balance than those of us in the hall, for here and in the Mozart the OAE produced a slightly under-nourished sound which tended to lose detail in this venue's vast expanses.
To have a whole half Prom concert featuring an even more neglected master, Gabriel Fauré, was wonderful, at least on paper, and both the Pavane (in its purely orchestral version without chorus) and a tasteful arrangement by John Rutter of the Cantique de Jean Racine, for chorus, strings and harp flowed briefly and happily by. But the Requiem imposes greater interpretative demands. This work is particularly well suited to an entirely male choir and all concerned sang beautifully. Somehow the interval had worked well for Roderick Williams, for his glorious voice was now satisfactorily pitched. Lucy Crowe did not return to sing the "Pie Jesu", for the solo here was taken by Thomas Hopkins, one of the choristers, and it was a particularly poignant experience to hear the young man's clear, innocent and artless tones in this ravishing music. What an ordeal it must have been for him, with a huge audience in the hall, TV cameras hovering nearby and radio microphones waiting to pick up his every sound. Full marks to him for immaculate delivery. Perhaps there was good reason for Cleobury to set quite a brisk speed for the "Pie Jesu", given the inevitably limited lungpower of the youthful singer, but alas Cleobury's tempi throughout the performance were on the hasty side.
The Requiem is still a popular work in the UK, but there seems to have become an Anglo-Saxon tradition that says you must keep this music moving forward, or else it will sound dull. The result, as we heard on this occasion, is often charming and pretty and you can enjoy Fauré's melodic gifts. But paradoxically this work weaves its spell most potently if tempi are measured, even deliberate. As great French performances of the past tell us, slow and contemplative tempi somehow bring out, paradoxically, a refined but powerful quality of deep expression and even sensuality, which is peculiar to Fauré's musical genius. These qualities were entirely missing in Cleobury's otherwise estimable performance.
Alan Sanders