United Kingdom Ciupinski, Purcell & Ellington/Strayhorn – a triple bill of ballet comprising Wink, The Moor's Pavane and The Shakespeare Suite: Birmingham Royal Ballet with the Royal Ballet Sinfonia / Philip Ellis (conductor) and the Colin Towns' Mask Orchestra / Paul Murphy (conductor), Birmingham Hippodrome, 22.6.2016. (GR)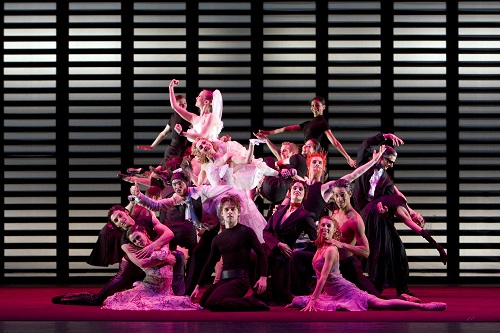 Wink
Dancers: Samara Downs, Reina Fuchigami, Jade Heusen, Yvette Knight, Delia Mathews (Five Women) & Mathias Dingman, Brandon Lawrence, Tyrone Singleton, Lachlan Monaghan, Lewis Turner (Five Men)
Production:
Music: Jakub Ciupinski
Choreography: Jessica Lang
Sets: Mimi Lien
Costumes: Elaine Garlick & Suzanne Parkinson
Lighting: Peter Teigen
Orchestra: Royal Ballet Sinfonia
Reader: Alfie Jones
The Moor's Pavane
Principal Dancers:
The Moor: Tyrone Singleton
His Friend: Iain Mackay
His Friend's Wife: Elisha Willis
Production:
Music: Henry Purcell (arranged Simon Sadoff)
Choreography: José Limón
Direction and Reconstruction: Jennifer Scanlon
Designs: Pauline Lawrence
Lighting: Peter Teigen (after originals by Tom Skelton)
Orchestra: Royal Ballet Sinfonia
The Shakespeare Suite
Principal Dancers:
Macbeth: Iain Mackay
Lady Macbeth : Céline Gittens
Richard III: Valentin Olovyannikov
Lady Anne: Arancha Baselga
Kate: Angela Paul
Petruchio: Lachlan Monaghan
Othello: Tyrone Singleton
Desdemona: Elisha Willis
Romeo: Jamie Bond
Juliet: Jenna Roberts
Hamlet: Mathias Dingman
Titania: Laura Purkiss
Bottom: Kit Holder
Production:
Music: Duke Ellington & Billy Strayhorn
Choreography : David Bintley
Costumes: Jasper Conran
Set Designs: Steven Scott
Lighting: Peter Teigen (after originals by Steven Scott)
Orchestra: Colin Towns' Mask Orchestra
Since the First Folio in 1623, Shakespeare's plays have been loosely divided into the categories Comedies, Histories and Tragedies. It is not often that extracts from all three make it into the same show, but on the evening of June 22nd at their Hippodrome home, Birmingham Royal Ballet's Triple Bill did just that, drawing their mixed bill of adaptations from no fewer than seven plays. For good measure, Wink, the first to be performed, took its inspiration from the colourful poetry of Shakespeare's Sonnets. Students of English literature have been analysing the 154 fourteen-liners from the bard for centuries, but few have had the temerity to devise a dance routine around their semantics. Jessica Lang ventured to do so and her ballet had its premiere last month in Durham. In the BRB programme, Lang explains that her choreography looks 'beyond' the text. And although for this production BRB do append a recorded voiceover (a 'straight' delivery from Alfie Jones, member of the Playbox Theatre, Warwick), I thought more details of the specific ten syllable lines used by Lang might have been given to fully appreciate her interpretation. Nevertheless, several registered with me. The first of these was No 43, from which the title of Lang's creation is taken – the so called 'Wink' sonnet. With its emphasis on absence, a drowsiness of mood was symbolised by a graceful quartet of dancers aided by a sonorous cello. Indeed I found the specially commissioned music of Jakub Ciupinski for Wink appealing throughout, inventive and repetitive in turn as the occasion arose, handsomely delivered by the Royal Ballet Sinfonia and conducted here by Philip Ellis. There were 'switching' noises from the pit too, assimilating the changes between 'living day' and 'dead night' (ll10-11), images reinforced by the rotations of the white/black cards of Mimi Lien's minimalistic but pertinent sets. This reversal of the panels took on a relentless temper during the subsequent section, together with a monotonous, but invigorating rhythm in the score, reminding me of the 'death's dateless night' of the thirtieth sonnet. Moving on to No 64 and its 'lofty towers', a topless Tyrone Singleton reviewing the poet's 'What I have seen' exuded the anguish of one reflecting on the death of his love. A more romantic setting followed with the soulful violin of leader Robert Gibbs pleading to the love-object of No 40 to 'Kill me with spites'. Ciupinski's music builds the tension in the final section as the eulogistic memories of No 71 were sensitively implied by all ten of the BRB dancers.
The Renaissance costumes of Pauline Lawrence and the baroque music of Henry Purcell (arranged Simon Sadoff) set a very contrasting scene for the second in this triple bill, The Moor's Pavane. Reduced to four characters, José Limón's pocket version of Othello, focuses on the two husband-wife couples: the Moor (Singleton) and Desdemona (Delia Matthews) alongside arch-villain Iago (Iain Mackay) and Emilia (Elisha Willis). Rather as befits his heroic military exploits in Shakespeare's tragedy, Lawrence is decked in dashing aristocratic purple garb against the simple white purity of his bride (notwithstanding father Brabantio's doubts regarding her chastity). Emilia is in seductive red, another licence taken by the production team at the 1949 Connecticut premiere. The essential storylines were present, much play being made of the handkerchief that seals the fate of Desdemona. Willis was a bewitching femme fatale, suggesting perhaps that she was as much the instigator of her mistress' downfall as Mackay. The Sinfonia, again under Ellis, assisted the courtly atmosphere of the piece with some exquisite string playing of Purcell's Rondeau and other music from his Abdelazer suite, from where the title of the ballet is derived.
The Moor of Venice was also featured in the third item of another successful trilogy from BRB, The Shakespeare Suite. But with mini-adaptations from six other plays from Stratford-upon-Avon's favourite son it was clearly the more the merrier. First performed in 1999 it was a welcome return for this collection from BRB's David Bintley and what a clearly recognisable and entertaining compilation they are. For once the Sinfonia (except leader Gibbs) had an early night, their fixture in the pit being swapped for the Colin Towns' Mask Orchestra, an eighteen-piece 'jazz' band, with its blousy collection of brass, saxophones and percussion. They were there to reproduce the 'beyond category' music of Duke Ellington and Billy Strayhorn and they did it with Such Sweet Thunder, the Ellington/Strayhorn collection from which the individual numbers are taken. Bintley's concept is to highlight six couples from the plays sandwiched by the duality inferences given to Hamlet. And it was Mathias Dingman as the Prince of Demark and four couples from the BRB corps who got this razzmatazz of a show off to a ripping start. The first dance couple were Lachlan Monaghan as Petruchio and Angela Paul as his Shrew. Epitomising the battle of the sexes, Paul was a feisty bride-to-be opposite the persistent Monaghan; but he eventually gets a ring on her finger and a positive response to his command of 'Kiss me Kate'. The percussion emphasis of The Telecasters set a dark mood for the pursuance by the future Richard III (Valentin Olovyannikov) of Lady Anne (Arancha Baselga). The lighting and props of Steven Scott – coffin and dark glasses – befitted the immortal lines Was ever woman in this humour woo'd/Was ever woman in this humour won. More percussion followed with Tymperturbably Blue (What an inspirational title!) with a sinister bass and spine-chilling xylophone spelling out the setting for this episode from Macbeth; Iain Mackay and Céline Gittens were the scheming couple sporting kilts and brandishing daggers – the murder of Duncan in silhouette concluding a dramatic picture. The humour of Dream was entrusted to a Titania from an insatiable Laura Purkiss and a Bottom from a hee-hawing Kit Holder, Bintley cleverly using Up and Down, Up and Down, of which there was plenty. Singleton reprised his Othello role, but here his Desdemona had been allotted to Elisha Willis; her evening Ave Marias to the muted trumpet of Black and Tan Fantasy was a great moment with which to remember this fine artist, due to retire at the end of this season. No Shakespearean anthology would be complete without a Romeo and Juliet and Jamie Bond and Jenna Roberts gave us a mesmerising Serenade to Star-Crossed Lovers. Dingman led a frenetic finale to Circle of Fourths and Half the Fun.  But the evening's entertainment wasn't just half the fun, it was a whole lot of fun!
Geoff Read
Seen and Heard apologies that this review could not be published earlier.