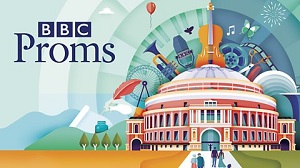 United Kingdom Prom 8 – Strictly Prom: Various composers: Joanne Clifton, Karen Clifton, Kevin Clifton, Janette Manrara, Giovanni Pernice and Aljaž Škorjanec (dancers), Katie Derham (presenter/dancer), BBC Concert Orchestra/Gavin Sutherland (conductor). Royal Albert Hall, London. 21.7.2016. (JPr)
Once again the BBC shamelessly 'plugged' another of its products, following hot on the heels of last year Life Story Prom (review) and memorable ones in previous seasons celebrating Sherlock Holmes and Dr Who. The fact that I always seem to be at these is not a result of 'drawing the short straw' but they are genuinely events I have a vested interest in and wanted to be at.
These Proms are nearly impossible to report on in the ordinary sense. In this case the list of music performed – and what was danced to some of them – would be nearly endless for a review of a normal size. This can only be an enjoyable reflection on what was an exuberant and uplifting evening for me and the packed Royal Albert Hall. There were clearly few regulars to the Proms present:  many newbies were seen wandering around, uncertain where their particular entrance door was and there were surprisingly few standing in the arena.
It was an admirably wonderful aim to link Strictly with classical music involving certain dance themes. However, it was not what I was expecting and this Strictly Prom only came to life with some superb dancing from a sextet of familiar names from the dance competition, aided and abetted on occasions by Katie Derham, BBC Radio 3 presenter … and of course a Strictly finalist last year. As Benedict Cumberbatch's absence hung heavy over the Sherlock Holmes Prom (review), for me – and I am sure many in the audience – the absence of a number of familiar Strictly personalities – dancers, judges or singers – undermined this occasion. I had expected – as before – big screens showing highlights from previous series of Strictly Come Dancing and replays of iconic dances given live accompaniment … just like the action sequences in those other TV series-related Proms.
So this mainly Strictly audience was made to sit through – or fidget through if they went on too long – orchestral pieces between the dancing. The suite from Richard Rodney Bennett's Murder of the Orient Express felt like a long train journey in itself (and I have been suffering some of those lately). I didn't really need to come to this Prom to hear The Nutcracker Pas de deux or the overture to Strauss's Die Fledermaus. It is indisputable that the BBC Concert Orchestra were excellent whatever they played. Gavin Sutherland wielded the baton with his usual flamboyance and flair and there were lithe rhythms throughout and much colourful detail – as the music required – from brass and percussion, such as in George Antheil's Archipelago and de Falla's Ritual Fire Dance. The best of the purely orchestral numbers was surely Richard Rodgers's The Carousel Waltz as the large Strictly glitterball hanging high up in the Royal Albert Hall caused sparkling lights to revolve around us all to give the illusion we were on a magical fairground ride.
Apart from the six extremely talented, energetic, ever-smiling dancers, the real heroes of this Strictly Prom were the BBC Costume Department for some stunning designs and the show's Director of Choreography, Jason Gilkison, for some intricate and attractive dance numbers which were surprisingly inventive given that the dance floor in front of the orchestra was not that big.
Katie Derham's claim to a place in Strictly history is that she got the much-loved Anton Du Beke – one of only two professional dancers to have been involved since the very first series of the competition – to within touching distance of the show's glitterball trophy. She relived two of her dances, first a Viennese Waltz performed to Walter Earl Brown's ballad If I Can Dream, based on the words of Martin Luther King and as famously sung by Elvis. (How good it would have been to have this sung rather than just played.) As Derham reminded the audience the dance took her to the top of the leaderboard for her one and only time. We were meant to believe Du Beke was not available as he was celebrating his birthday and she waltzed gloriously in the safe arms of Aljaž Škorjanec.
Later Katie Derham was rather more enthusiastic than accomplished with her quickstep for Harry Warren's 42nd Street.  Here – as well as elsewhere during the evening – it was the dancing of the show's professionals which was captivating and especially so from a trio from Grimsby; Kevin Clifton, sister Joanne and his wife Karen … even though she is Grimsby via Venezuela! Other highlights included a serenely tender and exquisite duet from Joanne Clifton and Giovanni Pernice as they waltzed to Erik Satie's gentle Gymnopédie No. 1 which included the first of Ben Dawson's significant contributions at the piano. Barroso's Aquarela do Brasil with it 'hook' of an instantly recognisable rising three-note accompaniment allowed everyone – in luridly fluorescent outfits – to Samba for all they were worth and bring the Rio Carnival to South Kensington. As the men donned their white tie and tails and the women wore floaty dresses it relived memories of Fred and Ginger. A rollicking Ballroom Medley to numbers from Irving Berlin's Top Hat brought everything to a rousing conclusion and there was a standing ovation from some for all concerned.
What was my most memorable moment? Well, it was Jeannette Manrara and Aljaž Škorjanec dancing a beautifully controlled, virtuosic, Rumba to John Barry's main theme to Somewhere in Time. This is one of my favourite films and I was disappointed to read Warwick Thompson's programme note calling it 'a treacly time-bender from 1980, directed by Jeannot Szwarc (no, me neither)'. I could equally write Warwick Thompson (no, me neither) but a Google reveals his credentials, just as he would have found out that Szwarc – who is now 78 – has a distinguished background as a director in film and television. Manrara and Škorjanec sizzled through the Rumba as if it was a piece of contemporary dance and there was an all-pervading air of languid sensuality and deep romance between the two of them. Strictly aficionados know that they live together and indeed there was a wonderful moment, after the thunderous applause eventually died down, when Aljaž said how much better it was to dance the Rumba with someone you are really in love with. Ahhhh! I urge you to go to the BBC iPlayer and see this special performance if you were not there … or even see it again if you were.
Jim Pritchard