Italy Rossini Opera Festival (ROF) (1) – Rossini, Il turco in Italia: Filarmonica Gioachino Rossini/Speranza Scappucci (conductor), Teatro Rossini, Pesaro, 9.8.2016. (JB)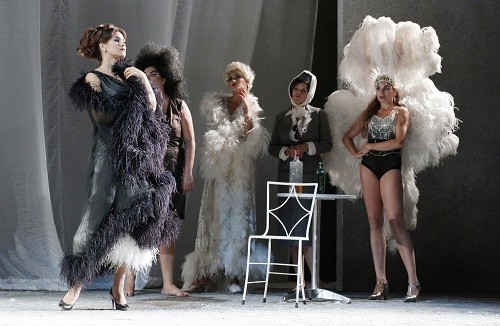 Cast:
Selim, the Turk,  Edwin Schrott
Fiorilla, a flighty young woman,  Olga Peretvatko
Geronio, her husband, Nicola Alaimo
Narciso, in love with Fiorilla, Rene Barbera
Prosdocino, a poet,  Pietro Spagnoli
Zaida, a gypsy, Cecilia Molinari
Albazar, her gypsy accomplice, Pietro Adaini
Production: new staging with Palau de les Arts Reina Sofia di Valencia
Staging and Sets by Davide Livermore
Costumes by Gianluca Falaschi
Until Maria Callas appeared in ll  turco in Italia  at Rome's Teatro Eliseo in 1950 (conductor, Gavazzeni, Director, Visconti) the opera had lain unperformed for the best part of a century. Which is odd.  I strongly suspect that Francesco Siciliani was behind the casting.  It was he who had set Callas on the right track by introducing her to Norma, as well as to Visconti. (She had gone to her first audition with Siciliani with Isolde's music.)  Very nice, the old boy had reportedly said, but it is not your ideal repertory.  Come back singing this in a fortnight.  "This"  was Norma which became her most performed opera. I think Turco  was her first foray into comic opera.  Contemporary reports judged it a triumph. And it certainly brought the opera into repertory.  That, no doubt, was part of Siciliani's hope too.
None of these four people is still alive, so I am not able to verify my supposition.  But I do remember (from their own mouths) that the other three were extremely open to any suggestions which Siciliani might have to make.
The ROF has a new Artistic Director, very nearly as impressive as Siciliani.  Ernesto Palacio was formerly a much-admired Rossini tenor.  Originally from Peru, he has more recently had a second career as a singing teacher based in Milan, where he counts Juan Diego Flores among his pupils.  (Florez now lives in the hills just outside Pesaro, with his wife and children.)  When Daniela Barcelona heard Florez's amazing breathing, she asked him where he had learnt this art, then signed up herself as a Palacio pupil.  I should also add that at that time, he only took on pupils who would also sign up to his artists' agency.  So the ROF is well-placed in its Artistic Director for some interesting casting.
I wrote the foregoing introduction in the train between Rome and Pesaro, as a reminder of the measures I would need to evaluate the performance being reviewed.
I am normally an admirer of Davide Livermore's stagings, but this one failed to convince me.  He reads Felice Romano's libretto as a story of quick-witted, intelligent women (various extras in the chorus appear in extravagant, overstated dress as well as sex-kitten, suggested nudity) against a group of dimwitted men (the rest of the cast). This is not just an overstatement of Romano's script; more seriously, it threatens and sometimes obliterates Rossini's understated musical wit.
Moreover, the chief representative of this wit is Fiorilla, who was vocally inadequate.  Olga Peretyatko is an exceptionally beautiful young woman with an elegance of movement to go with it.  Wit exists in her native Russia, but it is another creature to its Mediterranean counterpart.  Russian wit shares with its German cousin a delightful, unexpected roughness of meaning –a destroy meaning to make meaning touch.   The Italian, Spanish and French varieties are subtler and surprise more easily by their very subtlety.  Understatement delivered casually is at its very heart.  Rossini is its supreme master.  Madame Peretyatko knows nothing of this.  Russian singers are trained to approach the leaps to high notes from below, then pushing on the note to get it in tune.  Most of the time, they don't.  What comes out is too often an ugly, out-of-tune screech.  M.o Palacio must know this better than me, which prompts the question, why on earth has he cast her?
I had better add that I am reporting on an opening night.  Maybe she will improve as she gets into the role.  She did indeed improve during the show.  Her final aria, Squalida veste e bruna  was very nearly in tune.  Alas, it didn't cancel what had preceded it.
Some inquiries and days later, it turned out that there was an explanation for the beautiful Russian.  She is the wife of the excellent conductor, Michele Mariotti, son of Gianfranco, who is Founder and President of ROF.
Musique en famille is not without its own considerable charm, but don't the unwritten rule require interested parties to be declared?  Otherwise, may not the charm give off  an unpleasant hint of cover-up?
The casting of the men could hardly have been better, which puts M.o Palacio back on track for favourable comparison with the great Siciliani
Two of them are established figures in the Rossini comic opera business.  Nicola Alaimo has the perfect oversize physique as Fiorilla's hapless husband, past his use-by date as far as the spikey wife is concerned.  An excellent singer-actor, Alaimo's comedy has  just the right tinge of drama, best heard his  so ho da dirla, avrei molto piacere.  Tumultuous applause followed this final aria.
Pietro Spagnoli is the poet and storyteller, if not the manipulator of the plot.  He is on stage more than anyone.  His diction is immaculate and he frequently confides in the audience on his mischief.  His many recitatives carry such conviction that they come out as arias, which is just as well since Rossini seems to have failed to provide him with one.  Staying in character during the ensembles requires a rare technique and is another point where Spagnoli scores highly.
Perhaps the most distinguished vocal performance came from the young, handsome, Uruguayan bass baritone, Erwin Schrott as the Turk.  His Selim is solid in a plot which is oversubscribed with lack of solidity.  He put his authoritative credentials on the table right away with his opening number, Bell' Italia alfin ti miro: a voice to be reckoned with!  His vocal and physical beauty made his irresistible attraction to the gypsy girl, Zaida, and to Fiorilla, entirely credible, despite and maybe because,of the girls' knowledge of his harem.
The thankless role of Zaida, Fiorilla's rival, doesn't get a real aria and to my ear, Cecilia Molinari's voice doesn't have enough vocal colours to identify her in her many ensembles.
The American tenor, René Barbera, delivered well Narciso's cavatina, un vago sembiante giving credence to his hopes of being Fiorilla's boyfriend.  His second act aria  tu seconda il mio disegno is a Rossini jewel and even better dispatched: hang in there and never give up, he sings in lusty, convincing tones.
The young Roman conductor, Speranza Scappucci, who trained at Santa Cecilia and Juliard was making her ROF debut.  And very impressive she was too.  She played her own continuo parts on the usual ROF fortepiano, always keeping the action briskly moving forward.  The strings of the Filarmonica Gioachino Rossini (a put-together ensemble of the ROF) were always precisely together, though there were some uncertainties is in the wind parts, not least the first horn in the overture.  But these are blemishes which cannot be laid at Ms Scappucci's door.  She kept her cool throughout.  And how! Hers is a name we should all be watching.
Jack Buckley