Sweden Wagner, Der fliegende Holländer: Soloists, Opera på Skäret Chorus, Swedish Chamber Orchestra / Michael Balke (conductor). Opera på Skäret, Kopparberg, Sweden, 30.7.2016. (GF)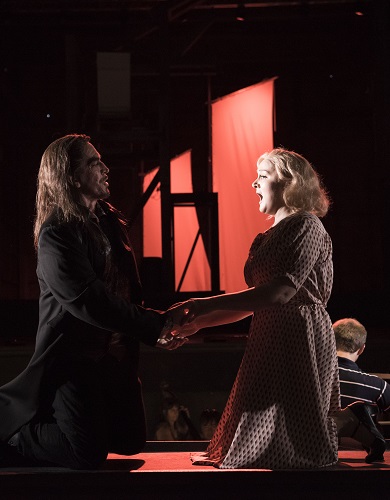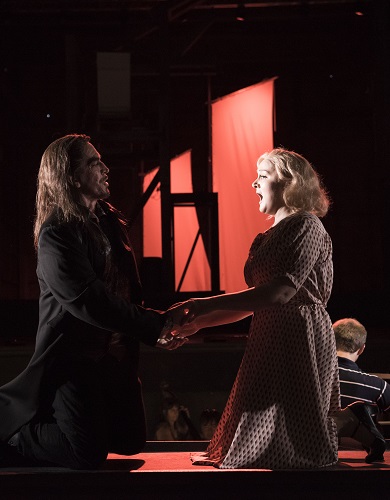 Cast:
Der Holländer – Thomas Hall
Senta – Elisabeth Teige
Daland – Jens-Erik Aasbö
Erik – Magnus Vigilius
Der Steuermann – Markus Pettersson
Mary – Susanna Sundberg
Production:
Direction – Sten Niclasson
Sets – Sven Östberg
Costumes – Anna Kjellsdotter
Lighting design – Kevin Wyn-Jones
When Sten Niclasson, founder and artistic director of Opera på Skäret, first saw and tested the acoustics of the big wooden warehouse some twenty years ago he decided that here he wanted to arrange opera performances, and deep inside he nurtured a secret dream that one day stage Wagner's Der fliegende Holländer. Now that day has come. It was, I believe, with keen anticipation and some trepidation he broke the news in the beginning of this year. Will we have an audience? After 10 Italian operas and one French – Carmen – would Wagner be too tough a nut to crack? It doesn't seem so. The premiere wasn't sold out but the auditorium was well-filled and sales in general have been about the same as the last few years. Opera på Skäret is today so well established that people come, well aware that they will be served something delicious, irrespective of composer or work.
For this production Sven Östberg has created solid sets that won't be turned over by even a hurricane. The story has been transported in time to the interwar years and Daland, besides being captain of his ship, is also owner of a business, where most of the women of his village are employed, knitting the typical Norwegian sweater called lusekofte. The sea is omnipresent from the outset. When the dramatic windswept overture begins frightening sea waves are projected on a big screen and we feel the powers of the ocean. Sails in background remind the onlookers of the milieu, whether they refer to Daland's ship (white) or the Dutchman's (red). During the overture we see Mary, the nurse, reading stories to the young Senta, the stuff that is the basis for her dreams as a grown-up. The Swedish Chamber Orchestra, somewhat amended to fulfil Wagner's requirements, play with superb precision and produce a sound that, helped to some degree by the wonderful acoustics, would be impressive from a full-size opera orchestra – they are just over forty! The experienced Michael Balke, engaged at the Magdeburg Opera, has a firm grip of the score. I have been impressed before by the chorus, which consists of mainly amateurs. Der fliegende Holländer is no doubt a tough undertaking, but they are certainly up to the requirements. And they are good actors as well.
The soloists are all excellent. American baritone Thomas Hall is a dark-toned Dutchman and his entrance monologue Die Frist ist um is chillingly tragic. Even better he is in the great scene with Senta, where his restrained singing of the opening Wie aus der Ferne reminds me of the legendary Hans Hotter. Norwegian Elisabeth Teige has already been Senta in Oslo and is to sing the role again in Frankfurt next year. She has all the gleaming top notes but also the soft ness that is also part of Senta's character. Hers is a sensational reading of the role. Her father, Daland, is impressively sung by her compatriot Jens-Erik Aasbö, who is also a lively actor. Danish tenor Magnus Vigilius is perhaps the greatest actor of them all and he gives a rounded, three-dimensional portrait of Erik, who often stands out as rather uninteresting. He finds more nuances in the part than I can remember hearing before. The steersman is fine minor role and young Markus Pettersson plays and sings with authority. As Mary, Senta's nurse, Susanna Sundberg makes much of little.
Der fliegende Holländer is another feather in the cap for Sten Niclasson and his crew. It will be running until 28 August with a second cast alternating with the premier cast I saw. A production not to be missed.
Göran Forsling