United Kingdom 2016 Gilbert & Sullivan Festival [2] – The Yeomen of the Guard: The National Gilbert & Sullivan Opera Company, National Festival Orchestra, David Steadman (conductor), Royal Hall, Harrogate, 13.8.16. (RJW)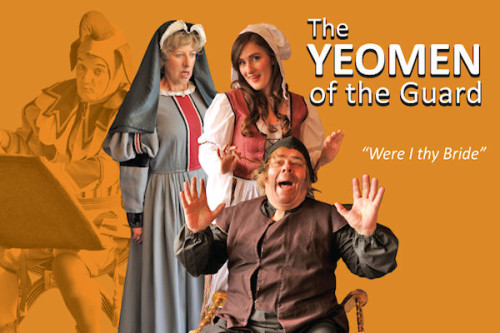 Gilbert & Sullivan – The Yeomen of the Guard
Cast:
Brendan Collins – Sir Richard Cholmondeley
Nicholas Sales – Lord Fairfax
Martin Lamb – Sergeant Meryll
Adrian Dwyer – Leonard Meryll
Richard Gauntlett – Jack Point
Bruce Graham – Shadbolt
Jane Harrington – Elsie
Fiona Mackay – Phoebe
Pauline Birchall – Dame Carruthers
Leigh Rhianon Coggins – Kate
Director – John Savournin
Of the numerous presentations of this comic opera given over the 24 years the Festival has been in existence this is one of the best to have been seen. Much of its success is due the characterizations of the parts of Shadbolt, Point, Elsie, Phoebe, Fairfax, Carruthers, and Meryll but in truth, all singers were on top form and under Steadman's well-rehearsed direction the music added excellence to this first-class performance.
Equally important to the production's success was John Savournin's carefully managed staging with the introduction of newly devised inset scenes that gave Act I a new perspective. Stage movement and groupings were well considered. The brilliantly played opening scene between Phoebe and Shadbolt came across with humour and impact. Their second scene had a tapestry dropped into position behind a table with chairs to neatly break up the large acting area. At the table Shadbolt is disturbed by Phoebe from his piggish eating prior to Were I thy Bride, where Meryll rather than Phoebe takes and replaces the jailor's keys in a convincing manner. The inset scene is held for the first part of the Act I finale with the Yeomen relaxing and drinking from tankards during their initial meeting with Leonard Meryll. This provides a less formal setting than the traditional one and works elegantly. The scene reverts to full stage for the rest of the finale.
In this production the first finale couplets for the 3rd and 4th Yeomen are restored and Meryll and Carruthers' cheery duet Rapture, Rapture is also added. Both had been traditionally dropped from the D'Oyly Carte productions to reduce the playing time. The orchestra was good in every respect and the pace of numbers ideally fitted the mood of the moment. This year one generally notices interesting subtleties in the lighting by David Marsden and here the cues are sensitively handled.
Jack Point's characterisation was excellent throughout and his shock prior to death is convincingly portrayed. Both Elsie and Fairfax sang well, with perhaps Free from his Fetters grim being the tenderest version I have heard for a long time. The quartet, Strange Adventure was a delight of tonal balance and the pitch was noticeably held perfectly when the orchestra enter for their inter-verse bridging section.
The well-filled house was appreciative of the quality of the production which will surely go down as another highlight of the National Gilbert & Sullivan Opera Company's productions.
Raymond J Walker