Spain Various composers – Xavier Sabata (countertenor): Capella Cracoviensis, Jan Tomasz Adamus (conductor and harpsichordist), Iglesias del Carmen, Peralada, 7.8.2016. (JMI)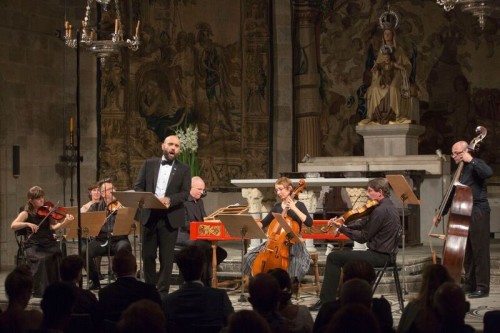 Xavier Sabata is not your usual countertenor. To begin with, his voice is not large, and he is not one to display fireworks in his singing, unlike many of his colleagues. For his recital at the Castell de Peralada Festival, he performed eight arias, plus two additional ones as encores. Of the ten, only two belong to what can be considered as bravura arias; in the others Sabata offered what one might call singing based on pure expressiveness, and he proved that fireworks are not required for a countertenor to succeed. The least convincing aspect of his concert arose from the fact that he always used a score.
The program was devoted to Baroque opera and centered on the figure of Alexander the Great and his portrayal in music. In the first part, Sabata sang an aria from Il ritorno d'Alessandro Magno dall'Indie by Giovanni Battista Bononcini, followed by one from Giovanni Battista Pescetti's Alessandro nell'Indie. He finished with the bravura aria from Alessandro il Grande in Sidone by Francesco Mancini.
The second half of the program began with an aria from Alessandro nell'Indie by Leonardo Vinci. There were also two arias by Handel, the first one from Poro and the second from Alessandro. In between, he sang a selection from Alessandro in Persia by Leonardo Leo.
Alexander the Great continued as protagonist in the encores which consisted of two Handel works: the first one from Scipione and the second from Alessandro.
The Capella Cracoviensis did a fine job accompanying the Catalan artist and in their solo playing as well, always under the direction of Jan Tomasz Adamus from the harpsichord.
José M. Irurzun