United Kingdom Richard Rodgers, Some Enchanted Evening: Lesley Garrett, Ruthie Henshall, Michael Xavier & Gary Wilmot (vocalists), ArtsEd Ensemble, Royal Philharmonic Concert Orchestra, Kevan Allen (choreographer), Richard Balcombe (music director). Cadogan Hall, London, 18.8.2016. (JPr)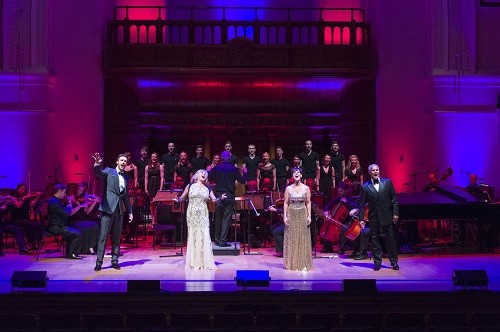 Songs and Music from Oklahoma!, State Fair, Babes in Arms, The Boys from Syracuse, On Your Toes, Carousel, South Pacific, Cinderella, The King and I and The Sound of Music as well as other songs.
Not only was Richard Rodgers' contribution to the musical theatre of his day simply extraordinary but his influence on it for all time is the stuff of legend.  His professional career lasted six decades and had three major phases: a collaboration with Lorenz Hart from 1918 until shortly before Hart's death in 1943; his collaboration with Oscar Hammerstein from 1942 until he died in 1960, and various final collaborations after 1960. Seeing the phrase 'Music by Richard Rodgers' guaranteed wonderful hummable and danceable melodies. When coupled with the contribution of the outstanding lyricists he worked with, it brought about the evolution of American musical comedy into a genuine art form where plot, music and dancing became closely integrated and were frequently used to explore serious – occasionally tragic – themes of the times they were written in.
Born in 1902, there seems some dispute over how many songs he wrote over his 77 years but the frequently quoted number is 900 of which 85 are regarded as 'standards' and have gained a life of their own over the years. His output ranged from what was considered his first 'hit', Manhattan in 1925, to the songs he wrote for his last Broadway show I Remember Mama which opened in 1979 (the year of his death) and was the last of 40 Broadway musicals he was associated with. There were also a number of important television series and specials which involved his music. Film versions were made of several of his musicals, and his Broadway productions have been given innumerable revivals over the years in theatres across the United States and throughout Europe, the Middle East, Africa and the Far East. All this brought Richard Rodgers countless awards, including not only Tonys and Grammys, but Oscars, Emmys and Pulitzers.
Famously, it is often recalled how at one point in 1975, there were 60 productions of Oklahoma! to be seen in the US and abroad, with a critic declaring 'Probably not a day goes by without a show of his being performed.' I doubt too whether 'a day goes by' without a compilation show of Richard Rodgers' music called Some Enchanted Evening being available somewhere, whether in a local concert hall, on a seaside pier, at a holiday camp or on a cruise liner. The strapline for this concert called it 'A Musical Celebration of the Hits of Broadway Legend Richard Rodgers' and when it began – with some typically garish lighting and over amplification of the Royal Philharmonic Concert Orchestra playing the overture from Oklahoma! – I might indeed not have been at the Cadogan Hall but in that showroom on a cruise ship. However, as the evening went on I found I was enjoying myself more and more and by the time it all ended with You'll Never Walk Alone from Carousel (and now a very familiar anthem) getting an impassioned and moving encore by all involved, I was totally won over.
It might not have worked so well without such a stellar line-up of vocalists – Lesley Garrett, Ruthie Henshall, Michael Xavier, and Gary Wilmot. Lesley Garrett narrated Michael Simkins' informative script which had much interesting detail about the music we were hearing as well as allowing for some amusing anecdotes and asides. All four 'household names' have impressive CVs in musical theatre and needed little introduction.
Two other things contributed to the great success of Some Enchanted Evening; namely, it was so obviously very well-rehearsed (which is not often the case) and how wonderful the contributions of the ArtsEd Ensemble were throughout the evening. These are 16 talented students from the BA (Hons) Musical Theatre course at Arts Educational Schools London. The boys excelled in There is Nothin' Like A Dame and so did the girls in I'm Gonna Wash That Man Right Outta My Hair, both from South Pacific and given high-octane choreography from Kevan Allen (another highlight of the show). I have seen much less energy and heard worse accents on West End stages. Near the end they were a delight during The Hills are Alive and Do-Re-Mi from The Sound of Music. From the moment the conductor, Richard Balcombe, came on to launch the valiant Royal Philharmonic Concert Orchestra in that initially too-loud opening overture it was clear the musical side of the evening was in safe hands. (Kudos to hyperactive percussionist Anthony Kerr and for Andy Panayi on sultry saxophone.) Balcombe was involved in preparing most of what we heard and he clearly has a deep respect for musical theatre and loves its music.
The rest of this appreciation could just descend into a list of who sung what but I will avoid that. Each of the four vastly experienced vocalists triumphed and did justice to Richard Rodgers' music. Everyone in the audience will have had their own favourite moment and that may differ from person to person …it was that sort of evening. Lesley Garrett is often still described an 'opera diva' though her appearances in opera have diminished in recent years. Her very-rounded, vibrant voice took a long while to warm up but eventually her singing just got better and better. You'll Never Walk Alone, which closed the first half, and Climb Ev'ry Mountain near the end found her at her very best.
Ruthie Henshall has a typically English sounding voice concentrating on diction and especially consonants. She had a special connection with My Funny Valentine from Babes In Arms because her first name is actually Valentine. Everything Ms Henshall sang had an innate sophistication and was performed with the utmost sincerity. Joining the ArtsEd girls for I'm Gonna Wash That Man Right Outta My Hair showed her fun side and as for romance there was a genuine chemistry between her and Michael Xavier in the duets This Can't Be Love and Falling In Love With Love from The Boys From Syracuse and People Will Say We're in Love from Oklahoma!.
Gary Wilmot may not quite have the vocal 'chops' of his colleagues but he made up for this through his ability to 'sell' a song whether it was the light-hearted The Surrey With The Fringe On Top (again from Oklahoma!) or the much more dramatic Soliloquy from Carousel. Sometimes 'My Boy, Bill' can sound never-ending but Gary Wilmot's dramatic rendition had me gripped from the first note to the final one. Last but by no means least, there was the tall and handsome Michael Xavier who seemed to make Lesley Garrett drool. He has a suave – almost too suave – velvety sound. He brought wonderful expression to If I Loved You (Carousel) but his best moment – and perhaps the highpoint of Some Enchanted Evening for me – was his affectionate impression – complete with glass in hand – of Dean Martin singing Blue Moon. Unforgettable!
Jim Pritchard
There are two last performances on 20th August but for more about events at the Cadogan Hall visit https://www.cadoganhall.com/.