Sweden Bizet, Carmen: Soloists, Dalasinfoniettan & Chorus, Bounce Streetdance Company, Daniel Blendulf (conductor). Dalhalla 13.8.2016. (GF)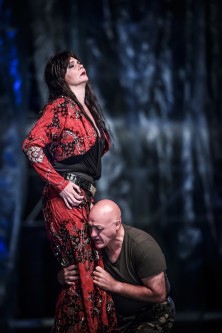 Production:
Directed – Ulrik Qvale
Sets and Costumes – Karin Sundvall
Choreography – Ambra Succi
Lighting design – Sven Park
Cast:
Carmen – Anna Larsson
Don José – John Daszak
Micaëla – Anne Wik Larssen
Escamillo – Krister St. Hill
Fransquita – Sanna Gibbs
Mercédès – Carolina Bengtsdotter Ljung
Le Remendado – Niklas Björling Rygert
Le Dancaïre – Göran Eliasson
Zuniga – Johan Schinkler
Moralès – Lars Arvidsson
It was almost to the day nine years ago since I saw Carmen at Dalhalla (see review). Then it was a guest appearance from the Estonian National Opera, but the production was created specifically for the large outdoor arena north of Lake Siljan. The new production is "home-made" by Dalhalla Opera, where Anna Larsson, besides being Carmen also is Artistic Director and her husband Göran Eliasson is president of the production company. This Carmen takes place in the present day. Designer Karin Sundvall has made both sets and costumes from used materials. There is a save-the-environment approach that is very appealing. As was the case back in 2007 Carmen is played not in the original version with spoken dialogue but with Guiraud's recitatives, which is just as well with non-French singers. There are a few unimportant cuts that quickens the action. The orchestra is the local Dalasinfoniettan, which has played in earlier opera productions at Dalhalla, but then together with Gävle Symphony Orchestra. This time they are on their own but amended with a number of extra musicians. Although only around 40 players the sound is big enough to match the fifty-head strong chorus, thanks to the decision to move the orchestra from the back of the stage to the left hand side at the front. The playing is secure and transparent, individual instrumental solos carry out with great clarity and Daniel Blendulf has a firm grip over the proceedings. Tempos are well chosen, occasionally on the slow side – Carmen's aria in the card scene in act III – but the music never drags. The chorus are well rehearsed and act well. The sets are simple – in line with the save-the-environment approach. The advantage is that there isn't much that distracts the onlookers from the central drama – unless it be some choreographic activity during arias.
Who is Carmen? This is a question that probably has been posed since the third of March 1875 and there are possibly as many answers as there are singing-actors of the role. Wild, flashing eyes, sexual allure, southern heat are some of the characteristics one often connects with the role. Anna Larsson is in many ways the opposite of this. She is tall, dignified, noble, cool. She is impeccably dressed, although she and her friends Mercédès and Frasquita live in a ramshackle old caravan. Her blood doesn't boil uncontrolled, but her desire for freedom is just as intense as the traditional Carmen figure's. Only that her appearance is more remote, more distanced. This may be a valid reading of the role as well, but it puts a damper on the production at large, the temperature is lower and this, in combination with the vast spaces and the considerable distance between stage and audience makes the production slightly – anaemic. This is Anna Larsson's first Carmen and maybe she – and director Ulrik Qvale – wanted to rethink the whole concept. Her singing is everything one has the right to expect from this marvellous singer and being a contralto she employs the lower register to great effect and has the required high notes as well. It is not a fiery Carmen in the Callas mould but it is truly admirable.
Fiery is, on the other hand, John Daszak as Don José. I saw him three years ago as an impressive Peter Grimes in Stockholm. There he also sang impressively in a role far from the traditional tenor hero. Famous primarily for roles in 20th century operas it seems that Don José isn't quite his cup of tea. He nuances well and ends the flower song as written with a pianissimo followed by crescendo – diminuendo. But his tone is strained in too many places, where he resorts to shouting. The Escamillo of the evening, Krister St. Hill, made his operatic debut in this role in 1982, not yet 20 years old. He is still in good shape and is, as he always has been, a vivid actor. I have had reason to praise Anne Wik Larssen before, not least at her international debut as Marguerite in Faust at the Estonian National Opera almost four years ago. Here in Dalhalla she is a lovely Micaëla, crystal clear and beautiful tone and acts convincingly. The first act duet with Don José is meltingly sung and even better is her aria in the third act. This is the high-spot of the whole performance.
Also the smaller roles are cast from strength. Niklas Björling Rygert and Göran Eliasson as Carmen's smuggler friends are outstanding character singers and Sanna Gibbs (Stockholm's Musetta in La bohème last season) and Carolina Bengtsdotter complete the quintet of smugglers and are truly expressive in the card scene in act III. Johan Schinkler is a strong Zuniga, his basso cantante imposing, and Lars Arvidsson makes the most of Morales' role.
Utterly impressive are the dancers and the concept is unique: street dance in Carmen! Virtuosic and with rhythmic precision they own the stage every time they appear and they contribute a lot to the general impression of the performance. Their achievement is a real blood-transfusion to the production.
Göran Forsling